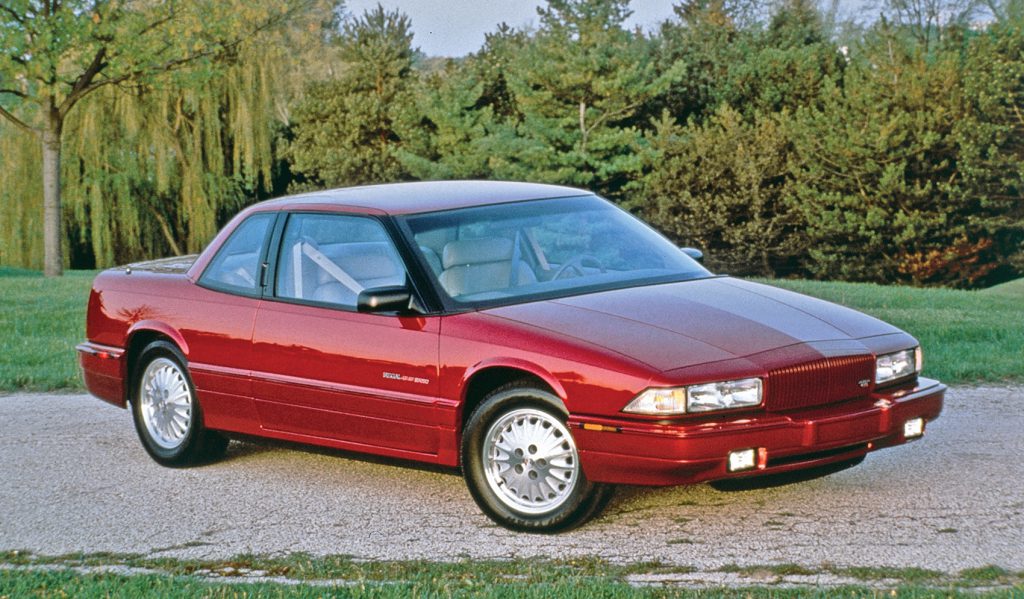 Note: The following story was excerpted from the December 2020 issue of Collectible Automobile magazine.
Some of the hottest cars out of Detroit in 1987 were Buick Regals. The Grand National and limited-production GNX were seriously fast and commanded respect on the street and at the strip. It was also the end of an era, because a new front-wheel-drive Regal was being readied for 1988 and turbocharged muscle was not part of its equation. The sportiest new Regal was the Gran Sport coupe, and its 1992-96 iteration can make for some fun cheap wheels.
More from Collectible Automobile
1992-1996 Buick Regal GS Sport Coupe
The 1988 Regal was closely related to the redesigned Pontiac Grand Prix and Oldsmobile Cutlass Supreme, but the Buick was the first of the "GM10" front-drive coupes to hit the market. Only a model year past the unforgettable Grand National, Buick injected the tiniest hint of "performance" with the Gran Sport package. It largely was a collection of appearance items that traded on the reputation of hot muscle-era Skylarks and Rivieras. Like all '88 Regals, Gran Sport ran Chevy's 2.8-liter V6 rated at a sleepy 125 horsepower. By 1991, Buick's 170-horse 3.8-liter bent six was optional, and a four-door Regal sedan made its debut.
Our focus starts in 1992 when Buick transformed the Gran Sport package into a dedicated Regal model, available in coupe and sedan versions. Coupes started at $18,600 and wore a body-color grille, specific front fascia with rectangular fog lamps, lower-body aero kit, and Gran Sport emblems. The interior picked up a leather-wrapped steering wheel, front buckets, console, and an analog gauge cluster with tachometer. Gran Sport packed the 170-horse 3.8, Gran Touring suspension tuning, and 225/60R16 Goodyear Eagle GA rubber on alloy wheels.
For 1993, all Regals gained a new electronically controlled four-speed automatic. The 3.8-liter V6 was modestly tweaked; horsepower was unchanged but torque was up five pound-feet to 225. By the numbers the improvements seemed modest, but Car and Driver was pleasantly surprised, noting that 0-60-mph acceleration improved by 0.9 of a second. There was a subtle exterior facelift too, with touched-up styling front and rear. 
Like other '94 Regals, the Gran Sport collected a standard driver's-side air bag, and a second for the front passenger was added the following year. The '95s also had a remodeled interior with a new dashboard and revised seats. The big news for 1996 was a reworked 3800 V6 with 35 more horsepower, for a total of 205 ponies. The '96 GS coupe priced from $21,340.
According to the Encyclopedia of American Cars, early Gran Sport coupe production was as follows: 5925 (1992), 4109 (1993), and 7236 (1994). Breakdowns by trim levels aren't available for 1995 or '96, but the Encyclopedia notes total 1996 Regal Coupe sales (including base Custom and Gran Sport) were only 5991 units. For comparison, the '96 Regal sedan total was 107,056! Given those realities, it shouldn't be terribly surprising that the redesigned '97 Regal was only offered with four doors.
Pros:
The 3.8-liter V6 offered excellent throttle response, and the electronically controlled automatic was smooth as can be. 

Good passenger room and well-sorted handling.
Cons:
These Regal coupes were not big sellers new, so serious cheap-wheelers should be prepared to snatch up any well-priced cream puffs.

Like other GM10 coupes, the door-mounted front seatbelts are a love-or-hate deal.

Final Drive:
Don't think of these Regal Gran Sports as Nineties muscle, but more as dignified and relaxed sporty coupes. Given the choice, we'd probably seek out a '95 or '96 with the reworked interior, with a definite edge to a '96 and its stronger 3800 V6.
Listen to the very entertaining Car Stuff Podcast
Buick Regal GS
Buick Regal GS