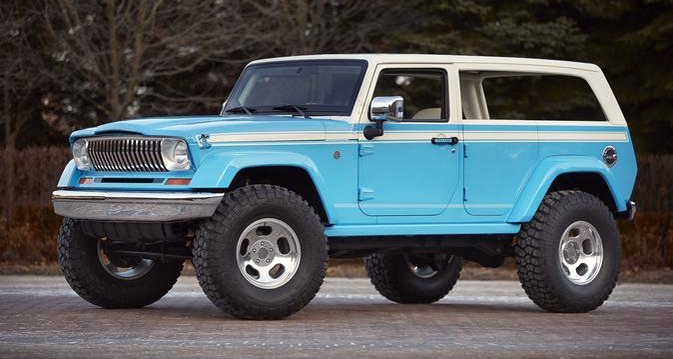 by Don Sikora II
In 2014, Jeep sold more than 1 million vehicles worldwide, a new record for the brand. And Jeep's parent company has even greater ambitions for the future: A Fiat-Chrysler five-year product plan unveiled in May 2014 predicts sales increasing to 1.9 million Jeeps in 2018. The plan also indicates a return to the 7-passenger 3-row SUV market in the form of a revived Grand Wagoneer model. The range-topping 2019 Grand Wagoneer would reprise a legendary name from Jeep's past, and move the brand further upmarket to take on luxury-brand SUVs in every way—price included.
The name, of course, comes from the first Jeep Wagoneer, which was introduced for 1963 and helped define today's sport-utility vehicle. The original Wagoneer's trend-setting features included a four-door body style, the first pairing of an automatic transmission with four-wheel drive, and an optional independent front suspension that offered better maneuverability and a more comfortable, car-like ride.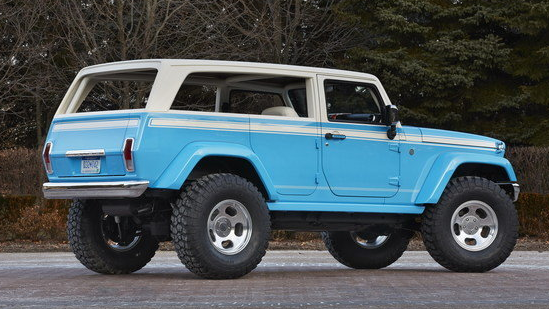 In 1966, Jeep introduced the idea of a luxurious four-wheel-drive utility wagon with the Super Wagoneer, and further refined the concept with the 1978 Wagoneer Limited. Full-time Quadra-Trac all-wheel drive came along in 1973, forecasting another luxury SUV staple. The Limited evolved into the prestigious Grand Wagoneer by 1984, and the Grand Wagoneer remained in production into 1991.
History is nice, but what about the 2019 Jeep Grand Wagoneer? At this point, very few details are known.
Automotive News reported in May 2015 that, according to Fiat-Chrysler CEO Sergio Marchionne, Grand Wagoneer will be a three-row luxury SUV and compete with Range Rovers and other large luxury-brand SUVs at prices well above today's most-expensive Grand Cherokee. Sergio may have hinted at a change in timing as well: "[Wagoneer] development needs to coincide with a complete relook at the Grand Cherokee architecture, and effectively jointly develop them. And if there is a delay, it's due to the joining of these two programs into something that makes sense. It needs to happen."
Jeep Wagoneer: Vintage SUV That's Simply to Die For
In early June, a Reuters report citing supplier sources suggested Jeep could delay the Grand Wagoneer's introduction by a year or more. A short time later, Automotive News gave word that Jeep dealers would be given a sneak preview of the Grand Wagoneer at an August 2015 event in Las Vegas.
In a May 2015 Wall Street Journal piece that discussed Marchionne's decision to forego an all-aluminum body for the upcoming 2018 Jeep Wrangler, he was quoted as saying, "This is untrue of the Wagoneer." We take this to mean that Grand Wagoneer (and by extension Grand Cherokee?) will not follow Wrangler's apparent path of a steel body combined with aluminum components (such as the doors and hood), suggesting the two larger Jeeps could go with a Range-Rover-like aluminum body structure. This further suggests an all-new platform, not an updated version of the current Grand Cherokee's chassis.
We are into pure speculation now, but for engines it seems most likely Grand Wagoneer will use upgraded versions of Chrysler's 3.6-liter V6 and Hemi V8s. Grand Cherokee's diesel V6 is a distinct possibility too, as is some sort of a plug-in hybrid system. And don't forget that top-end Range Rovers have supercharged V8s, so an appearance by the supercharged Hellcat Hemi V8 wouldn't be a complete shock. Chrysler's TorqueFlite 8-speed automatic transmission and Jeep's Trail-Rated four-wheel-drive systems should figure too.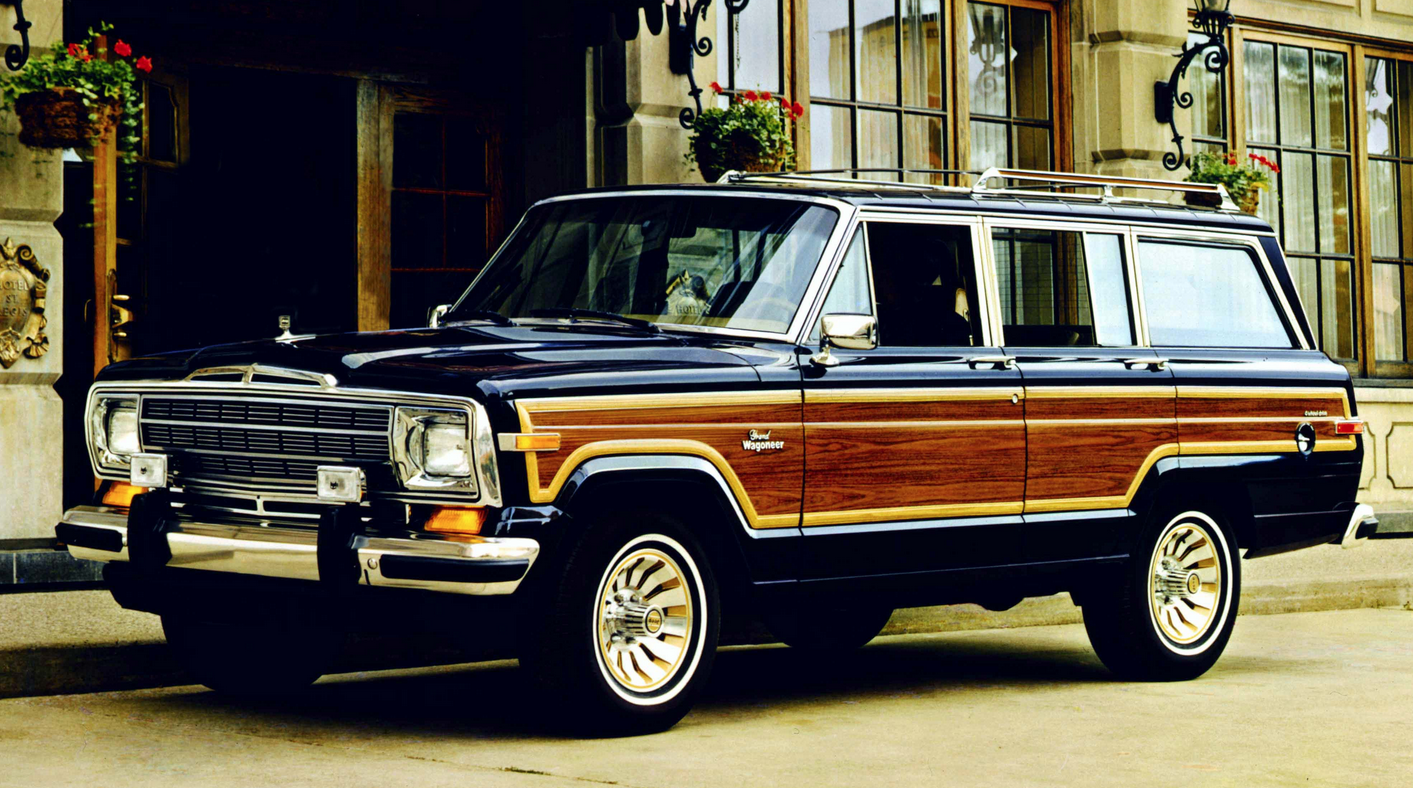 No hints yet, but styling could be modern interpretation of the original Grand Wagoneer's now-iconic design, scaled up to fit the new version (which will probably be about the same size as today's Dodge Durango). Classic Wagoneer styling cues like the raised center hood section could appear, and we think a fresh take on the 1966 Super Wagoneer's "electric shaver" grille and round headlights could be a standout touch. That said, we doubt the overall look will be unabashedly retro or as boxy as Jeep's best-forgotten Commander.
It's hard to imagine a return to the original Grand Wagoneer's signature woodgrain body trim, but smaller woodgrain accents could possibly be worked into the exterior design as a distinctive—and very American—styling touch. If even that is a step too far, we think woodgrain will at least make an appearance in the "Easter eggs" that Jeep designers enjoy working into new models.
Future Car: 2018 Jeep Wrangler
What's Cool
Grand Wagoneer name still holds cachet with well-heeled off-roaders.
Marks the return of a 3-row, 7-passenger vehicle to Jeep's SUV lineup.
Shared development with the next-generation Grand Cherokee could signal a wide range of engine choices. Gas, diesel, and plug-in hybrid versions are all possibilities.
CG Says:
Jeep helped popularize the idea of the luxurious off roader, and nearly a quarter century after it was discontinued, the classic Grand Wagoneer remains a status symbol. To successfully take on today's luxury-brand SUVs (and command the same prices), Jeep needs to further refine the idea in its uniquely American way.