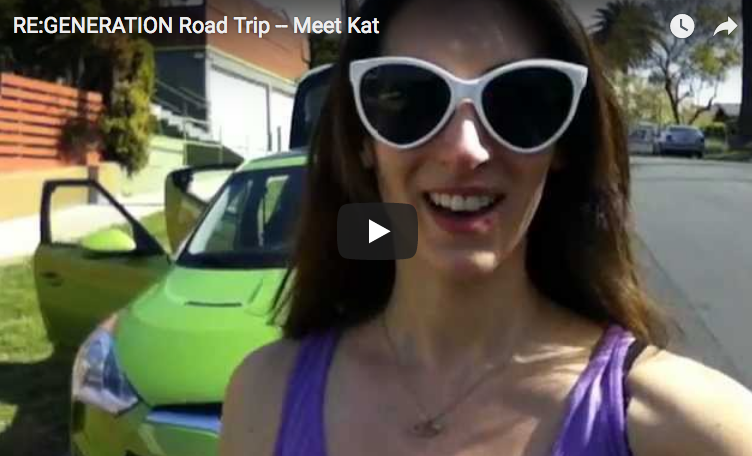 When Hyundai introduced the all-new 2012 Veloster, the newfangled contraption had my fellow Consumer Guide Auto editors and I scratching our graying heads. The car's sleek, sporty design seemed to promise ample power, as did its name. When you hear Veloster, you think velocity, right? And yet all this "sporty" car can generate is a pedestrian 138 ponies and 123 pound-feet of torque.
Veloster to Coachella
Other things about Veloster made us think that the designers weren't right in the head. The cabin has all sorts of V-shape stylings. The hood vents are fake. And (I can't believe I'm saying this) the car has three doors—one on the driver side and two on the passenger side.
What is this car, we wondered, and, more to the point, who was it built for?
Now we know. It was made for Kat.
Test Drive: Hyundai Veloster Turbo Rally Edition
Kat is a production assistant for Re:Generation, a film about hip, cutting-edge musical artists and producers. Hyundai's fingerprints are all over the film. It is marketed as "Hyundai Veloster presents Re:Generation," and it's playing this month at the Hyundai RE:GENERATION Drive-in at the Coachella Valley Music and Arts Festival in Indio, California.
In the above video, which was uploaded to YouTube by Hyundai, Kat packs her Veloster for a trip to Coachella. And as we get to know Kat, we get to know the Veloster's target audience.
Kat is young, artsy (she's in film, you know), and very, very hip. Her destination, the Coachella festival, is hosting such artists as tUnE-yArDs, Swedish House Mafia, R3hab, araabMUZIK, Le Butcherettes, Godspeed You! Black Emperor, and Abe Vigoda. It's not the Abe Vigoda that you and I know from Barney Miller, but the alternative, electronica rock band, Abe Vigoda.
Just based on the Coachella lineup, we know that Veloster was built not for middle-aged tastes but for those of our youngest drivers—whose tastes, frankly, I do not understand. It reminds me of when I was driving with my teenage son. Thinking that I was impressing the hell out of him by playing "Who Are You," "Fortunate Son," and "Dream On"—back to back to back!—he proceeded to interrupt the Aerosmith classic by putting on his headphones. And I was like, what crap could you possibly be listening to on your iPod that's any better than what I'm playing!
Cadillac Super Cruise? GM Had Autonomous Driving Nailed in 1956
Anyway, I didn't understand kids today and I didn't understand the Veloster. But now I do because I watched Kat.
Kat is not only young, artsy, and hip, but—based on her outrageous sunglasses—she is also as quirky as Veloster's three-door design. As a production assistant on a documentary, she obviously doesn't earn much money. Starting at just $17,300, the Veloster was priced with her income bracket in mind.
To appease the tech-savvy youth of today, entry-level cars are now crammed with electronic gadgetry. Veloster feeds their needs by coming standard with an MP3 player, satellite radio, digital-media player connection, Blue Link services and assistance, a USB port, a wireless cell-phone link, and even voice recognition. (Let's hope it recognizes Kat's cool foreign accent!)
Today's youth are most interested in saving the planet as well as their limited funds, meaning Kat must be more pleased with Veloster's 40-mpg highway rating than upset with its lethargic acceleration. (Based on her waify appearance, yoga mat, and proclaimed diet of gummy bears and smoothies, Kat may be a little lethargic herself.)
Thank goodness, though, that Kat is rail-thin, because the front-seating area isn't conducive to heavier folks. "I only had adequate overall space for my 5'8″ frame," griped CGA editor Ed Piotrowski. It's also good that Kat is traveling alone. Explains CGA's Damon Bell: "There is actually a warning sticker on the hatchback about closing the hatch when there are occupants in the back seat—that says a lot about the rear headroom in this car."
To reach Coachella, Kat will have to drive through the desert, which will be one steamy ride considering her Veloster has the available panoramic sunroof. Hopefully, her big floppy sunhat will provide a bit of relief.
So if you want to understand kids today, and you want to understand the Veloster, take a look at this video. It helps bridge the gaps . . . in its own quirky way.
Flat-out Funky: The Hyundai Veloster Turbo's Matte Gray Paint Option