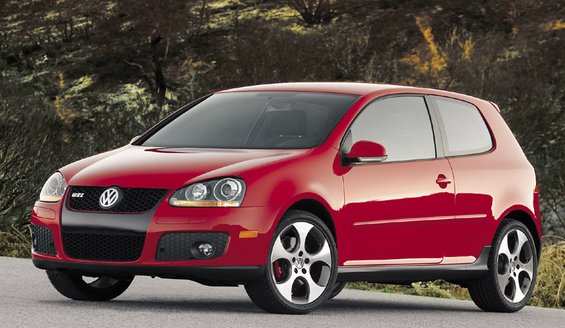 You just can't bear the thought.
Whether you're right out of college, replacing a car that's given up the ghost, or adding a needed vehicle to your existing fleet, "Go with the flow" has never been your automotive mantra.
Of course, many cars are popular because they're really good cars. "Really good," that is, for everyone else. Cars Under $5000.
Cool Cars Under $5000
But you want your $5000 to go for something that's a little off the beaten path; something you won't see every time you round a corner. Something … cool. And since cars in that price range tend to need work sooner rather than later, you know it's an awful lot less painful to put money into a car you like rather than one you don't.
So what we've compiled here are some vehicles that stand out a bit from the crowd, usually by virtue of their appearance, but in some cases, because they're just so much fun to drive.
Not on this list will be Camaros, Mustangs, or Miatas (too easy), obscure vehicles that might be hard to find (or find someone to fix), or luxury models that have depreciated to this point because they're excruciatingly expensive to repair and maintain.
And boy, was it hard to keep it to only five. So we also added the caveat that the vehicles available for the target price should be less than about 12 years old and not have much more than 100,000 miles. Market value was established by consulting Kelley Blue Book (KBB.com) and looking up examples for sale on Craigslist in various cities around the country. Note that, while Kelley seems to be fairly accurate on "normal" cars, we found their figures to be far below asking prices on specialty ones, so what's offered in local ads is probably your best barometer.
What we list for each vehicle is a year range that corresponds to the "generation" of the one in question, meaning all built during that span are basically the same. Also note that at the end of each entry is a link to our Used Car report on that generation of vehicle, which – at the very bottom – includes links to each year's equipment lists, so you can tell what came standard, what was optional, and what was added on higher trim levels or in later model years.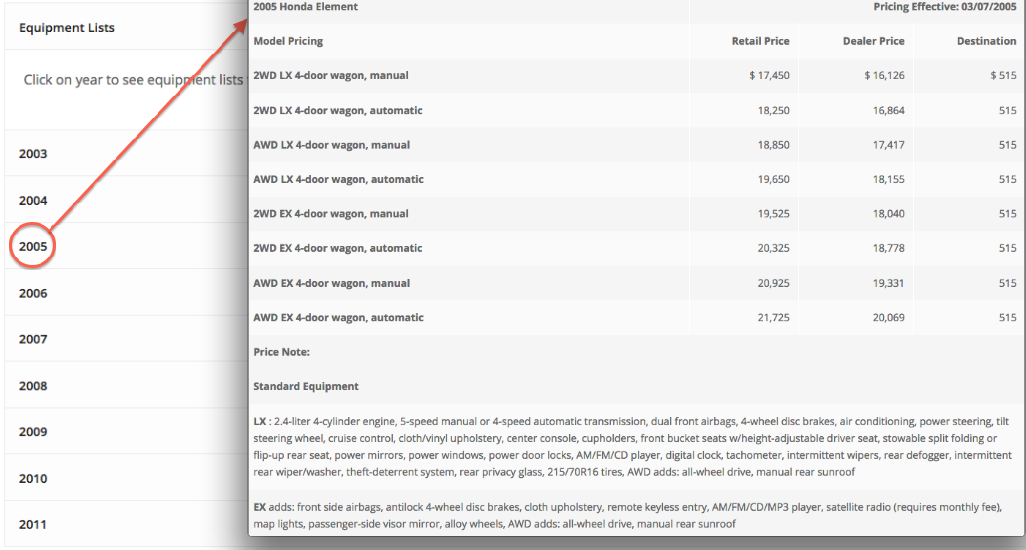 Feel free to let us know if you've had experience with any of these cars. Now, check out 5 Cool Cars for Under $5000.
Cool Cars Under $5000
2004-2006 Scion xB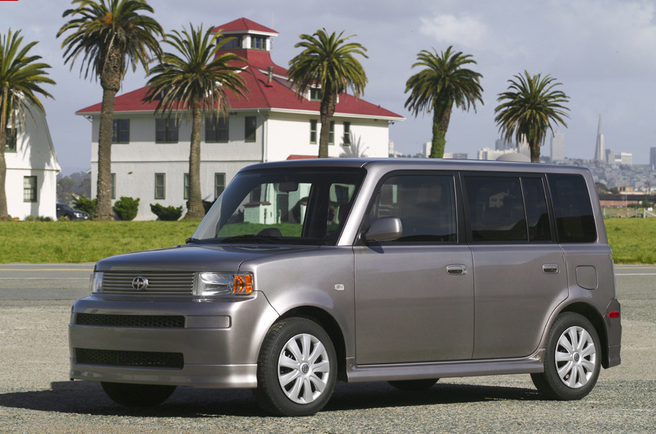 While the first Volkswagen Beetle stands as the original "counter-culture" car, the Scion xB is clearly another. Or at least it was intended to be. While aimed at 20-somethings, the xB's practicality and low price ended up making it attractive to a far wider audience than Scion expected, which helps in your quest to find a good example today.
Why? Because xBs – by intent – were a cheap blank canvas for those wanting to "personalize" them, and many of those efforts only served to screw them up. Yet we easily found ones for sale that had not been so molested, and many that seemed like solid drivers were posted for far less than our $5000 target price.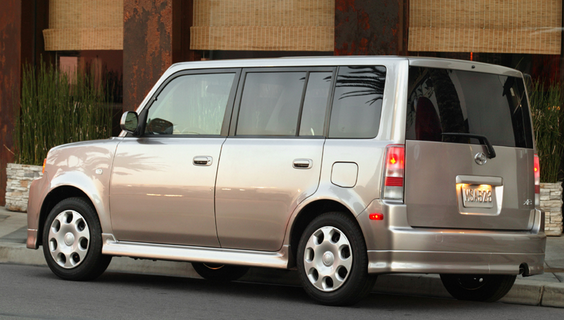 As now-defunct Scion was an offshoot of Toyota, the unique-looking xB was based on the solid mechanicals of the contemporary Toyota Echo (which carried its own "unique" look, but a far less appealing one.) That means a front-wheel-drive chassis with an economical but adequate 108-horsepower 1.5-liter engine mated to either a 5-speed manual transmission or 4-speed automatic.
But what made the xB appeal to such a wide audience was its practicality. Only a fishbowl afforded better visibility, the tall doors made entry and exit a breeze, and the cavernous cargo area could be made even more so by simply removing the rear seat.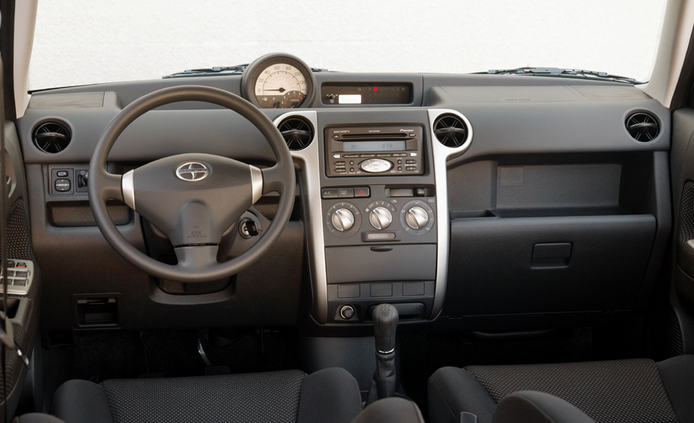 As the Scion philosophy hinged on model simplicity, there was only one quite-well-equipped trim level with just a couple of factory options (but whole scads of dealer-installed "personalizing" ones). Standard were all the usual items (air conditioning, power windows and locks, etc.) along with an antiskid system, which wasn't common on low-priced cars of the time. Only the original 2004 offered curtain and front-side airbags as an option, and the final '06 added an optional 6-disc CD changer with digital-media connection. Otherwise, the xB pretty much stood pat through its three-year life, after which it was replaced by an equally boxy but much bigger and less endearing version.
2003-2011 Honda Element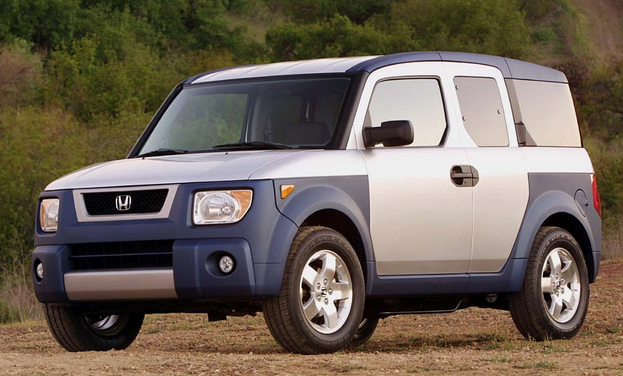 Another box-on-box-on wheels, the Element was based on Honda's wildly successful CR-V, but with a more (and perhaps intentionally) polarizing look. But the Element was more than just a squared-up sport ute.
Intended as more of an "outdoorsy" offering, the Element was clad with plastic exterior side panels and given a hose-out interior with rubber floor. It also had rear-hinged rear doors (like an extended-cab pickup), which – when opened in conjunction with the fronts – presented a gaping opening perfect for swallowing bulky stuff that would never fit otherwise. However,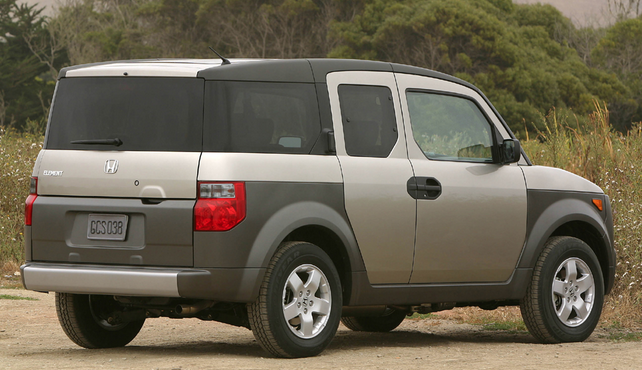 this door arrangement could be annoying in tight parking spaces, as opening the rears required opening the fronts first, which formed a "box" that you might be in, but your grocery cart would not. But you really don't have tight parking spaces in the great outdoors, now, do you?
Element was offered in front- and all-wheel-drive form, the latter also adding a big sunroof. And for a vehicle of this focus, it came incredibly well equipped, as even the base LX trim level boasted a strong list of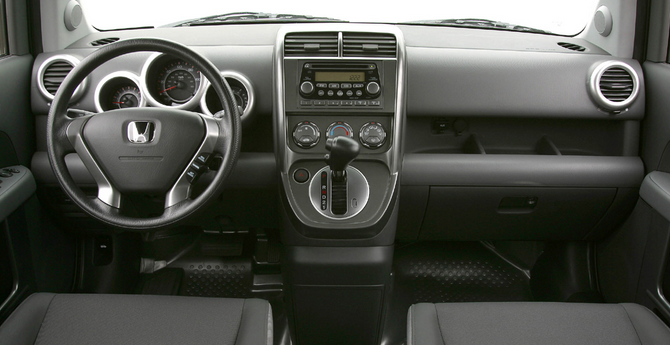 standard features.
About the most notable changes throughout the Element's life in Honda showrooms occurred with the 2009 model, which added a standard rearview camera, while the upscale EX and "sporty" SC (a front-drive model that appeared the year before) now came with a voice-activated navigation system.
2006.5-2009 Volkswagen GTI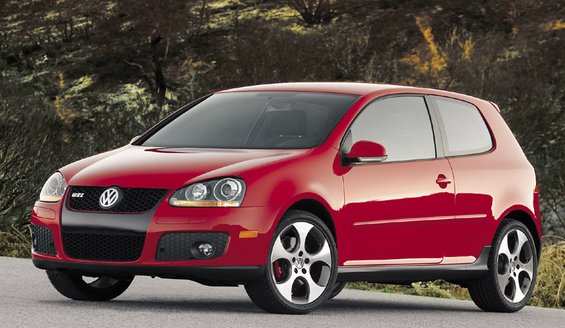 Although any GTI since the original debuted for 1983 has the merits to make this list, the "2006.5" (a redesigned model that joined the "old" 2006 version mid model year) added some really useful features and generally could be found under our price cap.
Some may feel that the venerable GTI would fall into the "too easy" list mentioned up top, but we put it on our list to make sure it also appeared on yours. It's that good.
As "hot hatchbacks" go, the GTI doesn't boast the greatest specs, at least not in the engine compartment. Although the 2006.5 got a larger four with 20 more horsepower, the 200 emitted by its 2.0-liter turbo is far downstream of many Japanese rivals. But that number doesn't really reflect how punchy the engine feels in normal driving, where it provides a responsive low-end surge that more frenetic engines lack.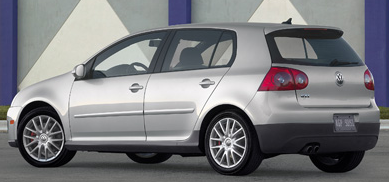 The GTI also has terrific chassis tuning that almost magically combines sporty handling with a fairly compliant ride, something that's of special concern in areas with less-than-perfect pavement. It also offers good passenger and cargo room along with an extensive list of features. But perhaps most impressive is its surprising level of interior refinement, with a clean design formed from high-quality materials. The whole car just screams, "German engineering."
The 2006.5 came very well equipped even in base form, and it added a host of previously unavailable features, including a standard antiskid system (formerly optional) and driver-seat lumbar adjustment, and newly optional navigation system, satellite radio, and dual-zone automatic climate control. For '07 the first 4-door GTI appeared, which was sacrilege to some but a major convenience to others, and it could be fitted with optional rear side airbags.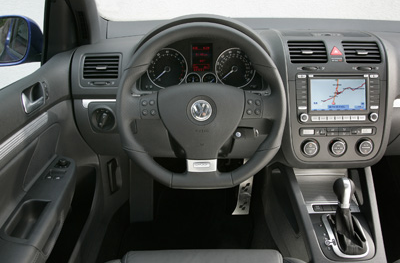 But there's a catch. VWs of this period were known to be afflicted with electrical problems, which are often tough to track down and equally tough to fix. So it's more important than usual to make sure everything electrical works before plunking down your hard-earned money – or you'll soon be plunking more of it into your favorite mechanic's cash register.
One more thing about the GTI. Although it really shouldn't matter – as the car's overall goodness is really reward enough – the GTI is one $5000 car to which even your richer friends with Audis and BMWs will likely give nodding approval. It's a legendary enthusiast's car that simply transcends whatever amount was paid for it.
2006.5-09 Volkswagen GTI/Rabbit
2007-2014 Volkswagen Eos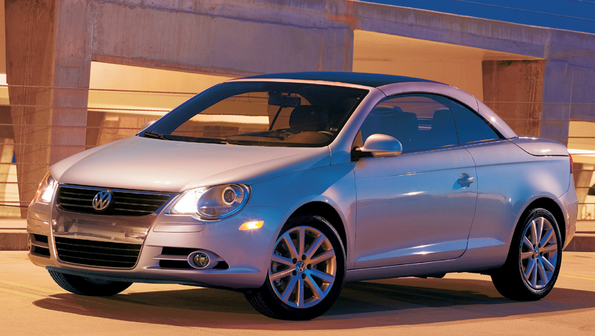 Convertibles are almost universally cool. The first in this price range that would likely cross your mind would be some variation or another of Mustang, but – as mentioned up top – that's too obvious. Furthermore, any Mustang suffers some limitations in terms of foul-weather traction, having a heavy engine up front and lightly loaded drive wheels out back. And by the time it – as well as any other soft-top convertible – has depreciated into this price range, the ragtop has likely become … well … kind of raggedy, and they're rather expensive to replace.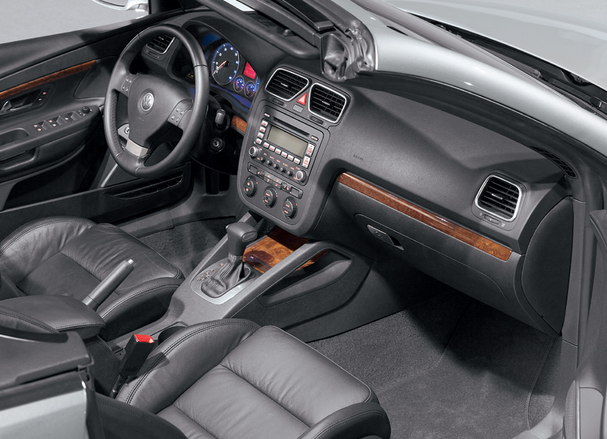 To counter some of the cost, noise, and security issues associated with conventional convertibles, a number of retractable-hardtop convertibles started appearing several years back. (Actually, they "started appearing" back in the 1950s, but were rather short lived.) Trouble is, most were on the pricey side to start with and have yet to depreciate into our specified range.
But not the Volkswagen Eos. It started out as the lowest-priced "Retrac" when it debuted for 2007, and we found numerous examples listed for less than our $5000 target (though they were more numerous in some areas than others). The beauty of the Eos is not only its power-folding hardtop – which includes a separate sunroof (!) – but also that it's front-wheel drive, came very well equipped even in base form, and it boasts a stately interior trimmed in rich fabrics.
All model years of the Eos came standard with the same 200-horsepower turbo 2.0-liter four found in the GTI previously mentioned, and it could be mated with either a 6-speed manual or 6-speed automatic transmission. But also offered only in 2007 and 2008 was a 250-horsepower 3.2-liter "VR6" (a narrow-angle V6) with 6-speed automatic that turned the Eos into a bit of a hot rod. As with the GTI, check to make sure all the electrics work, especially the top.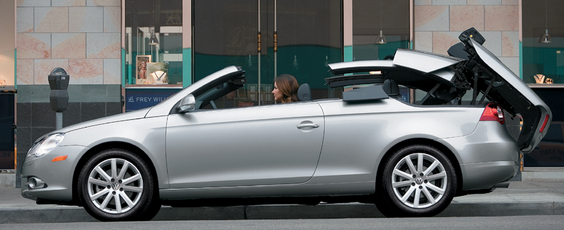 For whatever reason, the Eos didn't sell all that well, and that may have contributed to the fact that it continued virtually unchanged through its swansong 2014 season. But that kind of rarity only makes it cooler still – and that's before you demonstrate its Rube Goldberg folding top.
2005-2008 Dodge Magnum RT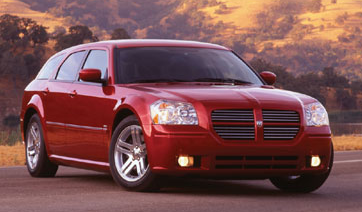 Audi calls them "Avants," England calls them "Shooting Brakes," but a station wagon by any name is just kind of cool. Especially this one.
After a long string of adventurous designs that began with the Viper of the early 1990s, Dodge scrapped its long-running Intrepid full-size front-drive sedan for 2005 and replaced it with a stylish rear-drive wagon carrying the provocative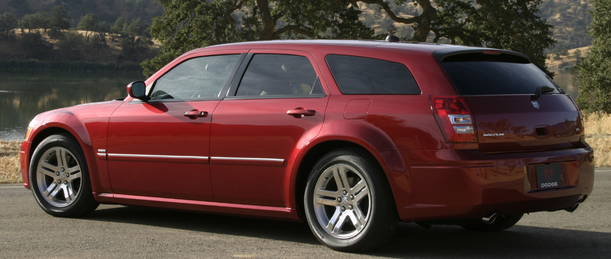 Magnum name. While only the top-line RT version had the vaunted 5.7-liter 340-horsepower Hemi V8
under its hood (and the equally vaunted Hemi badge on its flanks), even V6 versions screamed "Show Car" at a time when most rivals weren't even humming loudly.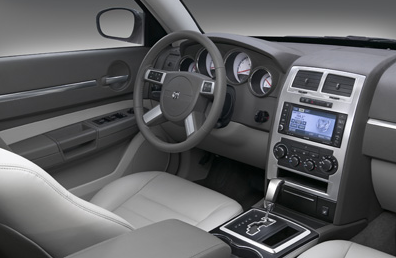 RTs came on massive (for the day) 18-inch wheels and were very well equipped even in base form. Interesting options included all-wheel drive (also offered on V6 versions), power-adjustable pedals, and a trailer-towing package with load-leveling rear suspension.
Although the Magnum was joined for 2006 by a 4-door sedan version called the Charger, the latter wasn't quite as special. Both also came in SRT8 form that year, but it's unlikely you'll find one of these 425-horsepower monsters in our $5000 price range.
But RTs you can. And if you find one you like, make sure it has – or you give it — an appropriately loud exhaust rumble. You'll thank me later.
Consumer Guide Car Stuff Podcast, Episode 41: 2020 Jeep Gladiator Mojave, Safe Vehicles for Teens
Cars Under $5000
Cars Under $5000