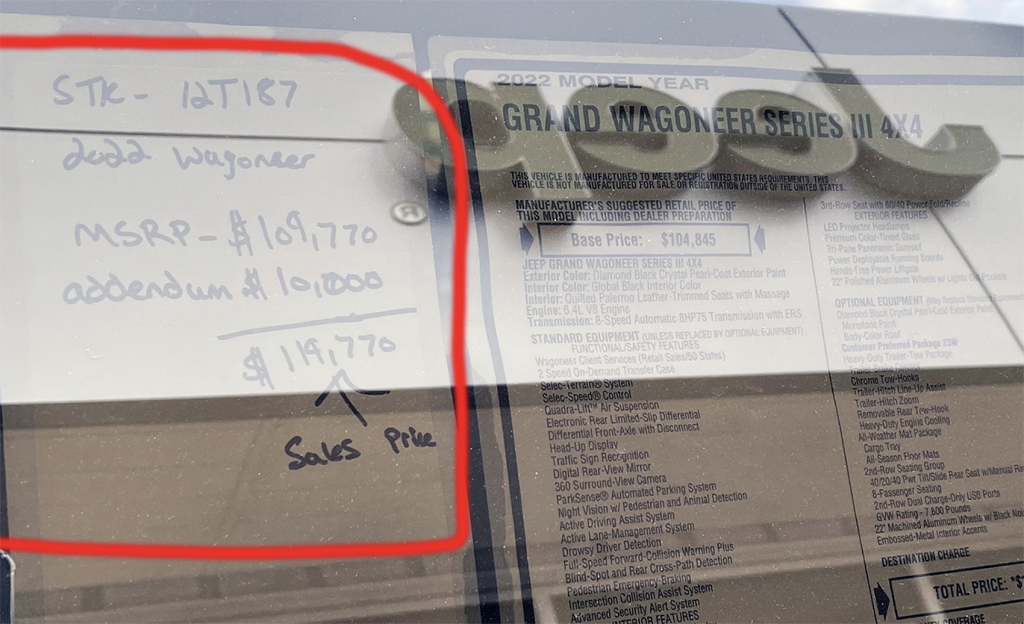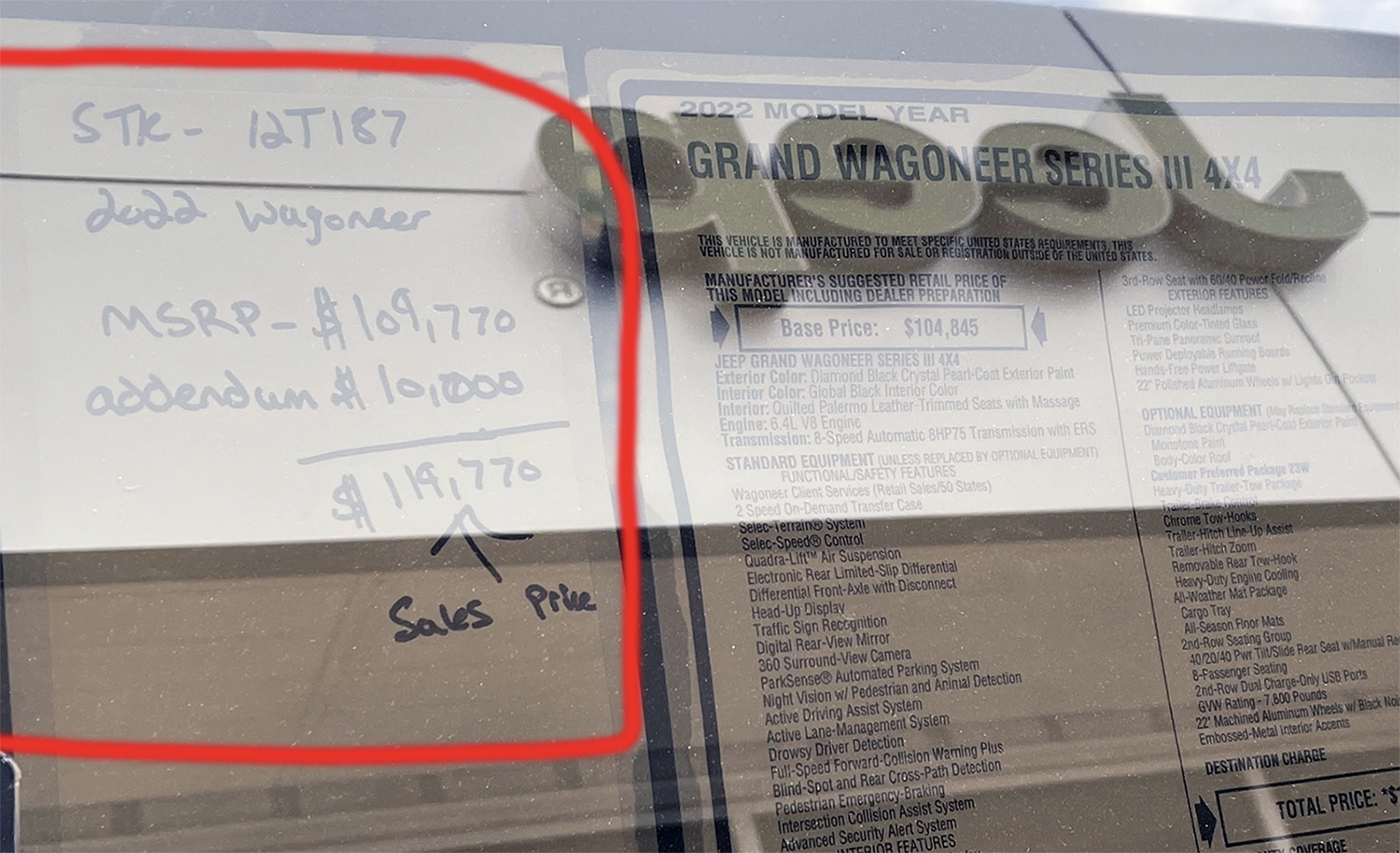 It's no secret: Due to the COVID-19 pandemic and the related supply-chain issues, new-vehicle transaction prices have shot upward over the last couple years. Stories of jaw-dropping dealer markups—especially for popular vehicles—are now commonplace… so much so that some sort of markup on a new vehicle is more or less the rule, rather than the exception. On a recent Sunday road trip through Western Illinois, I came across a small-town Dodge-Chrysler-Jeep-Ram dealership with a few brand-new vehicles on its lot, so I decided to do a little boots-on-the-ground research. What I found was this: This particular dealer is asking full sticker, full sticker plus $5000, or full sticker plus $10,000 for the new vehicles it has in inventory. And, there isn't very much in inventory.
In normal times, there are usually three million new cars in inventory on dealer lots around the country. By "in inventory," we mean vehicles that have been delivered to dealerships but have not yet been sold. According to several sources, there were just 800,000 new cars in inventory nationwide as of the beginning of May 2022.
How did we get here? The chip shortage, mostly, and a couple of other supply-chain issues. Primarily, the COVID-19-spurred move to working from home cranked up computer/electronic-device demand dramatically, straining the supply of microchips used to make everything from toaster ovens to mobile phones to—yup—cars and trucks.
Car manufacturers claim they are lining up reliable sources for microchips, but production of new cars never seems to actually increase. Worse, this situation is now expected to last—to at least some degree—into early 2024.
Car dealers, supplied with roughly a third fewer vehicles than they might normally be able to sell, find themselves in possession of what amount to precious commodities. Of course, transaction prices reflect that reality. Roughly two years ago, the average transaction price—that's the negotiated price of the vehicle excluding taxes and fees—was around $37,000. Today that number is around $47,000, with some vehicles (especially a few desirable battery-electric cars and trucks) going for much, much more over the sticker price. For consumers, the situation is made more painful by the absence of manufacturer rebates or bargain financing.
Collected here are some window sticker images collected from that single Dodge-Chrysler-Jeep-Ram store in Western Illinois. I have no interest in calling out this dealership, as the store management has chosen to honestly list its price markups on the window, and seems to be applying those prices consistently. Also, what you see here seems to be most, if not all, of this store's new-vehicle inventory. There were, however, a good number of late-model used Jeep Wranglers and Ram pickups on the lot.
I apologize for the poor quality of the some of the images below. Sunset is a rough time to photograph anything through glass. Please tell us about the markups you've seen; the place to leave comments is at the end of the article.
Hot Deals Madness! A Gallery of Classic Dealer Ads
Dealer Addendum Stickers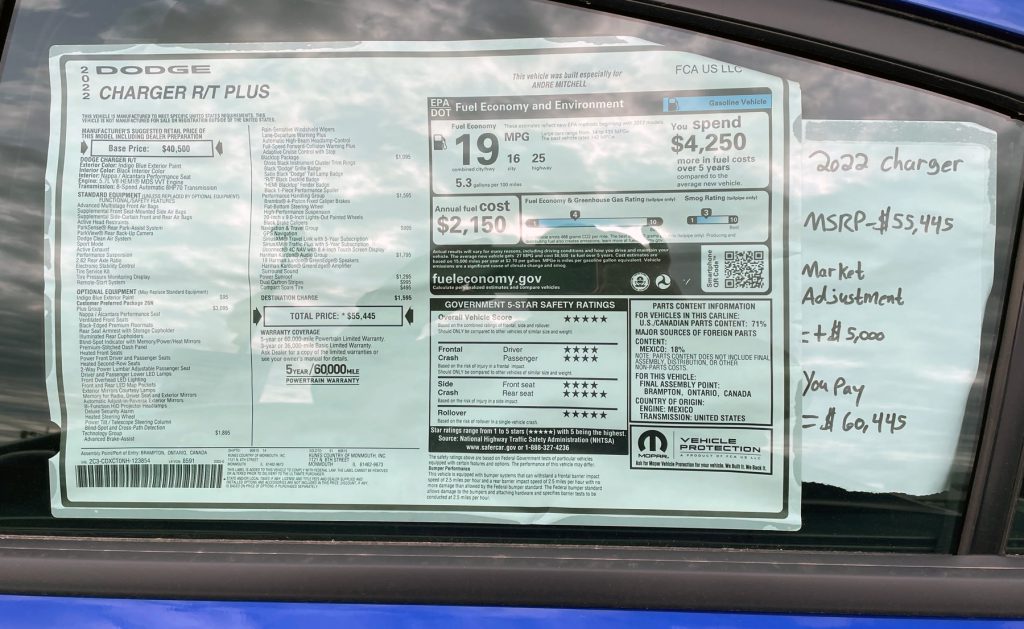 I saw no Dodge Challengers on the lot, and just this one Charger. For the record, the "Plus" is really a $3095 package that brings with it all sorts of content. Still, whatever value the Plus package brings is offset by the $5000 price adjustment. I will mention this just the once: I wish this dealership had invested in printed addendum stickers.
Dangerous Dealers: Servicing Car Potentially as Perilous as Purchasing One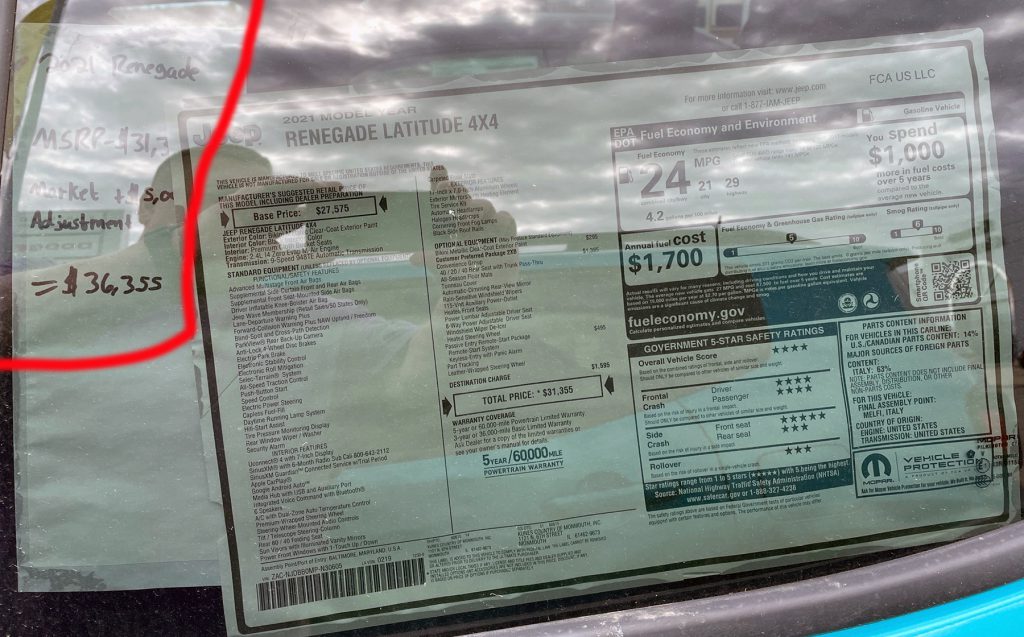 Jeep's most affordable crossover SUV looks a little less affordable with $5000 added to the bottom line. Still, for shoppers grappling with new-car prices right now, $36,000 might not look too bad. Minivan shoppers, too, are in for a surprise. The only van on the lot was a 2022 Chrysler Pacifica Hybrid Limited listing for $52,500. That van was subject to the same $5000 markup as most of the new vehicles on this lot, for a bottom-line price of $57,500.
Classic (C)architecture: Chicago's Historic Motor Row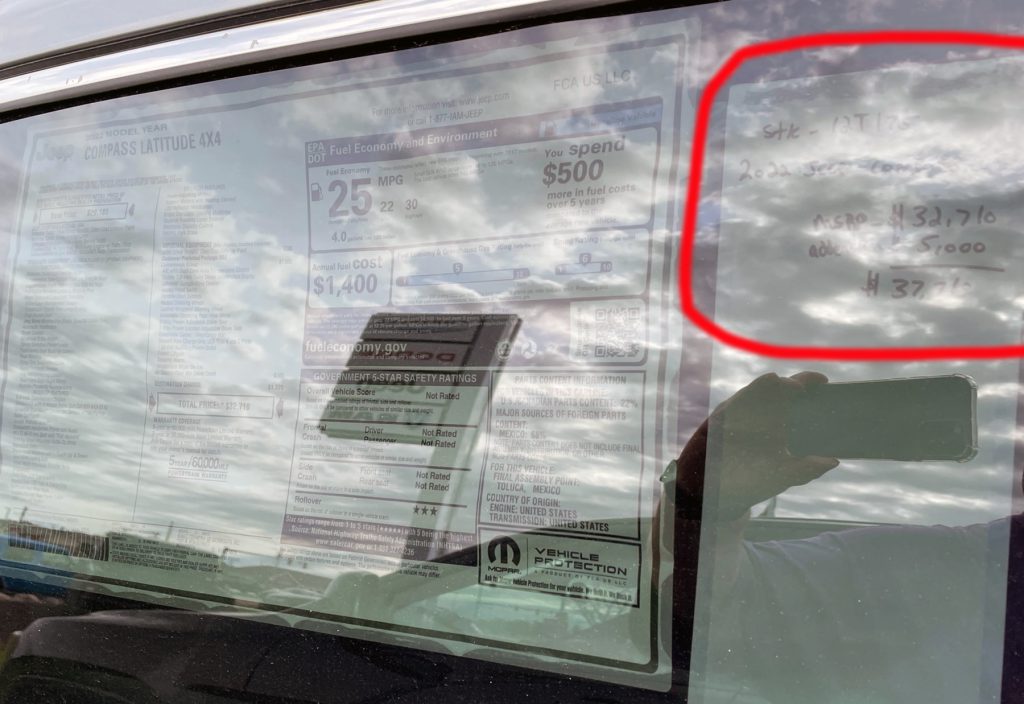 A step up in size from the Renegade, the compact Compass is generally a hot seller for Jeep. This well-equipped Latitude came to $37,710, including the $5000 upcharge. Interestingly, the single new Cherokee on this lot (the Cherokee slots between the Compass and Grand Cherokee in the Jeep family) was not affixed with an addendum sticker. It's possible that the five-grand price bump applies here as well, but Cherokee sales have disappointed as of late, so perhaps there are "bargains" to be found on Jeep lots.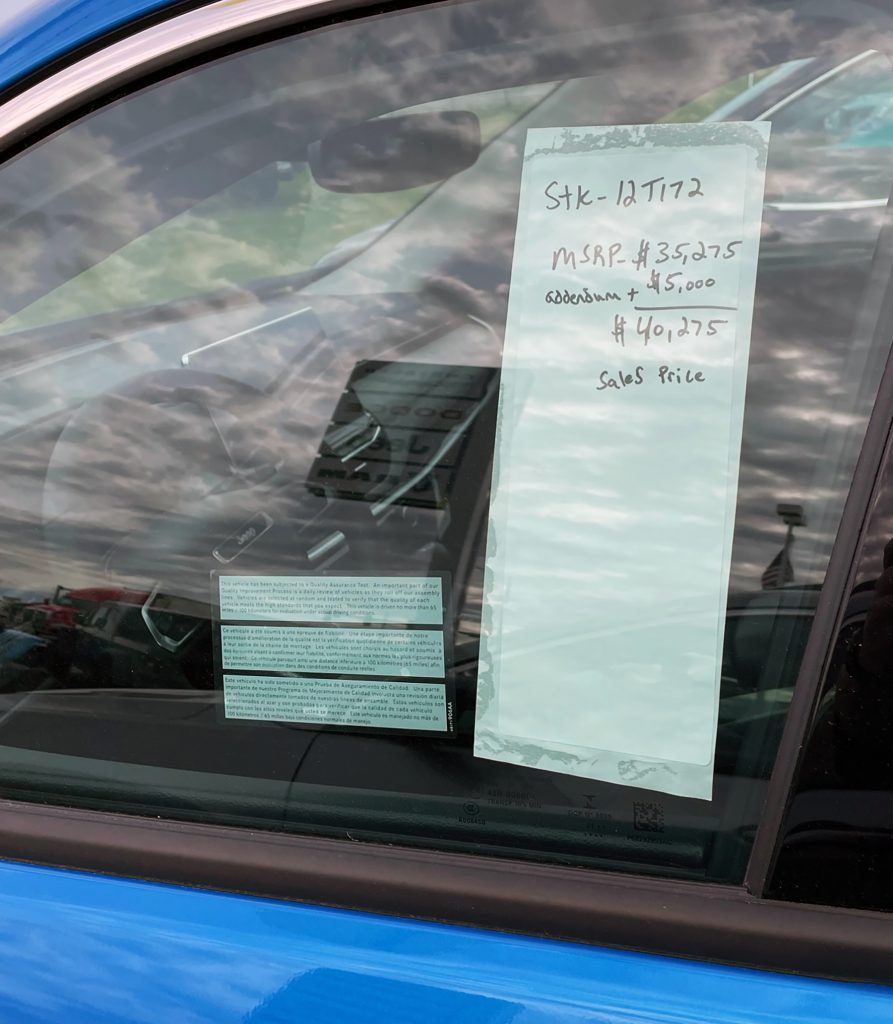 There was no Monroney label on this Jeep Compass, but I'm pretty sure this is a new vehicle. At any rate, it's subject to a $5000 supply-chain tariff.
You're on Your Own: How Your New-Car Salesman Gets Paid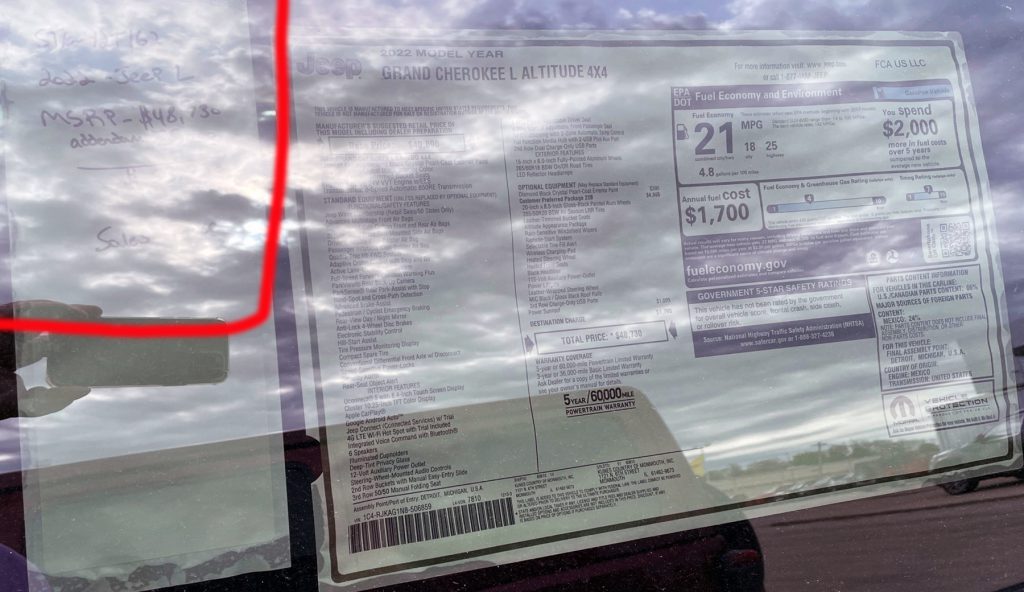 Once you move above the Cherokee in Jeep's product portfolio, you're getting into luxury territory, and the vehicle prices reflect that. This Grand Cherokee L Altitude was just under $50,000 before the market adjustment. If you can't read the sticker, the bottom-line price is now $53,730—for the second least expensive Grand Cherokee L trim level.
Chip Shortage Insanity: Driving a Used Car for 80 Cents a Day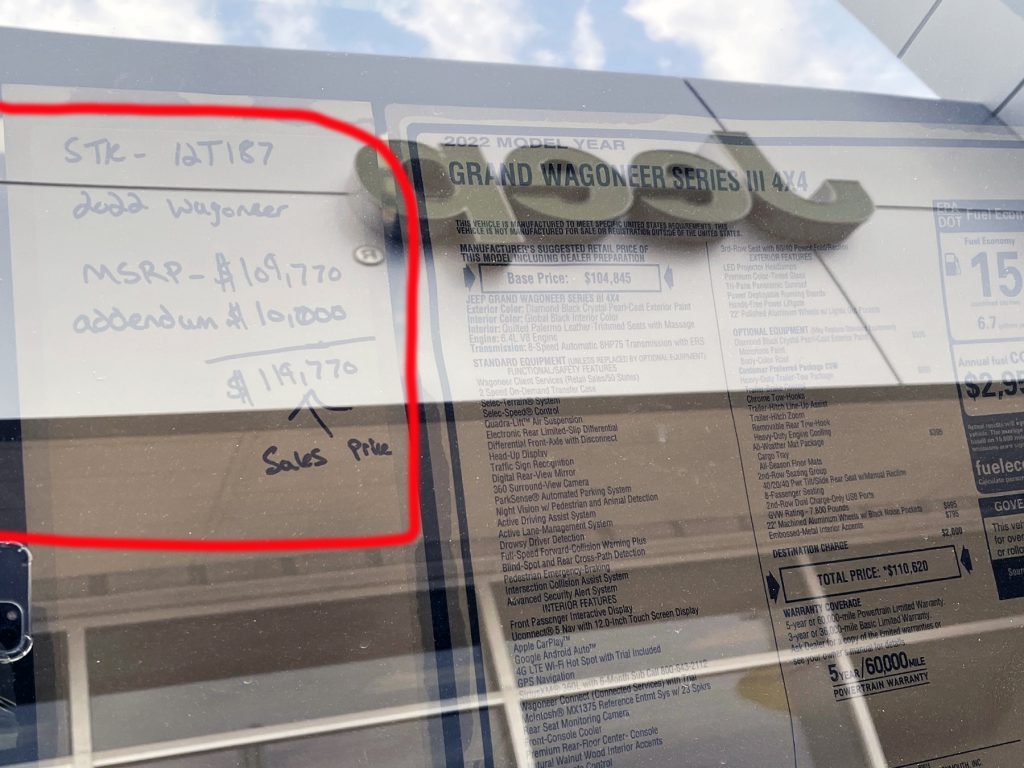 You knew this was coming. At the federal minimum wage, you'd have to work 1400 hours just to cover the markup on this new Grand Wagoneer. This was the only Grand Wagoneer I saw on the lot, and the only vehicle with a $10,000 market adjustment.
Test Drive: 2022 Jeep Grand Wagoneer Series I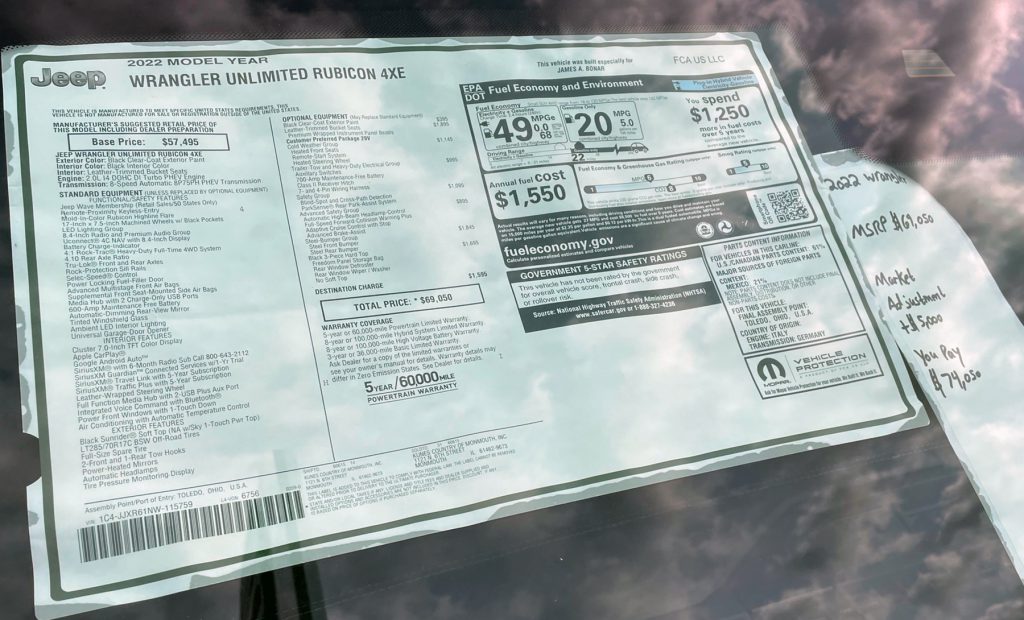 New Jeep Wranglers were few and far between on this dealership lot, and this plug-in-hybrid 4Xe example breaks the $70,000 barrier once the $5000 adjustment is added to the bottom line.
Chip Shortage Insanity: Driving a Used Car for 80 Cents a Day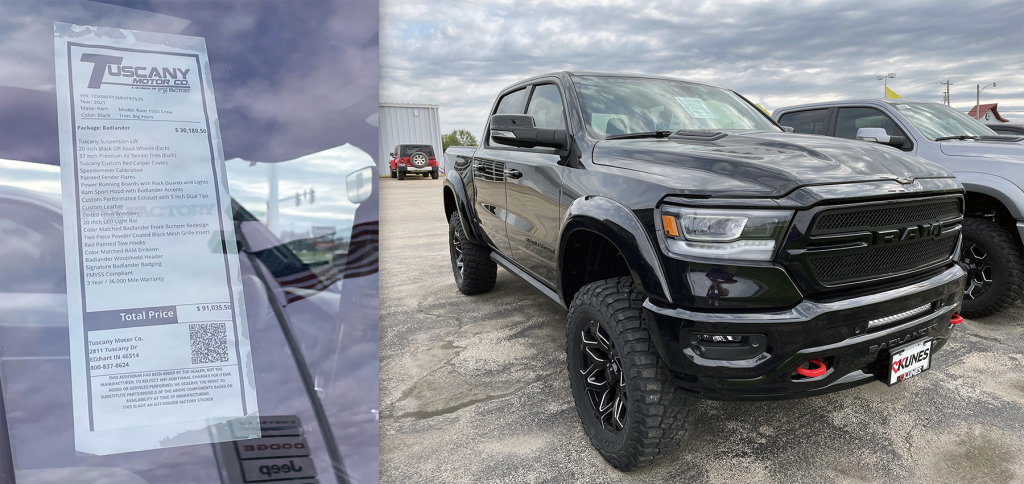 Customized by aftermarket pickup outfitter Tuscany Motor Co., this Ram 1500 pickup lists for a stunning $90,000. Two things trouble me here. First, this modified off-roader does not include any power upgrades (you can view the Badlander package's specs here), but is priced $12,000 above Ram's own hyper-capable, 702-horsepower TRX. Second, given the lack of a Monroney, the tire wear, and the scuffed rear wheels, this particular Ram Badlander appears to be used. That's a stunning amount of money for a half-ton pickup truck with miles on the odometer.
Check out the Consumer Guide Car Stuff Podcast
Dealer Addendum Stickers Gallery
(Click below for enlarged images)
Dealer Addendum Stickers
Dealer Addendum Stickers