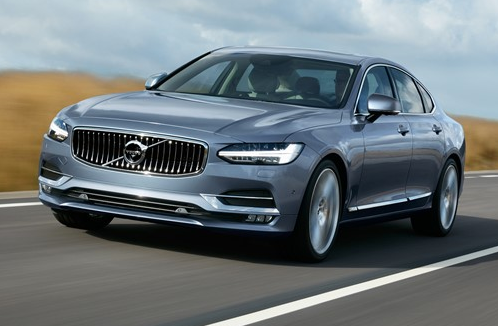 The redesigned 2017 Volvo S90 full-size luxury sedan made its public debut today at the 2016 North American International Auto Show in Detroit.
The S90 picks up the design language of the well-received 2016 XC90 SUV, and applies it to a large sedan platform (though Volvo calls the S90 a "4-door coupe"). Highlights of the subdued-yet-upscale styling include "Thor's Hammer" LED headlights, a concave grille that hints at the classic Volvo P1800, and a classy dashboard layout with a vertically oriented Sensus touchscreen (similar to the XC90 SUV).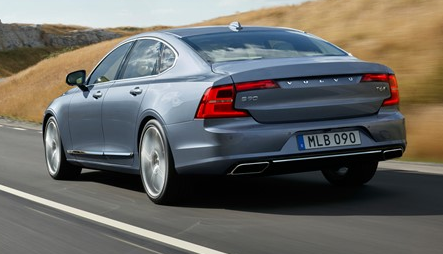 In keeping with Volvo tradition, the S90 is available with a host of safety technologies.  The IntelliSafe suite of safety features is standard, and includes Adaptive Cruise Control with Distance alert, as well as the Pilot Assist semi-autonomous drive feature. Pilot Assist provides gentle steering inputs to keep the vehicle aligned within lane markers at speeds of up to 80 mph. The City Safety pedestrian detection feature can now detect large animals—such as deer, elk, or moose—and provide an intuitive warning and brake support to avoid or mitigate collisions.
Three powertrain choices will be available, all based on a 2.0-liter four-cylinder: the turbocharged 2.0-liter T5, the turbocharged and supercharged T6 variant putting out around 316 horsepower, and the 410-hp T8 Twin Engine plug-in hybrid.
CG Says:
The redesigned 2016 XC90 SUV put Volvo back on the map in a big way, and the company is looking to keep the positive momentum going with the S90 sedan. Early indications suggest that the S90 has the goods to shake up the luxury sedan market in the same way that the XC90 changed the premium midsize SUV segment. We'll have to wait for full pricing info to see how the S90 slots in with a highly competitive group of rival luxury sedans.
More from the Detroit Auto Show