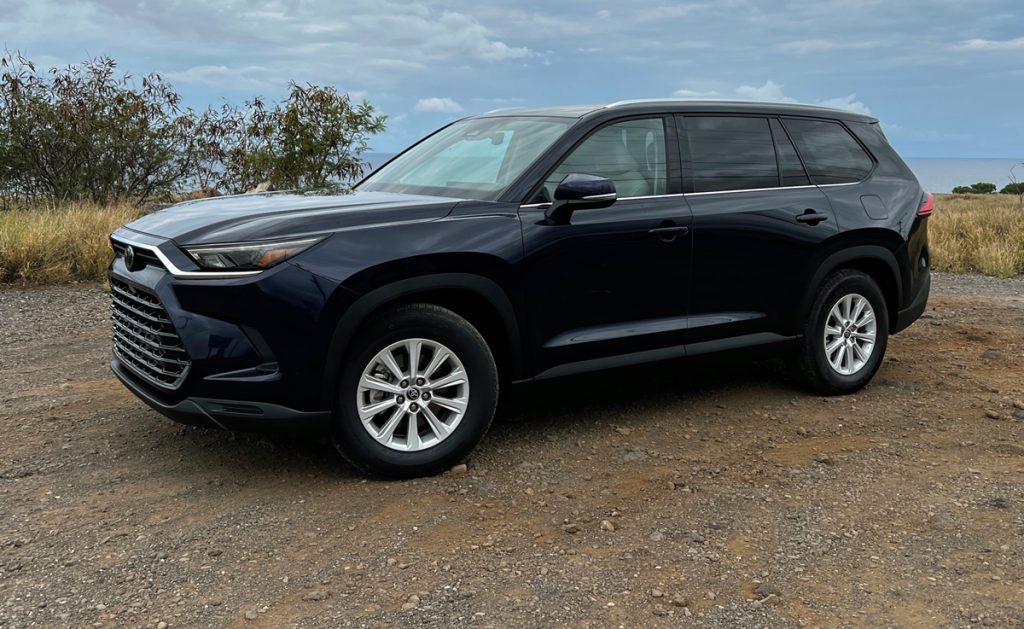 Toyota has dubbed the all-new 2024 Toyota Grand Highlander "the ultimate family SUV." And a lot of that centers around the vehicle's third-row space and the ability to carry both people and stuff. Of course, there's more to this new three-row SUV than that. A lot more.
First Spin: 2024 Toyota Grand Highlander
Positioned above the standard Highlander in Toyota's crossover lineup, the Grand Highlander is being positioned not only as roomier and more family friendly, but also as more premium.
Let's start where Toyota has placed its primary focus: interior volume. Per the EPA, the Grand Highlander boasts between 149 and 153 cubic feet of cabin space. That's just shy of the extended-wheelbase Jeep Grand Cherokee L, which comes in at 159. This not only translates to a spacious 3rd-row seating area, but a surprisingly roomy cargo area aft of the 3rd row, which Toyota demonstrated at a recent media event will accommodate seven carry-on bags.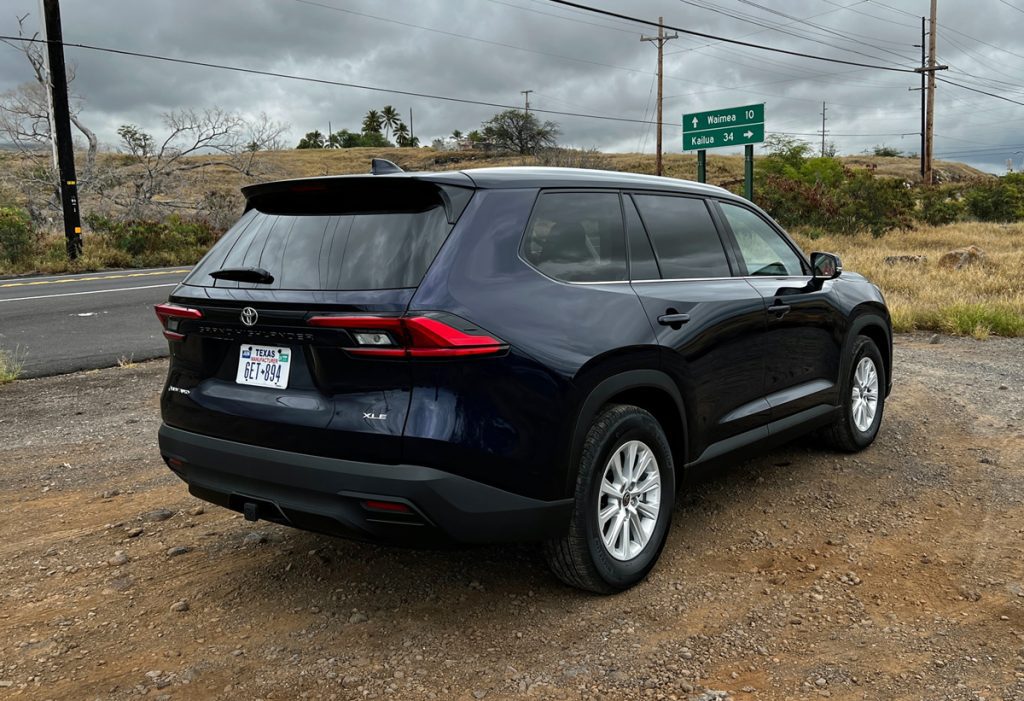 Toyota suggests that there's room enough for a 6', 2" adult in the third row. While I'm definitely not that, I spent time back there to check seat comfort and foot room. I found that even with the middle seat in the far back position, I had 4 or 5 inches between my knees and the back of the seat. Furthermore, my feet weren't trapped under the seat. When I moved the middle-row seat to the far-forward position, I had probably 12 inches between my knees and the back of the seat ahead of me. That certainly seems like it would accommodate an average to tall-ish adult.
But moving the middle seat forward compromises legroom for those passengers, so there's going to have to be some level of negotiation between passengers to reach optimal territorial assignments.
Test Drive: 2023 Kia Telluride SX Prestige X-Pro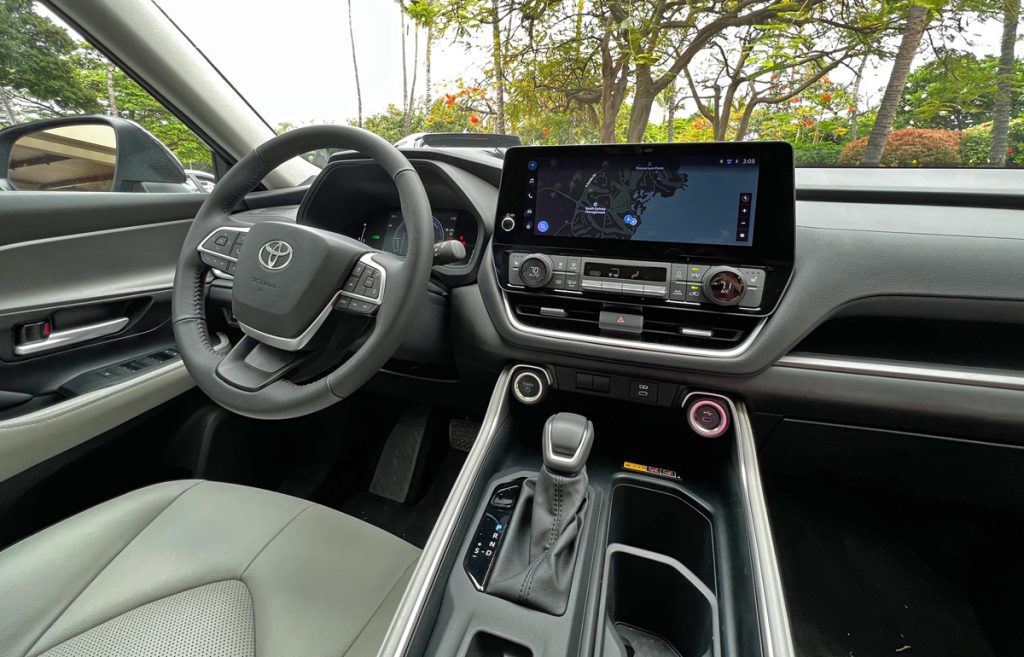 The 3rd-row seats themselves are also well-padded and generally comfortable – with one caveat. This row is belted for three occupants. I'm going to say that's a hard nope – unless you're putting three smaller children back there. That's due to hip and shoulder room. In terms of cargo space, one of the excellent things Toyota did with the design of the 2024 Grand Highlander is give the vehicle a more upright stance. This allows for you to stack the carry-on bags three high, therefore accommodating the aforementioned seven examples. (See photo below.)
Another big win for the third row: Ease of access. With the flip of a lever, the 2nd-row seats slide forward to leave a generous opening to the 3rd row. There's even a wide step and a hand grip to aid with ease of access. While this won't work well with car seats in the outboard 2nd-row seats, there is an option to have 2nd-row captain's chairs with a removable center console so rear occupants can climb through the middle to the back.
Test Drive: 2023 Hyundai Palisade Calligraphy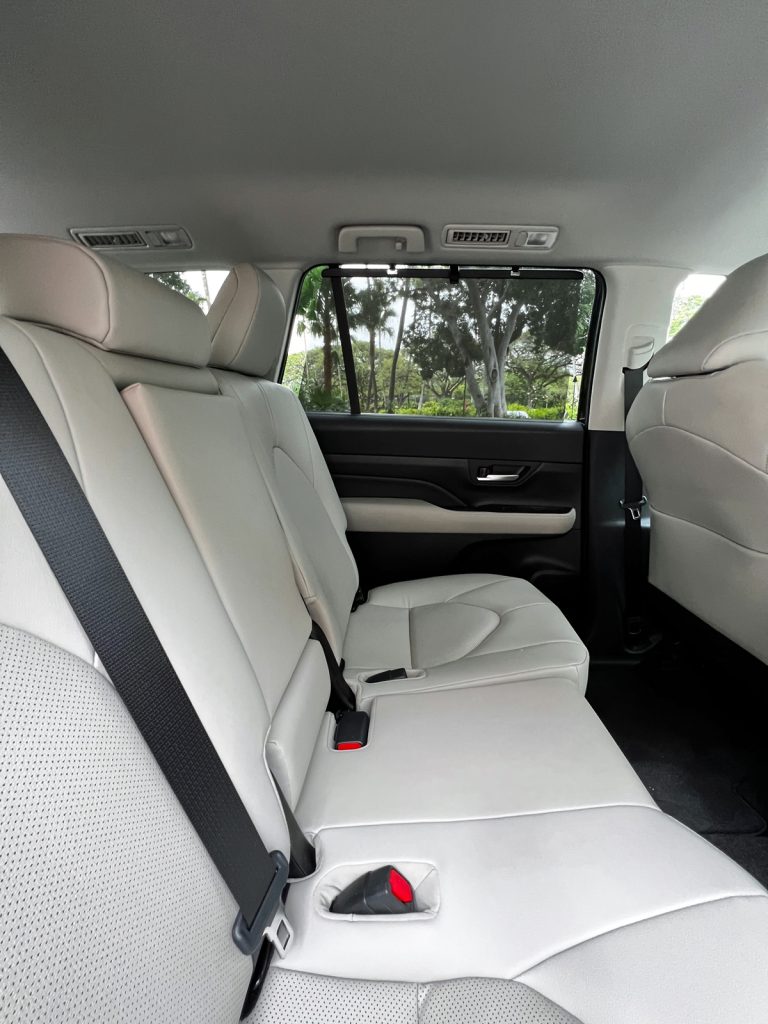 OK, so we've established that Toyota (mostly) succeeded with the cargo/passenger element. But what about everything else? Well, simply put: It mostly did a good job there, too.
Interior materials are nice, even at the base XLE trim level, and you have standard leatherette seating surfaces, 2nd-row sunshades, the ability to use your phone as a key (with subscription), heated front seats, a 12.3-inch touch screen display, Toyota's new infotainment system, and 7 USB-C ports–that cover the 3rd row as well.
I liked the padded dash inserts and seating materials with the perforated leather on the XLE and the suede inserts on the Platinum. Plus, the Hybrid Max models get bronze cabin accents, which are well placed and attractive. The one thing that struck me as slightly cheap was the plastic dash accent surrounding the cubby on the front passenger side. I'm not sure what they could have done to make this look better, but even the top-tier trims didn't look or feel right.
In terms of ride and handling, Toyota did a good job here as well. I thought the 2024 Grand Highlander felt planted on the smooth roads, and it handled the corners well for a 4,300- to 4,900-pound vehicle. Neither my event drive partner nor I noticed meaningful body roll. And, generally, the Grand Highlander felt a lot smaller underway than it actually is.
Which brings us to the powertrains.
The Grand Highlander has three under-hood options. A straight gas model with a 2.4-liter turbo-charged 4-cylinder engine, a regular hybrid with a 2.5-liter 4-cylinder hybrid engine, and the new Hybrid Max, which includes a hybridized version of the 2.4-liter.
The Hybrid Max, even though it's a hybrid, prioritizes performance over fuel efficiency. It produces 362 horsepower and 400 pound-feet of torque, and delivers a brisk, Toyota-promised 6.3-second 0-60 mph run, this while earning an EPA-estimate 27-mpg combined rating.
The Hybrid Max serves well in the Grand Highlander. There is almost no throttle lag, and acceleration is zippy. With this engine, the Grand Highlander feels strong off the line, and has plenty of midrange punch for passing and merging.
Test Drive: 2022 Ford Explorer Timberline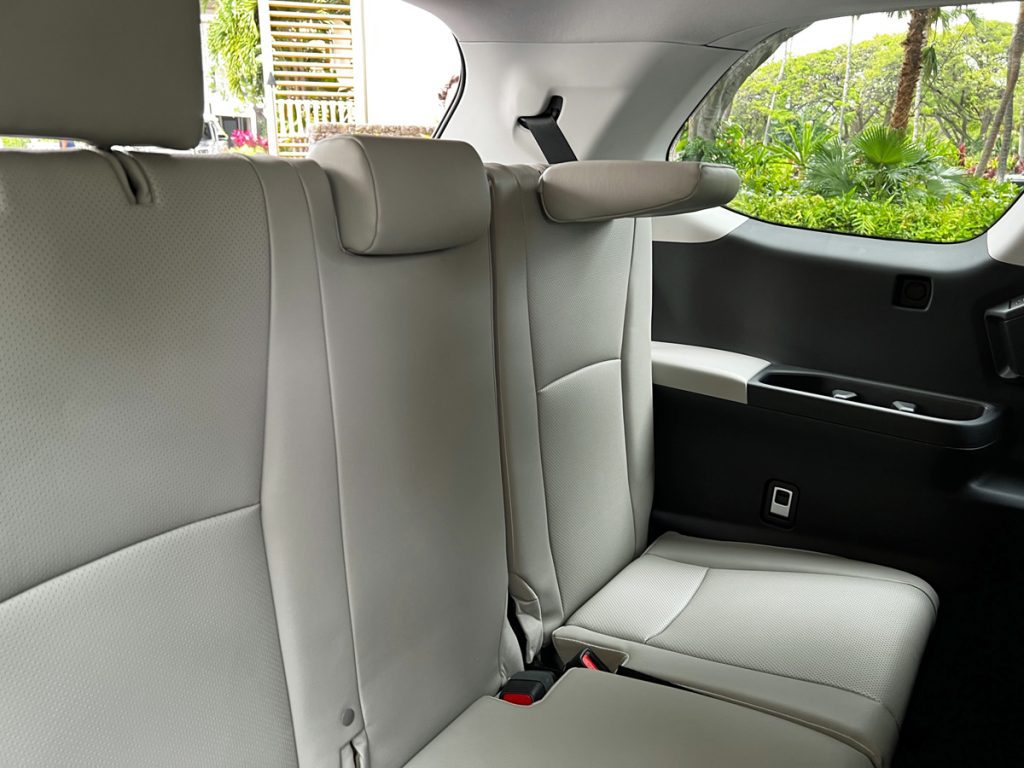 The hybrid system itself is smooth in operation. This is 100% the powertrain I'd buy–even though you'll have to shell out an extra $11,000 to get it, and though we only averaged a reported 20 mpg during our two-hour evaluation. That said, we were driving aggressively.
In contrast, the base hybrid system felt loud and clunky. I mean, it was fine, and it certainly gets the job done. But driving it back-to-back with the Hybrid Max just shows how phenomenal that new powertrain from Toyota is.
Test Drive: 2022 Infiniti QX60 Autograph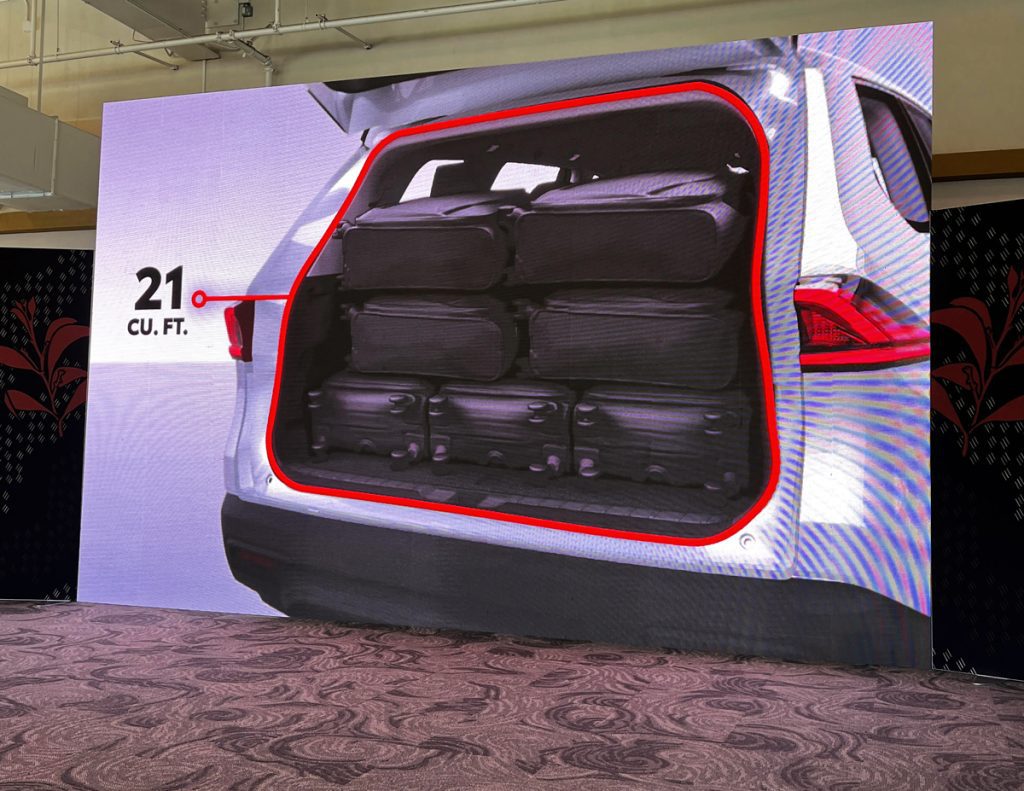 The 2024 Grand Highlander also includes a nice level of amenities and features including a removeable 2nd-row console (with the captain's chairs), available heated-and-cooled seats for the first and 2nd rows, rear-seat climate controls, a power-adjustable front passenger seat, 13(!) cup holders, an available hands-free power liftgate, head-up display, a front center console that fits a 13-inch tablet, wireless Apple CarPlay/Android Auto connectivity. Also worth noting:  Toyota's new native infotainment system that will tell you jokes if you ask it to. They're not good jokes, but still…
Grand Highlander also gets all the standard safety goodies you expect from a Toyota, including automatic cruise control with stop-and-go functionality, lane-trace assist, blind-spot monitoring, and automatic emergency braking with pedestrian detection. Available safety features include automatic reverse braking, 360-degree camera display, rearview camera mirror, and traffic-jam assist with hands-free driving (good for speeds up to 25 mph.)
Of course, this high level of features will cost you. Where the base price of the standard front-wheel-drive Highlander L is $37,955, the Grand Highlander starts at $44,405 including destination.
The full price lineup, including destination is as follows:
XLE, gas, FWD: $44,405
XLE, gas, AWD: $46,005
XLE, hybrid, FWD: $46,005
XLE, hybrid, AWD: $47,605
Limited, gas FWD: $49,195
Limited, gas AWD: $50,795
Limited, hybrid AWD: $51,395
Limited, Hybrid Max AWD:
Platinum, gas AWD: $54,880
Platinum, Hybrid Max AWD: $59,460
The 2024 Grand Highlander will be assembled in Princeton, Indiana, and it goes on sale starting in July with the gas and hybrid models, while the Hybrid Max Powertrain will follow about three weeks later.
Overall, I put the 2024 Toyota Grand Highlander in the win column. It comes with a generous helping of standard amenities, an adult-usable 3rd row, and plenty of cargo space. The Grand's ride and handling are noteworthy, too. While it does have a few quirks (why didn't they put the heated steering wheel button in a more logical location?), the pros far outweigh the cons–that is if you don't mind shelling out the extra dough for the top-tier powertrain.
Test Drive Gallery: 2021 Jeep Grand Cherokee L Summit Reserve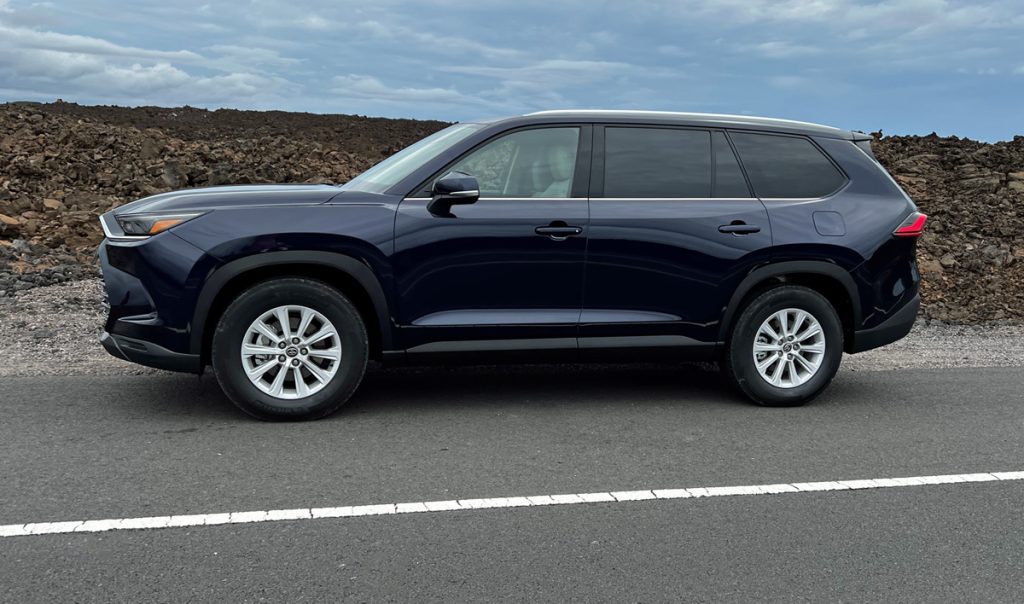 Listen to the Car Stuff Podcast
2024 Toyota Grand Highlander Gallery
Click below for enlarged images