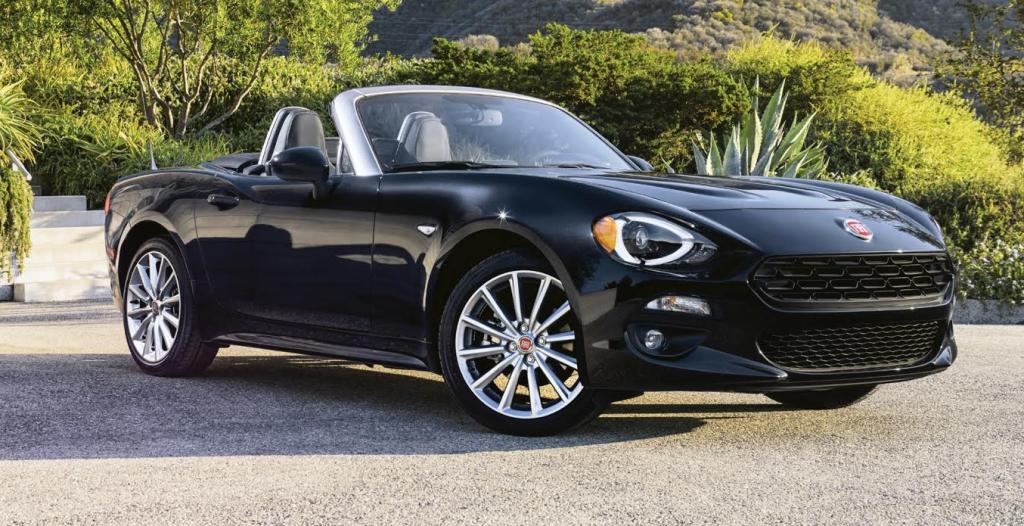 by Don Sikora II
Note: The following story was excerpted from the April 2017 issue of Collectible Automobile magazine.
Back in the Sixties and Seventies, buyers in the market for a small sporty roadster had quite a few choices. Sure, they were mostly British or Italian, but there were choices. Heck, even a decade or so ago, Americans had several reasonably affordable two-seat drop tops to shop. Remember the Pontiac Solstice and Saturn Sky?
Since the Nineties though, the default small-roadster choice has arguably been the Mazda MX-5 Miata. With this Japanese-built sports car, Mazda recaptured the approachable performance and driving enjoyment of European classics like the MGB with the added benefits of modern-day reliability and a nationwide dealer network to take care of any problems that might crop up. Now, in an ironic twist, Mazda has partnered with Fiat—along with some of the latter's U.S.-based engineers—to build a modern-day reincarnation of the Italian marque's long-running 124 Spider.
Using the Mazda base means the new Fiat's layout is familiar. It's a front-engine/rear-drive two-seat convertible riding a 90.9-inch wheelbase. Base curb weight is 2436 pounds—104 pounds heavier than the svelte Miata. Fiat catalogs three trim levels; base Classica, tonier Lusso, and racy Abarth. The only engine—and the biggest technical difference between the 124 and the Miata—is a Fiat-built MultiAir 1.4-liter turbocharged four-cylinder with at least 160 hp; Abarths run a more characterful exhaust system and 164 ponies. In any case, the tiny turbo is good for 184 pound-feet of torque, and buyers can chose from six-speed manual or automatic transmissions.
Spider prices start at $24,995 for the Classica, $27,495 for the Lusso, and $28,195 for the Abarth. Options can be pricey. For example, matte-black hood and trunk paint for the Abarth is a $1995 extra. Also, the first 124 examples wore Prima Edizione Lusso trim along with exclusive Azzuro Italia blue paint. These individually numbered Spiders priced from $35,000.
In some ways the Fiat 124 Spider is caught in a no-win competition with its beloved older brother. In magazine reviews, the main takeaway seems to be that Fiat changed the Miata, and that while the result isn't necessarily bad, the central problem is that the 124 isn't a Miata. For example, Car and Driver's Tony Quiroga wrote, "Fiat hasn't made a better Miata, but it hasn't ruined it, either."  Then there's Sam Smith's take in Road & Track: "All told, this is a great car made into a good one. If the Miata didn't exist and the 124 did, the staff of this magazine would be doing cartwheels. And that's the rub: The Miata does exist, and the Fiat mostly serves to remind you how good that car is." Our office mates at Consumer Guide® presented both the 124 Spider and MX-5 Miata with 2017 "Best Buy" awards, so we're pretty sure you won't go wrong with either choice.
Pros:
Exterior styling recalls original Fiat 124 Spider and looks nothing like the Mazda Miata on which it's based.
Different glass and additional sound-deadening measures help make the Fiat's cockpit a bit more serene than the Miata's.
Reviewers prefer the Fiat's seats for comfort and support.
Cons:
Longer bodywork and extra creature comforts add mass, so the 124 Spider weighs about 100 pounds more than a comparable Miata.
The Fiat has more horsepower and torque than the naturally aspirated Mazda, but buff-book testers complain of turbo lag in the 124 Spider. Some say the available automatic transmission helps minimize this problem.
Reviewers say Spider's suspension tuning reduces body roll but also ultimate cornering grip compared to the Mazda.
Final Drive:
Though based on Mazda's latest MX-5 Miata and built alongside it in Japan, the Fiat 124 Spider has a surprisingly different personality. The Fiat's slightly relaxed demeanor and quieter cabin might make it the better choice for those in search of blissful sunshine cruising over canyon carving or track-day adventure. Thus far, average monthly sales in the U.S. are running about 40 percent lower than the Mazda, so over time the 124 Spider might prove more exclusive too.