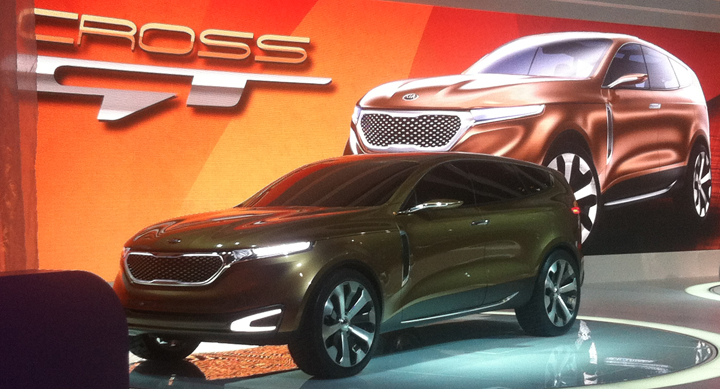 Kia unveiled a concept vehicle at the 2013 Chicago Auto show called the Cross GT. Similar in stature to the Kia Sorento midsize SUV, the Cross GT concept is a larger-size crossover that may indicate Kia's intentions to offer a bigger and more premium-scale SUV. Based on Kia's GT concept that debuted in 2011, the Cross GT has a longer wheelbase and more aggressive styling.
With the addition of all-wheel drive, the Cross GT is motivated by a 400-horsepower 3.8-liter V6 engine paired with an 8-speed automatic transmission. Aesthetically, Kia's use of a swoopy silhouette and a low roofline attempt to convey more sophistication than one might associate with the brand. This is further amplified by the addition of rear "suicide" doors and the use of higher-grade interior materials, said to be inspired by equestrian saddles. Leaning toward the more environmentally friendly side, the leather seating is tanned with vegetable oil, natural dyes, and no harsh chemicals.
CG Says: With the Cross GT concept, Kia is attempting to show its interest in moving the brand upwards on the spectrum of near-luxury vehicles. We welcome the idea and hope that it can closely compete with similarly sized entries from Chevrolet (Traverse) and Dodge (Durango).