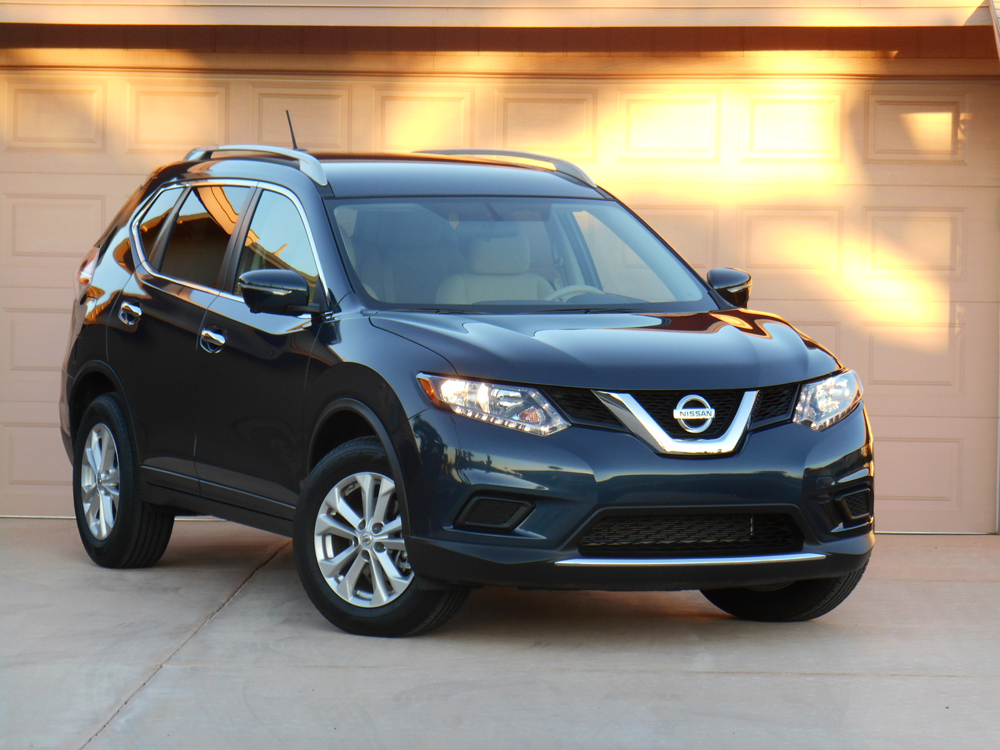 Nissan Rogue SV FWD
Class: Compact Crossover/SUV
Dates tested: 12/11/2014 – 12/16/2014
Miles Driven: 126.0
Fuel Used: 5.21 gallons
Real-world fuel economy: 24.2 mpg
Driving mix: 30% city, 70% highway
Base price: $24,490 (not including $860 destination charge)
Options on test car: SV Premium Package ($1590)
Price as tested: $26,940
Quick Hits
The great: Roomy, refined cabin
The good: Good power, decent fuel economy
The not so good: Mild road rumble; some drivers may find CVT behavior odd
Rick Cotta
Consumer Guide tested a top-line, all-wheel-drive Nissan Rogue SL earlier this year and found it to be a roomy, versatile, nicely trimmed vehicle with a bit of a thirst. This mid-line, front-drive SV cost more than $5000 less, yet proved to be the same—though with a slightly smaller appetite for fuel.
Consumer Guide's 2015 Small-Crossover Best Buys
As it so happened, we tested the Rogue right after spending a week in a Ford Escape, a compact-SUV competitor. The primary differences were that the top-line Escape Titanium had all-wheel-drive, a turbocharged engine, a few more features—and a nearly $9000 higher price. All of this could be determined by looking at the window sticker.
What was less obvious—until we drove both—was that the Escape rode somewhat better, was quieter, and was (predictably) quicker. Had it snowed (which is often the case in December, but not so much here in Phoenix), we probably would have appreciated its all-wheel drive more.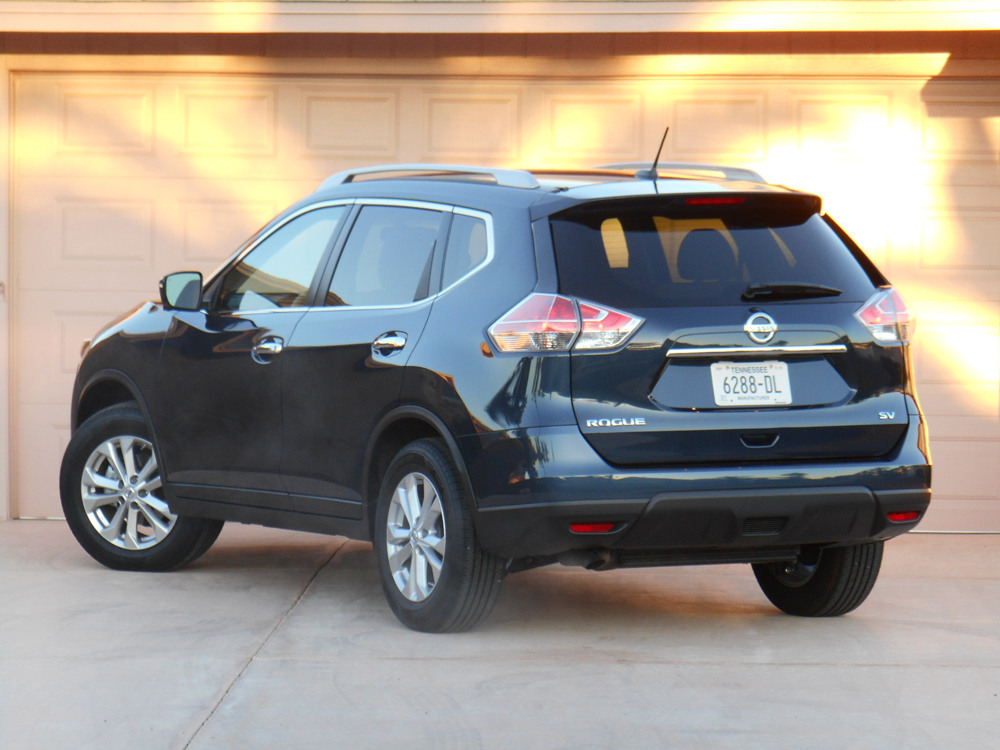 But where the Rogue showed its stuff was in cargo versatility, interior ambiance, and—to a lesser degree—fuel economy.
First, dynamics. On anything but glass-smooth surfaces, there was a slight "rumbling" that could be both heard and felt. Rogue's suspension is firmer than that of many in this class—including the Escape we drove—and that may be part of it. Small pavement imperfections were noticed, though hardly to an annoying degree. Handling was competent if not actually "sporty," and the turning circle was quite tight for a vehicle of this size (Rogue is four inches longer than the Escape, but has a foot tighter turning circle).
2016 Fiat 500X: American Crossover, Italian Style
Rogue's CVT automatic transmission is probably a boon to fuel economy, and perhaps acceleration, but it may feel strange to those used to a conventional automatic. In normal driving there's little difference, but under spirited acceleration, it lets the engine rev up and then holds it there, whereas engine revs rise and fall with gear changes in a conventional automatic. This is the case with virtually all CVTs, but Nissan does them as well as anyone. Nail the gas, and the Rogue's 170-horsepower 2.5-liter 4-cylinder engine provides a good jump from a stop, but then acceleration slows a bit until picking up again. Hitting the throttle while underway results in a fairly quick "kickdown" and decent passing power. Employing the Sport mode (via a button on the lower left of the dash) keeps engine revs a bit higher under cruise, which makes the vehicle slightly more responsive to throttle inputs, but doesn't help fuel economy any.
Speaking of fuel economy, we averaged 24.2 mpg in 70 percent highway driving. That's less than we expected given the EPA's combined city/highway rating of 28 mpg, but it's still not bad for a largish compact SUV.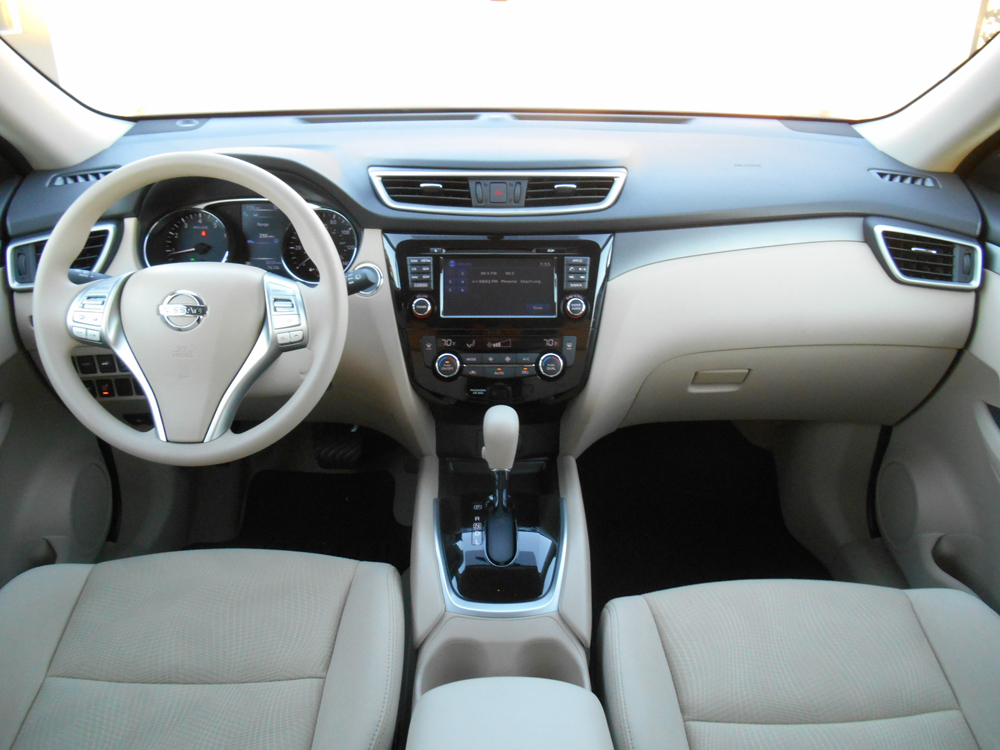 And then there's accommodations. First noticed is that the Rogue offers a high, commanding driving position, a real plus in my book. Visibility is decent to the front corners, unusually good to the sides, but really poor to the rear corners. Aiding in the last regard were not only the SV's standard rearview camera, but also the optional "Surround View" cameras that give a 360-degree view around the vehicle. It also allows the driver to select just the front camera when pulling forward toward an obstacle, or just the right-side camera when pulling alongside a curb. Selection is made through a handy button on the center of the dash. Really neat.
Interior materials are near top-of-the-class, as is the overall look. Both the audio and climate controls are within easy reach and refreshingly easy to use and decipher, and that includes those on the steering wheel. Interior storage is par for the class, with plenty of overall space and a couple of handy cubbies, but cargo versatility is among the best. The rear seat backs fold level with the cargo floor in its "raised" position, making loading long items a snap. But the floor itself consists of two panels that hide a large amount of storage space underneath, and the rear-most panel can be mounted vertically to keep stuff in the bin from sliding forward. Furthermore, the floor panels can be lowered or removed to provide a taller cargo area. Our tester didn't have the available 3rd-row seat, which would likely delete the underfloor bins.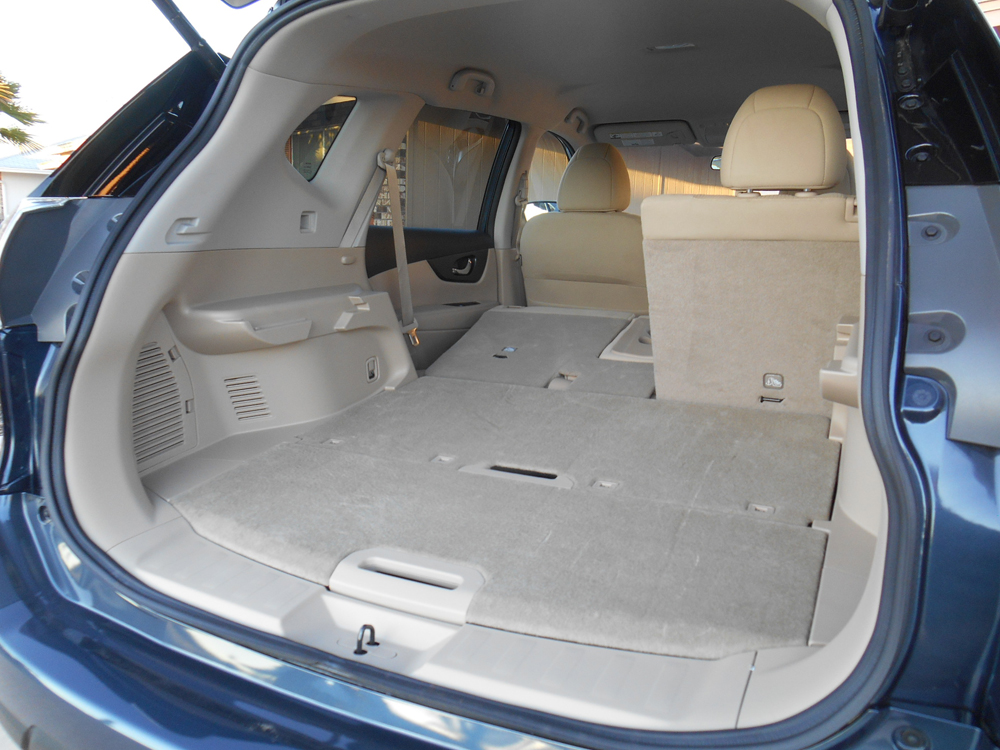 Overall, Rogue impresses as a refined (less the "quietness" part), roomy, versatile, competent compact SUV at a very reasonable price. If you're shopping for one of the larger vehicles in this class (as opposed to the new crop of smaller ones coming this year), it would be a mistake not to visit your Nissan dealer to check out a Rogue.