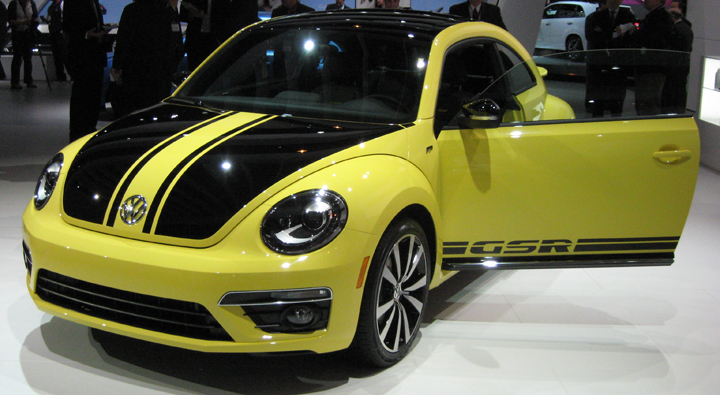 When Volkswagen took the seemingly regressive step of renaming the "New Beetle" just plain "Beetle" upon its redesign for 2012, the company did so with the stated attempt to attract more male buyers. To that end, the car's cutesy contours were toned down and the famous dash-mounted bud vase was jettisoned.
Beetle GSR
Volkswagen continues that trend with a new trim package due later this year. Called the GSR, it's mostly a paint-and-stripe package that mimics the yellow-and-black color scheme of a special-edition 1973 Beetle of the same name that was only sold overseas.
CG Says:
If indeed VW is trying to attract a more masculine clientele, this may not be the optimal way to do it. Better would be one of the other cars in the display . . .
Test Drive: 2018 Volkswagen Beetle Dune
Super Beetle
At first the exclusive domain of custom cars and high-end exotics, matte finishes have since trickled down to the masses. In fact, the Chicago show was littered with matte-finished display vehicles, and the VW stand was no exception. What was an exception is that the Beetle so dressed sported some go-fast bits to augment its tastefully applied graphics.
Created in part by our friends at Vortex, the Super Beetle (yes, that name was used on a version of the Beetle in the '70s, but in nowhere near as applicable form) is said to be powered by a 500-horsepower engine that would easily qualify it for the moniker. And it looks every bit the part. Its matte-blue paint is spread over revised front and rear fascias highlighted by black-lace wheels. Even without the power infusion, this would be a stunning addition to any VW showroom . . . at least to the testosterone-infused audience the company claims to be pursuing.
CG Says:
Now this is a Beetle those of us burdened with a Y chromosome could love even if it didn't have 500 horsepower, simply because it looks as though it does.
More from the Chicago Auto Show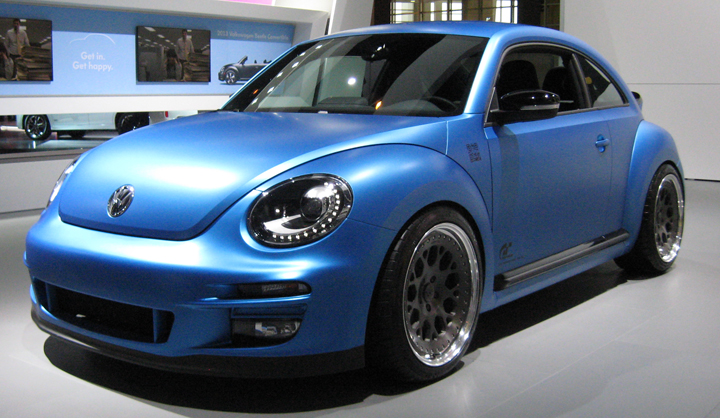 Beetle GSR