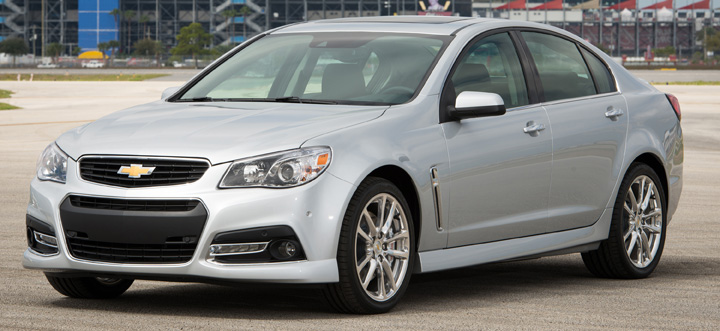 General Motors today announced pricing for the 2014 Chevrolet SS. This large, rear-wheel drive, 4-door sedan will start at $44,470. The MSRP includes destination, but not the U.S. government's excise gas-guzzler tax, the amount of which was unknown as of this writing.
The Australian-built SS shares elements of its basic design with the Chevrolet Camaro and the law-enforcement-fleet-only Caprice PPV. The SS is Chevy's first rear-wheel-drive sedan since the Impala SS, which was last produced in 1996.
Offered in a single trim level, the SS uses a 415-horsepower 6.2-liter V8 engine paired with a 6-speed automatic transmission. Incidentally, this was the same drivetrain used in the 2009 Pontiac G8 GXP, which was another car that shared the SS' platform.
Standard amenities include LED headlights, hands-free parallel parking, a Bose-brand audio system, a head-up instrument display, dual-zone automatic climate control, heated and ventilated front seats, blind-spot alert, lane-departure warning, a rearview camera, rear-obstacle detection, keyless entry/engine start, and Chevrolet's MyLink infotainment system.
The only extra-cost options are a $900 power sunroof and a $500 full-size spare tire.
The 2014 Chevrolet SS is scheduled to go on sale in late-calendar 2014.