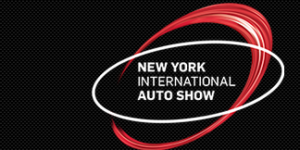 It seems manufacturers just can't find the price ceiling on high-end SUVs. Yet they dutifully continue to try.
Introduced at the New York Auto Show was Volvo's attempt at finding that ceiling: the XC90 Excellence, which reaches to the lofty price height of … $104,900. And we're not even sure that includes destination.
What it does include, however, is a bunch of features not offered on mere five-figure XC90s. These include individual rear bucket seats with massage function, ventilation, and increased legroom, along with a retractable control touchscreen, folding tables, a refrigerator with glass and bottle holders, a heating/cooling cupholder, and … naturally … crystal glasses from Swedish glass designer Orrefors. As the XC90's otherwise-standard 3rd-row seat is eliminated, there's a partition that separates the passenger area from the cargo area (presumably so that vapors from whatever is poured into those crystal glasses doesn't intoxicate whatever's in back).
More from the New York Auto Show
As might be expected, the Excellence is motivated by the XC90's top powertrain, the T8 plug-in electric hybrid system rated at 400 horsepower.
Said one Volvo executive, "This car exposes Volvo to a new type of buyer" — apparently meaning the type who doesn't shy away from a six-figure price tag.
CG Says:
As the XC90 is such a good vehicle — with numerous awards to prove it — it's hard to argue with Volvo's decision to take it further upmarket into previously unchartered (for Volvo, at least) price territory. And we're really kind of anxious to settle back in those reclining, ventilated, massaging rear seats, if only to get a taste of how the other half lives.