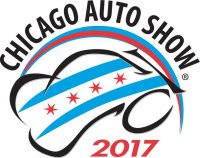 At the 2017 Chicago Auto Show, Fiat Chrysler Automobiles' aftermarket division took the wraps off the latest in a long line of special-edition Dodge Challengers. The 2017 Mopar '17 Challenger commemorates the 80th anniversary of the Mopar brand. It's a limited-run model that adds a special paint job and other unique trim features to a 392 Hemi Scat Pack Shaker Challenger with a 6-speed manual transmission.
Just 160 Mopar '17 Challengers will be built: 80 in a Pitch Black/Contusion Blue two-tone, and 80 in Pitch Black/Billet Silver. The Pitch Black finish and the front-fender 392 logos are hand painted at the Mopar Custom Shop. (Side note: The "3" in 392 is the stylized Mopar "M" turned on its side.)
Other special trim features include performance seats with tungsten Mopar logos, black exhaust tips (lifted from the Challenger SRT Hellcat), Mopar Shaker strut-tower braces, serialized Mopar '17 80th anniversary badge under the hood, and a cold-air induction system that replaces the inboard headlamps with air ducts. The basic 392 Hemi's horsepower rating of 485 is unchanged.
Also included with the Mopar '17 Challenger is a Mopar '17 Owner's Kit—a custom Mopar box that includes collector goodies such as a vehicle "birth certificate" that lists the date of manufacture and vehicle number, Mopar '17 keychain, Mopar 80th Anniversary badge, Mopar valve stem caps, and an acrylic memorabilia showpiece.
The Mopar '17 Challenger is the latest in a line of specially trimmed Mopar-customized vehicles that began in 2010 with the Mopar '10 Challenger. The Mopar '17 Challenger is slated to go on sale in the second quarter of 2017 with an MSRP of $55,790 minus tax and destination.
CG Says:
Sheesh… yet another special-edition Challenger. The custom-painted two-tone finish on this one helps it stand out a bit from its numerous predecessors, but at the end of the day all of its special features are essentially window dressing. If the Mopar '17 Challenger's looks and guaranteed exclusivity trip your trigger, and you've got about $57K to spare, have at it. However, the top-dog Challenger SRT Hellcat or the soon-to-be-unveiled top-TOP-dog Challenger Demon models are probably better collector bets in the long run.
More from the Chicago Auto Show