America is rich with historic auto brands. Ford, for example, goes back in time nearly as far as the car itself. Likewise, Chevrolet has existed for longer than most people have been alive.
Add to the mix Buick and Lincoln, and you have a fine collection of historic marques still doing business with the buying public. But it's not just American brands that are steeped in history. Obviously Mercedes-Benz deserves its due, with a legacy that reaches back to 1886.
But there's another brand that deserves props for longevity and legacy, and that's Toyota. Why? Check out the chart below to see the longest-running model nameplates in the United States.
If you're having a rough time believing that the Corolla has been around for half a century, you're not alone. Very little emphasizes the passage of time more than realizing that the "new guy" is celebrating a landmark anniversary.
And, like Chevy or Ford, Toyota has produced its share of forgettable models over the years. Forgettable not in the sense that these vehicles were bad, but that they were odd, slow selling, and didn't leave much of an impression on the buying public.
We've selected five such Toyotas; each survived only a few years in the U.S. market. If you recall spending time with any of these less-than-memorable rides, tell us about it. We'd love to hear your story.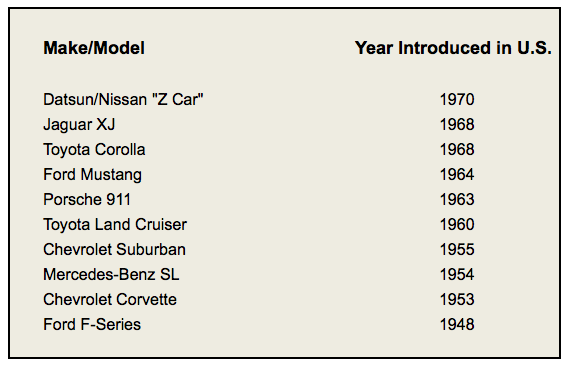 2009-2015 Venza
Class: Midsize Wagon/Crossover
Base Price Range: $26,695-$29,970
It's hard to fault Toyota's move to pad its lineup of crossovers with a new model back in 2009. However, the Japanese automaker simply failed to bring to market something Americans could get excited about.
Best described as an Camry wagon after a Transformers makeover, the Venza received lukewarm reviews from Consumer Guide–it earned praise for its overall functionality, but was dinged for its mediocre ride quality and steep base price. With sales that peaked at 54,000 its first year out, the Venza didn't exactly fail; it just didn't live up to Toyota expectations.
The raised-wagon formula has proven to be a mixed bag for carmakers. While Subaru's popular Outback continues do draw customers, the Ford Taurus X, Honda Crosstour, and Kia Rondo have all come and gone. In these cases, we're pretty sure styling played a big role in keeping customers away.
1996-2000 RAV4 2-Door
Class: Compact Crossover
Base Price Range: $15,386-$18,518
No one has forgotten the RAV4. In fact, the Ravvy was Toyota's best-selling vehicle in the U.S. for two months in 2016. What people likely have forgotten is the 2-door RAV4 seen for only a few years back when the little crossover was first introduced to the States.
When it was launched in the U.S. as a 1996 model, the RAV4 was available in 4-door and less-popular 2-door body styles, the latter available in soft-top or hardtop form. The soft-top could be had through 2000, while the hardtop was discontinued after 1999.
The RAV4 was redesigned for 2001, at which point the 2-door versions were discontinued. It's worth noting that a small number of electric vehicles were built on this generation RAV4 after 2000. Those vehicles were available for lease only in certain parts of California.
The 5 Most-Forgotten Vehicles of 1981
1992-1997 Paseo
Class: Subcompact Car
Base Price Range: $10,758-$11,558
Positioned as a sort of smaller, more affordable alternative to the Celica, the little Paseo never lived up to its sporty pretenses. Despite attractive styling and a useful hatchback design, the Paseo was hampered by a lifeless drivetrain borrowed from the Toyota's entry-level Tercel.
The standard (and only) engine was a 100-horsepower 1.5-liter four. Consumer Guide described the car's performance with the standard 5-speed manual transmission as "adequate," and "modest" with the optional 4-speed automatic.
Though base prices seemed reasonable, they didn't include air conditioning (an $800 option), and antilock brakes were not available at any cost. Additionally, the mechanically identical Toyota Tercel could be had starting at about $7000–a cool $3000 less than the Paseo.
Rarer still is the convertible version of the Paseo, which was added to the lineup for the 1997 model year–the car's swan-song season in the U.S.
1984-1989 Toyota Van
Class: Minivan
Base Price Range: $9188-$11,188
They were known as "city vans" in Japan, and they were designed to move passengers and cargo through the narrow streets and intense traffic congestion of cities such as Tokyo or Manila. Most Japanese automakers at the time sold a van in this class, and three of them chose to sell theirs in the U.S.: Mitsubishi, Nissan, and Toyota.
Known as the TownAce in Japan, Toyota's contender arrived in the U.S. in 1984 dubbed simply "Van." Not coincidentally, that was the year Chrysler rolled out the Dodge Caravan and Plymouth Voyager. Unfortunately for Toyota, the Van's mid-engine layout–which contributed to the vehicle's tidy overall length—limited cabin space and resulted in a passenger area that was cramped when compared to the new American vans.
Add to the mix the Chrysler vans' more-conventional styling and slightly lower prices, and you had a formula for the Toyota Van's eventual failure.
1981-1984 Toyota Starlet
Class: Subcompact Car
Base Price: $5768
It was small, it was affordable, and it was great on gas. Why, then, did Americans shun this arguably cute Toyota subcompact? Actually, there are a few good reasons the Starlet never caught on with American shoppers.
First, the Starlet was slow. With nothing more than a 58-horsepower 1.3-liter engine, the little 'Let earned a 1 out of 5 rating from Consumer Guide for acceleration. Additionally, the Starlet was rear-wheel drive at a time when Americans were transitioning to front-drive cars for reasons of space efficiency and, in the Snow Belt states, winter traction.
A front-drive Corolla variant would replace the Starlet after 1984. Popular today with racers and hot rodders, clean examples of the Starlet are becoming difficult to come by.
Of "Rice Burners" and "Jap Crap": An Open Letter to Idiots