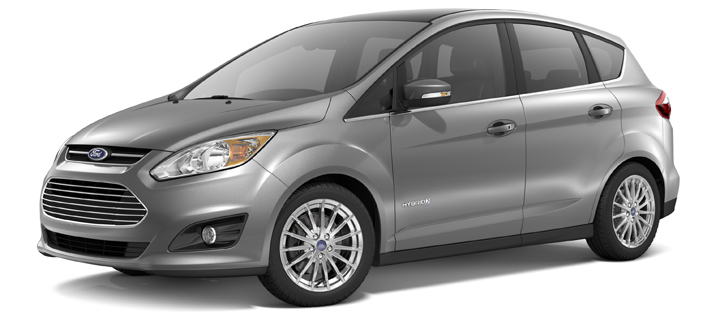 I got into the Ford C-MAX Hybrid this weekend, and a number of things caught my attention—good and bad.
Most impressively, C-MAX is remarkably sprightly for a hybrid. It's quick off the line, and power delivery is strong and smooth. Moreover, it has plenty of juice for merging and passing. The 2.0-liter 4-cylinder/CVT powertrain is the same one that's in the Ford Fusion Hybrid, which we've also lauded. Honestly, this powerplant feels nothing like the fussy, wussy hybrid engines of a few years back. It actually feels like a normally aspirated V6.
Test Drive: 2014 Ford C-Max Energi
In more than 200 miles of driving, my Consumer Guide colleagues and I have averaged around 34 mpg in the C-MAX. That's awesome for a car with such "go," but it's alarmingly low for a vehicle that is EPA rated at 47 mpg city/47 highway. We're not the first to call out this discrepancy. In fact, it's become a national story, and in April C-MAX Hybrid and Fusion Hybrid owners in Pennsylvania sued Ford for false mileage claims.
Is MyFord Touch a sueable offense? Probably not, but seemingly none of our editors care much for the complicated system. Two years ago, I attended a MyFord Touch workshop at a Chicagoland Ford dealership. It lasted 1 hour and 18 minutes. Had the instructor possessed the SD card that was needed to operate and demonstrate the navigation system, it would have taken even longer. My gripes with this car include the small knobs and buttons. The radio's "on" button is but a small sliver, and climate control knobs are not much thicker than soda bottle caps, making them hard to grip.
Front seats are plenty comfortable, but I can't say the same for the rear. Not only is the rear seatback too upright, but the cushion is too low, forcing everyone taller than, say, 5-foot-5 to sit in a knees-up position. For a car that's touted as a family vehicle, that's a big demerit. I would imagine that teenagers in the back seat would get a little ornery during any sort of road trip. What's ironic about the low seat is that headroom in this car is tremendous—over 40 inches front and back. If only they could raise the rear bench by a couple of inches.
I thought the car's steering was nicely responsive, but I wasn't crazy about the handling and ride. Despite being low to the ground, C-MAX is plagued with significant body lean during turns and curvy off ramps. Though compliant over smooth surfaces, the car tends to wallow on bumpier pavement.
Overall, I enjoyed driving the C-MAX, partly due to the comfortable front seat—and cool cockpit feel—but mostly because of the lively acceleration. But would I recommend it? Well, if it truly got 47 mpg, like Ford has claimed, then yes, because the savings on gas would offset the high-for-the-class $25,200 starting price. But at 34 mpg, no—it's just not worth it.
I wonder how many C-MAX buyers, who thought they would get 47 mpg, feel like I do.