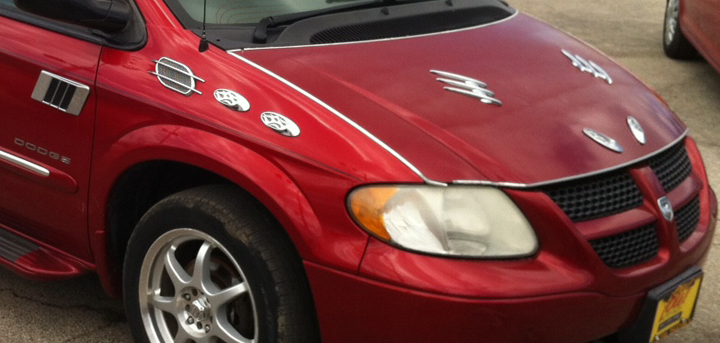 According to Doug Bartusek, associate research director for the Council for the Research of Applied Plastic Stick-on Stuff (CRAPSS), after-market car modifications need not be expensive to purchase or difficult to install. According to Bartusek, "Most people don't realize that all you need to significantly improve your car's performance can be purchased at your local flea market or Speedway mini mart."
Speaking to Consumer Guide at the Denny's in Norridge, Illinois, where CRAPPS holds its nightly meetings, Bartusek explained the group's mission: "The Council was formed by likeminded enthusiasts anxious to dispel the myth that adhesive-backed vehicle accessories are purely decorative."
Know these guys? Automotive Liars Club
According to Bartusek, membership in the council is limited to regular Norridge Denny's customers—as determined by assistant store manager Vaijay—who currently own at least one 1999-2005 Pontiac Grand Am, have owned at least one other Grand Am, and have spent at least $50 on adhesive-back automotive accessories in the past 12 months. CRAPSS currently has five active members, all of whom serve on the board of directors and hold a Denny's Rewards Gold Card.
Hoping to learn about how adhesive-backed accessories can improve the performance of certain vehicles, we presented Doug with three examples of well-modified cars all spotted in the Chicago area in the past month. Here is what we learned:

Vehicle 1
Bartusek: Wow, this is a well-modified van. Whoever did the work here has a deep understanding of adhesive-backed modification and aerodynamics. Essentially, the strategically placed hood chrome separates the airflow and forces it over the fenders. Subsequently, the tandem side ports and vent straking stabilize the air, reducing drag-inducing turbulence. The result is improved fuel economy and higher top speed as a result of the van's reduced coefficient of drag. I would not be surprised if the top speed of this vehicle weren't improved by at least 30 mph.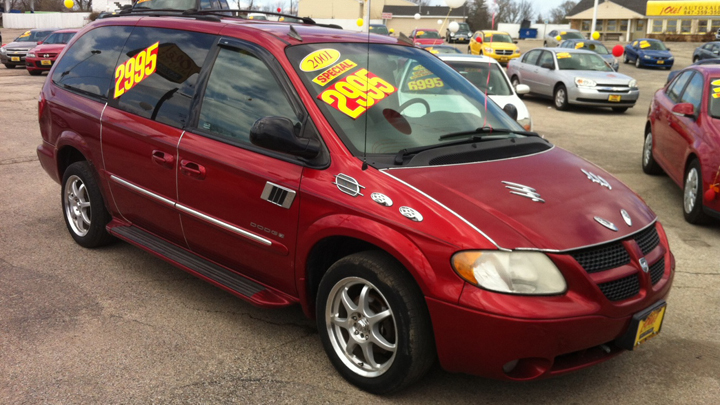 Vehicle 2
Bartusek: This is another example of some fine, well-calculated work. As it turns out, the Oldsmobile Alero, a mechanical cousin of the Grand Am, responds very well to the application of adhesive-back accessories. On this car, we see that the owner applied chrome tape to the rocker panels. Not only does this look great, it effectively lowers the car's center of gravity, thus improving cornering and high-speed stability. Additionally, the added chrome on the B-pillar and around the side glass helps reflect the sun, helping to keep interior temperatures down in warmer months, as well as reducing this Oldsmobile's carbon footprint. One of my Grand Ams, the '04, sports a similar B-pillar treatment. That's due to the cooling effect. I find I can go all summer without using the air conditioning.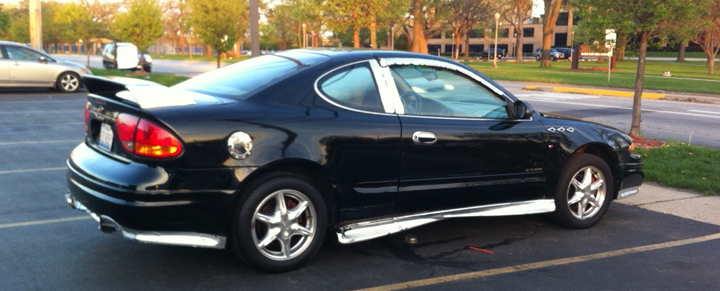 Vehicle 3
Bartusek: No, no, no. This is all wrong. The owner of this vehicle, or the person he hired to do this work, was actually required to use tools in modifying this vehicle. Additionally, the wheels on this truck alone probably cost $1,000. A dedicated adhesive-back accessory expert can significantly modify 15 to 20 vehicles for that kind of money. I guess this truck looks good, but let's be serious: the chrome brush bar and running boards, they don't really do anything at all.