Note: This article is reprinted from the June 2013 issue of Collectible Automobile.
Nineteen sixty-six was a facelift year for the full-size Mercury, which had been completely redesigned from the frame up in 1965 and dressed in new styling that was advertised as being "in the Lincoln Continental tradition." Still, there was enough new to give prospective customers plenty to think about.
Photo Feature: 1966 Mercury Monterey Two-Door Sedan
Naturally, as was the custom in those days, appearances were freshened while still keeping within the basic styling direction selected for '65. The grille, hood, and fenders were changed, and wraparound taillights replaced the enveloped style used previously. Reshaped bumpers actually led to a 2-inch gain in overall vehicle length on non-station wagon models.
Inside, gauge faces were changed to white from black. This being the year that federally mandated safety equipment started showing up in abundance, Mercurys now sported a padded dashboard and sun visors, front and rear seatbelts, four-way hazard flashers, and back-up lights.
Other new engineering advancements included larger-diameter standard drum brakes, optional front disc brakes, minor suspension tuning, and adoption of a larger 25-gallon fuel tank. Station wagons came with Ford Motor Company's new two-way tailgate that could be dropped down in the customary way for cargo loading or opened from the side for easier passenger access.
The sporting S-55 2-door hardtop and convertible returned to the line for the first time since 1963. Otherwise, the lineup continued to consist of the entry-level Monterey, step-up Montclair, premium Park Lane, and Commuter and Colony Park wagons.
The Park Lane nameplate was enjoying a second life. First used from 1958 to 1960 on the highest-priced Mercs, it made a comeback in 1964. For '66, Park Lane shoppers had a choice of 2- or 4-door hardtops, a 4-door sedan with the distinctive retractable reverse-angle Breezeway backlight, or a convertible. Starting prices ranged from $3,387 for the hardtop coupe to $3,608 for the convertible. As the costliest Park Lane, the convertible was among the rarest big Mercurys of the year—2,446 were built, approximately 1.5 percent of overall production.
Park Lanes got a new standard engine, a Mercury-exclusive 410-cid V8. With a 4-barrel carburetor and single exhaust, it made 330 bhp at 4600 rpm and 444 pound-feet of torque at 2800 rpm. A 3-speed manual gearbox was standard; Multi-Drive Merc-O-Matic automatic cost extra.
Sycamore, Illinois, resident Gary Gross purchased the original-condition Park Lane soft top featured here in Florida in 2006. When photographed in September 2011, the odometer on the 410-equipped car showed just slightly more than 96,000 miles.
Gross's Mercury has covered those miles with an extensive complement of extra-cost comforts and conveniences, starting with the Multi-Drive automatic transmission and dual exhausts. Other optional features include power windows, door locks, and a 6-way front seat. Interior comfort is further enhanced by a tilt steering wheel. Audio entertainment comes via a pushbutton AM/FM radio with rear-seat speaker and power antenna.
Front-fender cornering lamps improve nighttime visibility when turning. The exterior is dressed up with wire wheel covers. The car is painted in metallic Emberglo, one of 10 new colors (out of a total of 17) available for 1966 Mercurys.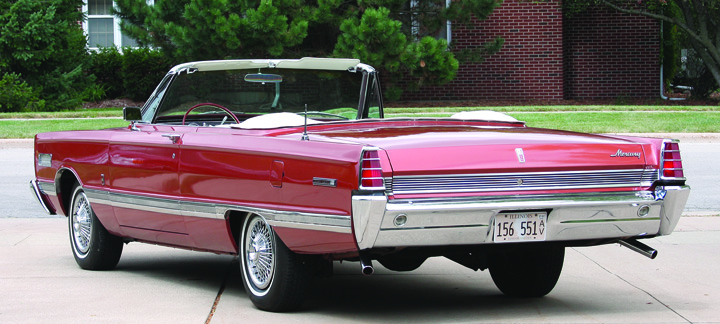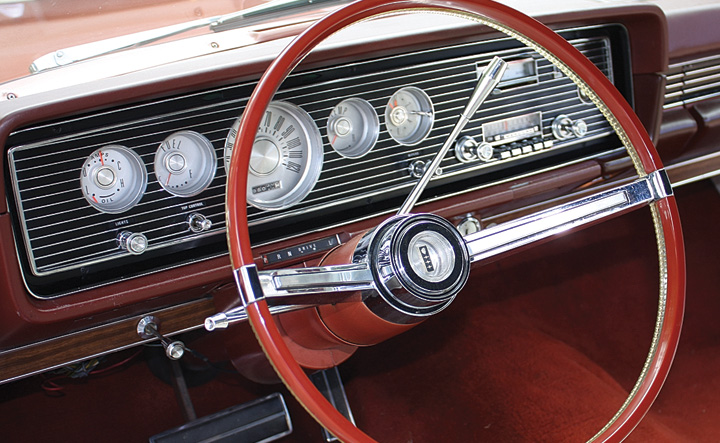 More classic-car Photo Features