By Don Sikora II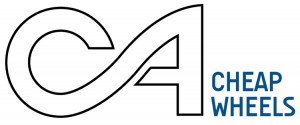 Note: The following story was excerpted from the August 2016 issue of Collectible Automobile magazine.
Introduced for 1983, the Ford Ranger compact pickup's first major redesign didn't come until 1993. The previous truck's simple, straight lines were replaced with smooth, subtle curves, but overall the Ranger still resembled a smaller-scale F-150. Then Ford added more style later in the '93 model year with the addition of the Ranger Splash.
Initially only available with Ranger's regular cab on a tidy 108-inch wheelbase, Splash's unique proposition was a pickup bed with projected fenders. In advertising, Ford claimed it was the "world's first and only compact flareside." Presumably for styling reasons, Ford abandoned the classic fenderside recipe of stamped-metal fenders and separate step plates attached to a steel bed in favor of smoothly formed plastic. In its April 1993 issue, Car and Driver described the bed's side panels: "Each one is made from a single piece of sheet-molding compound, a non-corrosive, dent-resistant composite of plastic and fiberglass that's heated and molded into shape." These pieces attached to a steel cargo box that was narrower than the unit used on other Rangers.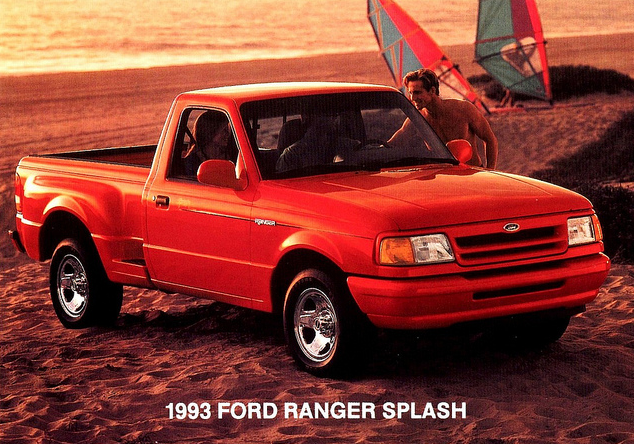 While the bed was meant to recall trucks like the classic F-100s of the Fifties, overall Splash was meant to be a contemporary pretty face. Outside there was a monochromatic paint scheme with a body-color grille, bumpers, and side mirrors. A limited color palette comprised Vibrant Red, Brilliant Blue Metallic, Oxford White, and Raven Black. Colorful tape stripes and Splash nameplates adorned the cab sides and tailgate. Inside a cloth-covered 60/40-split front bench seat was standard, with a console and bucket seats optional.
Splash came in rear-wheel- and four-wheel-drive versions. The rear-drivers included specific suspension tuning that allowed for lowered ride height and, according to C/D, better handling.
The 4x2 Splash came standard with a 2.3-liter four-cylinder engine rated at 98 hp. A 3.0-liter V-6 with 145 ponies was standard in the 4x4 and optional for the rear-driver. A 160-hp 4.0-liter V-6 was optional on all. No matter the engine, a five-speed manual transmission was standard with a four-speed automatic optional. Prices started at $12,225 for the 4x2, and $16,484 for the 4x4.
The big news for 1994 was the addition of Splash SuperCab variants. The extended cab made room for a pair of center-facing fold-down jump seats or additional in-cab storage. The Splash SuperCab came in 4x2 and 4x4 models, with the former starting at $14,014 with the 2.3-liter engine.
Cheap Wheels: 1987-88 Mercury Cougar
All '95 Rangers picked up a redesigned interior, along with a driver's-side airbag and four-wheel anti-lock brakes; previously only the rear drums had anti-lock control. The 2.3- and 3.0-liter engines received modest power increases. Outside, Splash had a new grille and fresh paint colors. In 1996, Splash's flareside bed became optional on certain other Ranger models. Starting in 1997, a five-speed automatic was optional with the 4.0-liter V-6.
The Ranger received a fairly major redo for 1998, but it was Splash's final season. Front-end styling was revised and the regular cab was made three inches longer to increase legroom and behind-seat storage. Ford's Twin I-Beam front suspension was replaced with a new setup utilizing upper and lower control arms. Rear-drive trucks used coil springs up front, while 4x4s had torsion bars and a revised four-wheel-drive system. Newly optional on SuperCabs was a pair of rear-hinged doors that improved access to the rear section of the interior. Base prices covered a $15,045-$19,695 spread. 
Pros:
• Monochromatic color schemes and flareside bed add a dash of style.
• Choice of regular- or extended-cab versions, each in rear-drive or four-wheel-drive variants.
• Rear-drive Splash has sportier suspension tuning and lowered ride height.
Cons:
• Stylish bed is narrower and carries less than Ranger's standard cargo box.
• Contemporary reviews complain about the thirsty V-6 engines.
• Rangers really were compacts, so interiors are cozy at best.
Final Drive:
Splash was all about style, and we think a rear-drive 1993 or '94 regular-cab model in Vibrant Red is the looker of this bunch. But if a SuperCab is your choice, search out a '98 with the optional rear-access doors.
My name is Don Sikora, and I'm a recovering Renault Fuego owner.