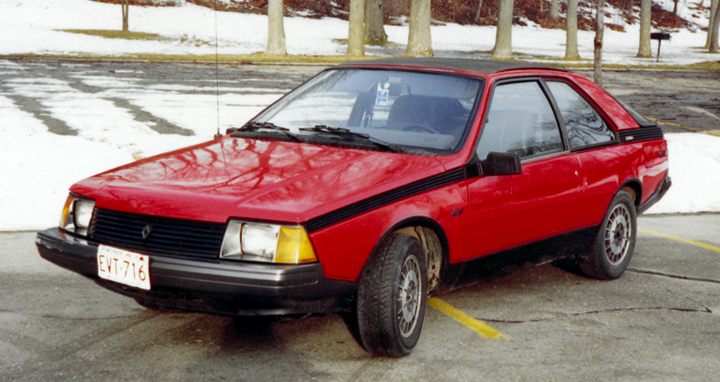 Remember the really stupid things you did when you were young? I do. I actually bought a used 1985 Renault Fuego. It seemed like a reasonable decision at the time. The car was about three years old and was in pretty good shape. And, most importantly to a college student working part-time at a Kmart, it was cheap.
Renault Fuego Reliability
I grew up in Kenosha, Wisconsin, about a mile from the old American Motors main plant. Being a very proud company town, AMC products ruled the streets. By the early 1980s, this included Renaults, especially after the 1983 Alliance went into production. Soon, Kenosha probably had more Renaults per capita than any city outside of France. For a while, my family had three.
My dad had mixed luck with a pair of Kenosha-built Encores. (The Encore was a hatchback version of the Alliance.) Still, I took the plunge and purchased a very early production 1985 Fuego. It had a 2.2-liter engine, a 5-speed manual transmission, and plenty of options, including a folding cloth sunroof and the little-seen 14-inch alloy wheels. Renault resale values were horrendous, so I think it cost me $1,600. For sure, it was less than two grand.
Paris Madness! 12 Classic French Car Ads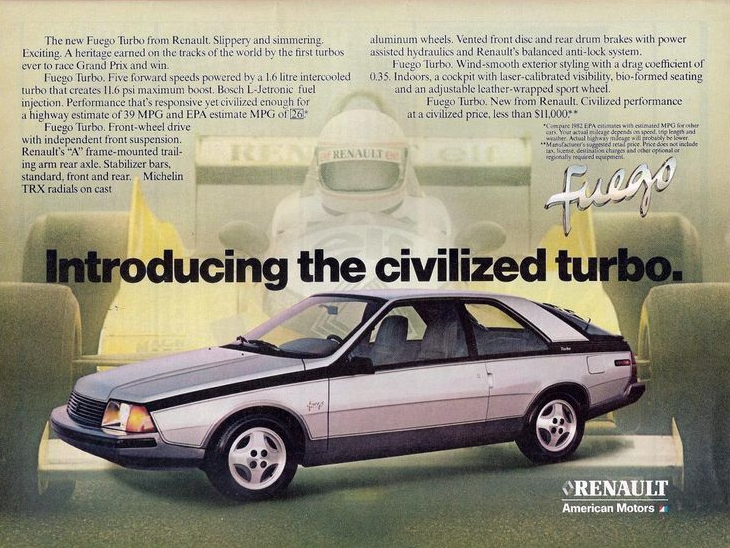 I was happy with it at first. It was red with a dark gray cloth interior. I remember it had very comfortable seats, and it was actually pretty fun to drive. One odd detail was the dashboard. It had a fuzzy surface that looked like it had been flocked. Who thinks it's a good idea to flock a dashboard?
About a month in, my troubles began when the fuel-injection pressure regulator went out. I soon learned that 2.2-liter models were fairly rare (most Fuegos had a completely different 1.6-liter engine) and the parts were already hard to get. Short version: The replacement pressure regulator was on back order and had to be shipped in from France. The car sat for several weeks waiting for the part, and the tab came to something like $600. Big money when you're making about $4.25 an hour. It was only the beginning.
I've forgotten much of the Fuego experience, but I remember some highlights. A bolt backed out of the alternator bracket and punctured the radiator. The aluminum clutch pedal arm bent so it hit the floor and couldn't be fully depressed. The blower motor went out. The power locks stopped working after I hit a nasty pothole, and remained broken until a fellow Fuego owner told me how to reset them. And there were taillight problems. Every Fuego seemed to have problems with the passenger's side taillight, and mine caught the attention of a state trooper. It took me forever to figure out how to fix the over-engineered mess that Renault dreamed up, but it passed an inspection and I was spared getting a ticket.
The final straw was when a tensioner pulley broke off the elaborate aluminum casting that mounted all of the engine accessories and also served as the front engine mounts. A friend's dad who was patient enough to work on the Fuego advised that the engine might have to be pulled and the entire casting replaced. Luckily, they were able to fix it because a hot rod shop next door could weld the aluminum.
The Fuego was like owning a $1,600 Ferrari. Everything was made out of aluminum, and when it broke, it cost a fortune to fix. It was fun on the rare days it was running, but after about 18 months of Fuego ownership I finally gave up. It was traded in on a very ordinary 1988 Pontiac Grand Am. It has probably been 20 years since I've seen any Fuego, let alone one that was moving under its own power. I've recovered enough from the trauma of Fuego ownership that every once in a while, for a fleeting second, I think it would be fun to track down a nice one. That's when I look at the 1/18-scale Fuego model I bought a couple years ago and wonder what the hell I was thinking.
Benchmark Rides: The 3 Vehicles by Which I Judge All Others
Renault Fuego Reliability
Did the Chevrolet Uplander (and Buick Terraza, Pontiac Montana SV6, and Saturn Relay) Get a Bum Rap?
Renault Fuego Reliability