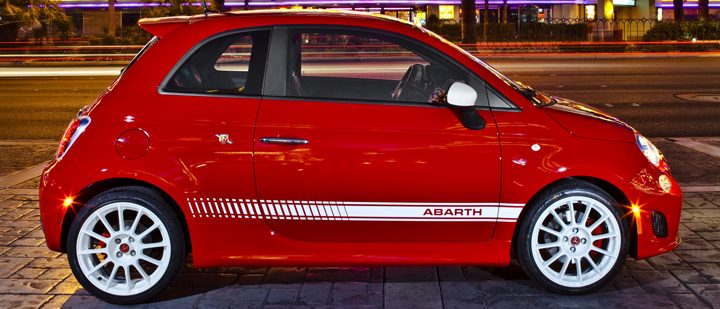 Note: This report supplements Consumer Guide Automotive's full report on the 2012 Fiat 500, a sporty/performance car that starts at $15,500. Also see our review of the 2013 Fiat 500.
Test Drive: 2014 Fiat 500c Abarth Cabrio
Test car came equipped with: "Performance" leather-trimmed high-back front seats, Safety and Convenience Package, sunroof, red mirror caps and body stripes, TomTom plug-in navigation unit, 17-inch white-painted aluminum wheels. Total MSRP with $700 destination = $27,050. (Note: This model is virtually unchanged for 2013.)
Powertrain: 160-horsepower turbocharged 1.4-liter 4-cylinder engine, 5-speed manual transmission, front-wheel drive.
Acceleration:  I can't find any factory performance claims, but our friends at Car and Driver clocked their Abarth at 6.9 seconds 0-60 mph. That seems a shade optimistic by my seat o' the pants, but it doesn't matter because this little pepperpot has ample scoot. It's sure a lot livelier than the milquetoast 101-horsepower 500s. The Abarth suffers from some expected turbo/throttle lag, so it rewards liberal shifting and revving the engine like crazy. If you're feeling lazy, though, it's quite tractable at low speeds in 3rd and 4th gear, even if acceleration from there is leisurely at best. In all, the Abarth 500 is a classic Italian "tuner car," with a rev-happy engine that gives better than you'd expect, helped by super-short final gearing (in this case a fairly frantic 3:35:1). Happily, shift/clutch effort is all-day light and easy, even for grinding stop-and-go traffic, though I was disappointed by the slightly rubbery yet "metallic" shift action. This car really needs a 6-speed manual transmission for a variety of reasons. It's available in Europe, but apparently it wouldn't fit within the stubby nose of the federalized 500. Oh, well . . . .
Fuel Economy: We averaged 28.5 mpg in Phoenix-area driving split pretty evenly between city and freeway. That's bang-on with the EPA's 28-mpg city rating and in line with my colleagues' 30.5 mpg result, but it's also a long way from the feds' 34-mpg highway estimate. The need for premium-grade fuel isn't surprising for a small, high-strung turbo-four, but neither is it welcome with circa-30-mpg real-world economy and the smallish 10.5-gallon fuel tank.
Ride Quality: As noted, this tester had the optional 17-inch wheels, which arrived wearing W-rated 205/40ZR Pirelli P Zero Nero "summer" tires. The main report says that no 500 has an all-out harsh ride, but I'd have to say this Abarth comes close. The problem, of course, is its stiffened and lowered suspension, which combined with typical short-wheelbase hop and high-set seats to make me feel like I was riding a bar stool on four pogo sticks. The ride isn't exactly punishing, but it's most always jiggly, and that gets old real fast for seniors like me who dislike such agitation, even in performance models. Then again, this Fiat isn't aimed at me. It's for car-crazy 20- and 30-somethings with sound kidneys, who will doubtless find it a hoot.
Photo Gallery: 2013 Fiat 500 Abarth Cabrio
Steering/handling/braking: If "all 500s are fun to toss about," as the main report says, the track-focused Abarth should be "best of the lot." Yet on twisty, low-speed stretches it seems far less cooperative than, say, a Mini Cooper S. The tall stance probably aggravates my impression, but no less than the stiff, perpetual-motion suspension, slightly obstructive shift action, and occasional unwanted front-wheel scrabbling (aka "torque steer"). The Abarth thus strikes me as one of those cars that requires a practiced, sensitive driver to do its best on a demanding road. By the same token, though, it's one of those cars that might help improve your driving skills, and I think that's part of the fun too.
Quietness: The main report describes the Abarth's exhaust note as "exhilarating," but I thought it sounded amazingly like a toilet flushing when accelerating from low rpm in the middle gears—another reason to drive this car like you hate it. Can't say I noticed a "pop" on throttle lift-off, as did my colleagues, but this test car's tires droned noisily on anything other than mirror-smooth asphalt. As for wind rush, it's not a big issue at normal highway speeds if you're running all buttoned up, but lowering a door window and/or opening the sunroof creates not only a mighty din but fair cockpit turbulence. And therein lies a drawback of "retro" styling: It's usually not as slippery-quiet as newer shapes. The Mini suffers similarly.
Controls: My colleagues make most of the important points here, but let me add a few. First, airflow though the dash vents seemed weak without the fan turned all the way up. Second, the trip-computer controls remain a bit mysterious, at least for me. Third, this is my second test 500 to be delivered without its optional TomTom plug-in nav unit, so I'd guess Chrysler-Fiat may not think any better of it than my colleagues do.
Details: Soft-touch surfaces are definitely in short supply here. Even the door armrests are hard. The test car was pleasingly solid and rattle-free. Detail assembly was OK, but the press-fit "Tootsie Roll" interior molding around the sunroof came partly adrift when I grabbed it by accident, and it refused to be reattached despite my best efforts.
Room/comfort (front): The high-set seats may compromise headroom for taller occupants, but they combine with the 500's tall body to make entry/exit much easier than in many other small sportsters. The doors are a mite long for really tight parking spots, but aren't clumsy otherwise.
Room/comfort (rear): Entry/exit "surprisingly easy"? Maybe for those up to about 5-foot-10, but anyone taller will probably need to crouch and crawl.
Cargo room: Space behind the back seat is sufficient for only a modest load of groceries or a few small soft-sided carryalls. Anything more and you're looking at two-passenger trips.
CP Says . . . These minicars are so easy to like because they're fun to drive, cute as a puppy, and, as my colleagues say, "brimming with European personality." The Abarth is a boisterous "rat racer" that could double as a weekend track-day car. I haven't yet driven the new 500 Turbo, but it may be the pick of this pack, as it promises to be much zippier than the non-turbo offerings and more day-to-day livable than the buzzy, bouncy Abarth. I suspect most 500s are purchased by urban dwellers; for many Americans, they're just too small to be practical one-and-only cars outside the city. But Fiat recognizes this and will soon be selling larger 500s with four doors and more room. Let's hope they don't lose too much of the 2-door versions' appealing Italian brio.