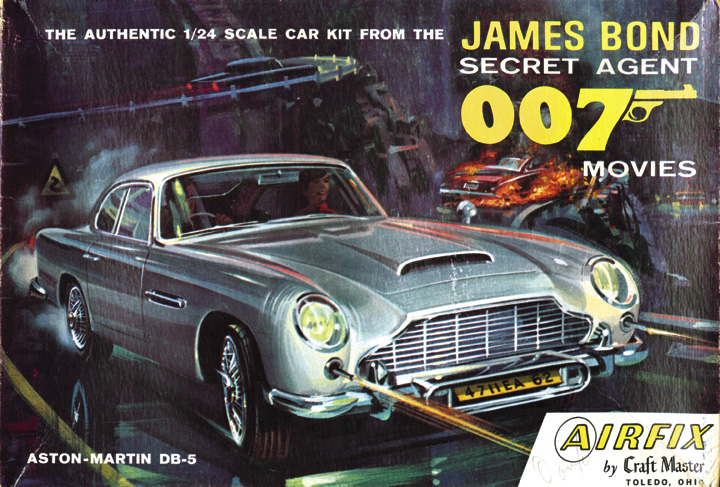 In celebration of 50 years of James Bond films. (Dr. No was released on October 5, 1962.)
For about as long as I can remember, plastic model-car kits have been part of my life. Some of my earliest memories of my mom involve the two of us working on a model kit at the kitchen table. I still have a 1/43-scale 1969 AMX she helped me build around 1974.
Fisher Body Craftsman's Guild Models to Make Rare Appearance
While model kits are meant be built, some people enjoy collecting unbuilt kits that are still in their original boxes. To some collectors, the box's artwork can make a kit more desirable than the actual pieces inside.
One of the more unusual kits in my collection is the Airfix 1/24-scale model of James Bond's Aston Martin DB-5, the iconic machine piloted by Agent 007 in several of the character's spy thrillers, including Goldfinger and Thunderball. Airfix is a British firm best known for airplane models, but the company made a few different 007-themed model kits in the Sixties.
The Aston Martin was released in 1966. My kit has been partially assembled, and unfortunately the original owner didn't do a very good job. Still, this model has never been reissued and isn't easy to find, so I was happy to add it to my collection.
The box art shown here is from an American-market kit that was distributed in the States by Craft Master. The dark, moody artwork makes for a much more intriguing box than the somewhat uninspired packaging used in Britain by Airfix. One of my favorite details is that the kit is item number 007. What else could it be?
Being a model of 007's specially equipped Aston, the kit included details like a rotating license plate, the "bullet-proof" shield that raised up to protect the rear window, and a figure of Bond sitting behind the wheel. One of the best features was a working spring-loaded ejection seat. A small switch mounted on the car's chassis sent the seat and a small figure of a bad guy flying though a removable section of the car's roof. Just like in the movies! Well, almost.
Classic Model Car Kits: 1977 & 1978 Pontiac Trans Am by Monogram and MPC
'80s Flashback: Hot Wheels Hot Ones