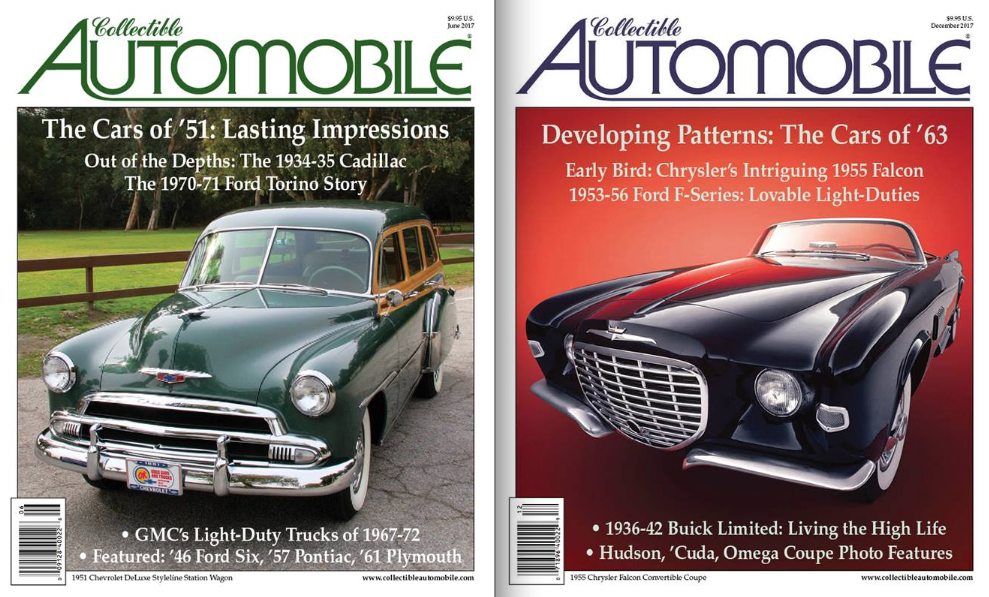 An international society of automotive historians has named Collectible Automobile® magazine—a companion publication to Consumer Guide® Automotive—the winner of its top award for the presentation of history in a periodical.
The Society of Automotive Historians (SAH) presented CA with its Richard and Grace Brigham Award for 2018. According to the organization, the award is given to the automotive history magazine that represents the most "exemplary editorial, graphic or historical content" published in the previous calendar year. Judging of nominees is based on all issues published in that time. During 2017, the 96-page bimonthly publication covered such topics as the 1978-82 Chevrolet Corvette, the Gaylord, an abortive Studebaker-Porsche compact-car collaboration, the 1955 Chrysler Falcon show car, and Shelby Mustangs. The magazine also ran a two-part interview with retired General Motors designer William Porter.

From the pages of Collectible Automobile
The latest award marks the fourth time that Collectible Automobile® has won the Brigham Award. The others were in 1993, 2001, and 2009. No other publication has won the award as many times. Presented annually since 1990, except for 2013-15, the award is named for Richard Brigham, a founding member of the SAH, and his wife Grace, who was active in the organization as well.
Announcement of the award came at the society's annual meeting and awards dinner, held October 12 at the Hershey Country Club in Hershey, Pennsylvania. The not-for-profit organization that was established in 1969 claims more than 900 members from more than 20 countries. According to the SAH website, it exists to "support the compilation and preservation of papers, organizational records, print ephemera, and images" related to the history of motorized land transportation and to promote the publishing and teaching of automotive history.
Collectible Automobile® is published by Publications International, Ltd. of Morton Grove, Illinois. It will mark its 35th anniversary in 2019.