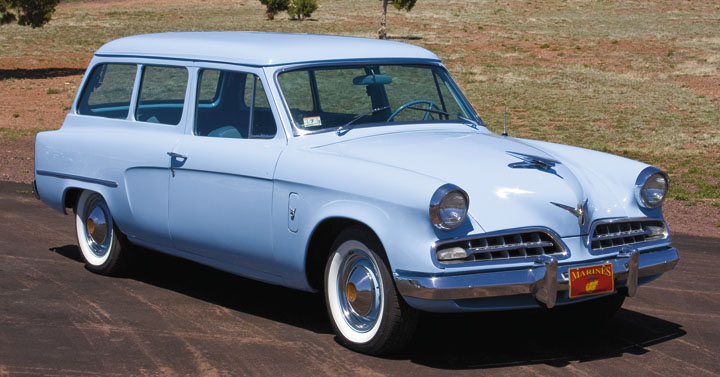 Note: The following story was excerpted from the December 2012 edition of Collectible Automobile magazine.
At a glance, it would seem Studebaker was on a roll during 1953, given that the company introduced completely redesigned cars, particularly the "Loewy coupes" that were styling sensations. All wasn't rosy, though. Flexible frames and production problems delayed introduction of the '53s from October 1952 until January. To compound the difficulties, the company couldn't meet better-than-expected coupe demand while the not-as-stylish sedans weren't as popular as the company projected. In the end, production for the model year came to 169,899, less than half the peak total of 343,164 just three years before.
More Collectible Automobile photo galleries
The big news for 1954 was the addition of a station wagon to the line, a steel-bodied two-door called Conestoga. The name paid tribute to Studebaker's original horse-drawn Conestoga wagons of late 1800s, the "prairie schooners" that helped settle the American West. These new wagons were best suited to shuttling families around fast-developing suburbia.
Like Studebaker's sedans—save the long-wheelbase Commander Land Cruiser—the station wagons rode a 116.5-inch span. Conestogas were offered in both the Champion and Commander series, with each available
in DeLuxe and tonier Regal trim.
While Champions came with the old 170-cid L-head inline six rated at 85 bhp, Commanders used Studebaker's modern ohv V-8. The 232.6-cube engine was good for 127 horsepower, seven more than it had in 1953. Either engine could be mated to a three-speed manual gearbox—with or without overdrive—or a Borg-Warner-built automatic transmission.
Inside, Conestogas had two rows of seats and could carry up to six passengers. The rear seat could be folded flat to increase cargo space. Out back, a two-piece tailgate included a flip-up window. The wagons shared beefed-up frames and bigger brakes with other '54 Studes. Conestoga prices started at $2,187 for a Champion DeLuxe.
The 1954 Conestoga featured here is a Commander DeLuxe, Studebaker's least-expensive V8 wagon, with a base price of $2,448. This original-condition example is owned by Malcolm Stinson Jr. of Show Low, Arizona. Mr. Stinson reports that he is the third owner of the Conestoga and that he purchased it about seven years ago from a collector in Mississippi who had owned it for about 25 years. When photographed, the odometer read 13,303.3 miles.
Studebaker was in talks with Packard regarding a possible merger in 1954, which may have made buyers nervous. Despite better assembly quality and the addition of the wagon body style, Studebaker deliveries fell by more than half to 81,930.
On October 1, 1954, Packard purchased Studebaker. Studebaker sales improved in 1955, but both companies lost their independence. Packard disappeared after 1958. Studebaker's main plant in South Bend, Indiana, was shuttered just before Christmas 1963. The final Studebakers were built in early 1966 at the firm's small Canadian factory.
Photo Feature: 1952 Crosley Pickup