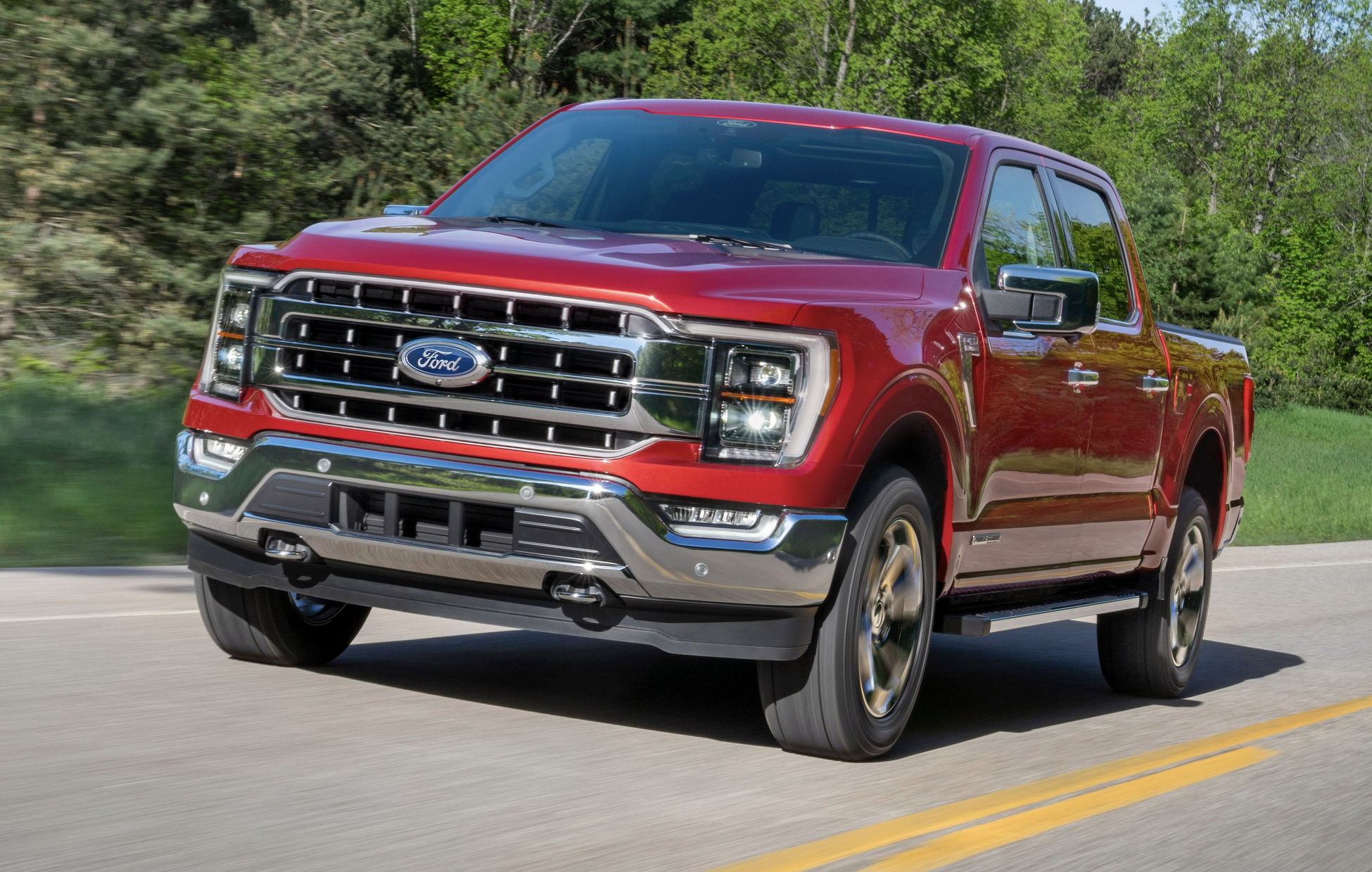 When the best-selling vehicle in America gets a full redesign, it's a big deal—even in the midst of a global pandemic. Ford officially took the wraps off the new, fourteenth-generation F-150 full-size light-duty pickup this evening via a streamed digital-reveal event.
2021 Ford F-150
The 2021 F-150 gets loads of new available features, including a full-hybrid powertrain, new-generation infotainment system with over-the-air updates, and jobsite-focused gear such as the Pro Power Onboard integrated power generator and Interior Work Surface center console. The new truck rides on an updated high-strength steel frame and gets all-new bodywork that retains the aluminum-alloy construction that was introduced for 2015, when the F-150 received its last full redesign.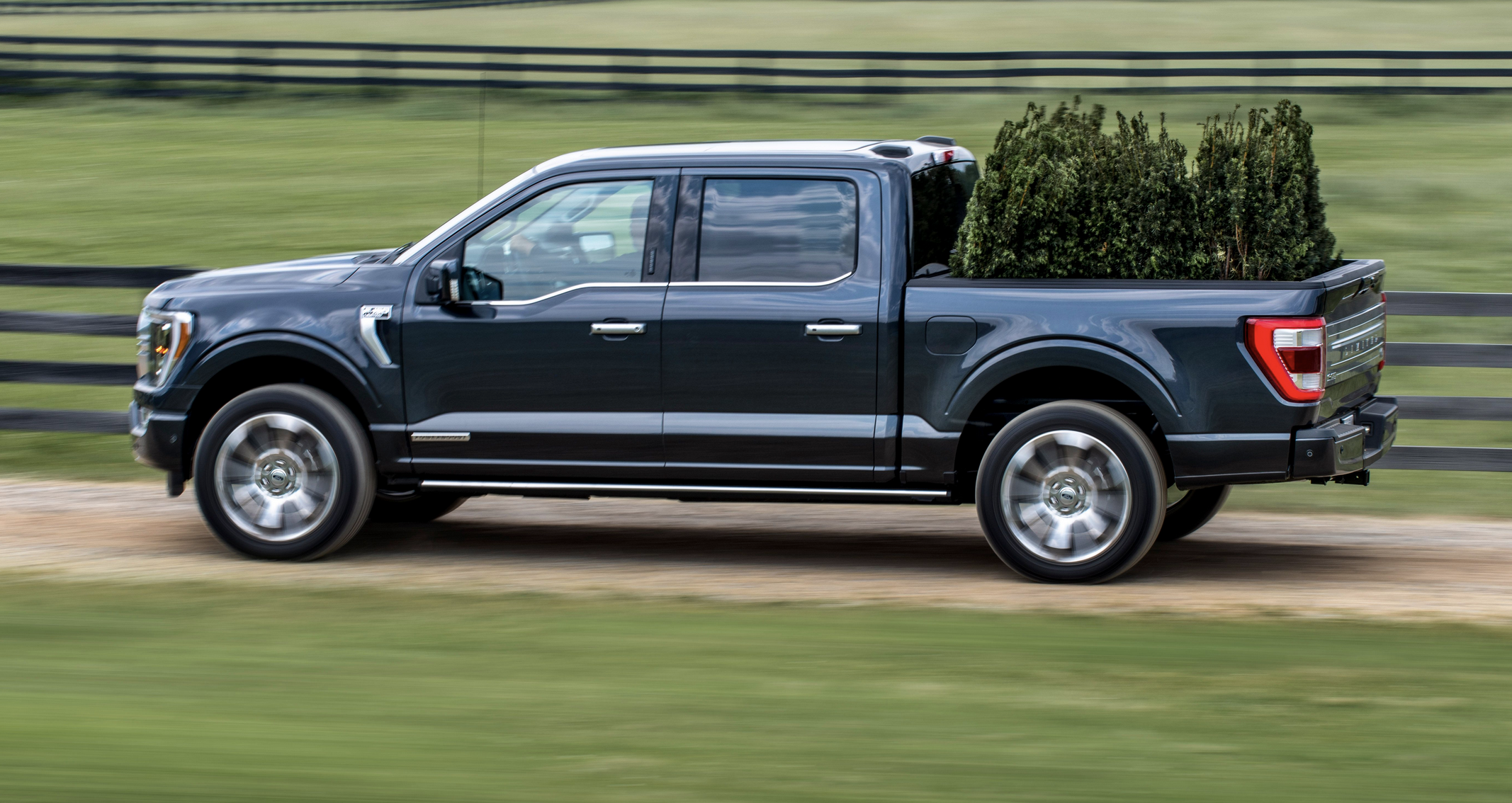 Ford says that the new F-150's styling is the most aerodynamic ever. It includes new active grille shutters, an automatically deploying active air dam, and new cab and tailgate geometry. Though every body panel is new, the overall look doesn't stray far from the previous-generation truck–since the F-150 has been topping America's new-vehicle sales charts for 43 years running, Ford doesn't want to mess too much with its winning formula. However, there are now 11 grille options available across the model lineup, along with new tailgate appliques, that help differentiate the various F-150 trim levels.
The biggest news under the hood is the addition of a "PowerBoost" full-hybrid 3.5-liter V6 engine. It pairs the gas engine and 10-speed automatic transmission with a 35-kilowatt electric motor and a 1.5-kilowatt-hour lithium-ion battery. Ford didn't provide specific numbers for the PowerBoost hybrid powertrain's output, but said it is targeting the most horsepower and torque of any full-size light-duty pickup, as well as a towing capacity of at least 12,000 pounds and an EPA-estimated driving range of 700 miles.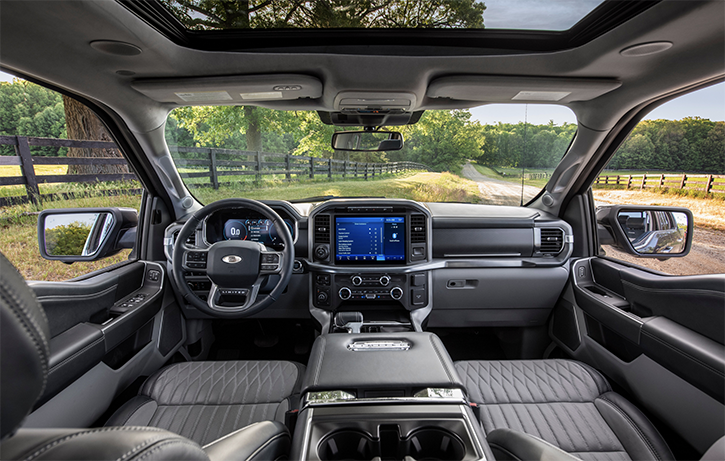 In addition to the new full-hybrid powertrain, the previous-generation F-150's engines—a 3.3-liter V6, turbocharged 2.7-liter V6, turbo 3.5-liter V6, 5.0-liter V8, and turbodiesel 3.0-liter V6—are carried over with minor updates.
Several of the 2021 F-150's new available features should prove popular on job sites. The Tailgate Work Surface adds integrated rulers, a mobile device holder, a cup holder, and pencil holder to the tailgate's inner panel. Combined with the tailgate's built-in clamp pockets, this enables the open tailgate to be used as a work surface for various carpentry jobs.
Quick Spin: 2020 Ram 1500 Rebel EcoDiesel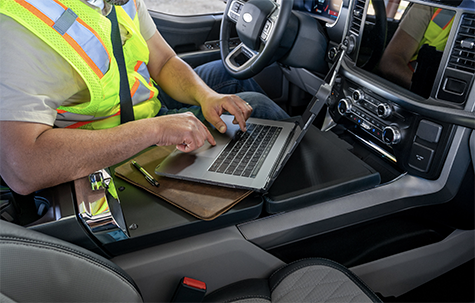 Also available are full-length extended power running boards with a kick switch (so you can deploy the running board to step up from the side of the pickup bed to access something inside the bed),  Zone Lighting (which allows you to control individual exterior lights on the truck to allow working after dark), and Pro Power Onboard, an integrated power generator. Ford says the generator puts out enough energy to power 28 average refrigerators, charge a bed full of electric dirt bikes, or run an entire job site worth of tools.
The work-friendly features continue inside the F-150's cabin. The available Interior Work Surface is a clever arrangement that adds a "stowable" console shift lever that folds into the center console when the vehicle is in park; this enables a flip-out panel to lie flat on the console, creating a level surface that can be used for signing documents, using a laptop computer, eating lunch on a job site, et cetera. For those who tow, Trailer Reverse Guidance and Pro Trailer Backup Assist are available. When the job is done (or when you just need a break), the available Max Recline Seats fold flat to nearly 180 degrees, which enables you to relax or maybe even take a quick nap when the vehicle is parked.
Ford's new-generation SYNC 4 infotainment interface is standard; it includes a digital owner's manual (that includes how-to videos), as well as wireless smartphone connectivity for seamless Apple CarPlay and Android Auto functionality. Over-the-air software updates are a new feature that opens up a wider range of potential enhancements, such as predictive maintenance and feature upgrades.
Available interior features include a 12-inch digital gauge cluster, which can display the selectable drive-mode settings, turn-by-turn navigation instructions, and off-roading data.
Quick Spin: 2020 GMC Sierra 1500 AT4 Diesel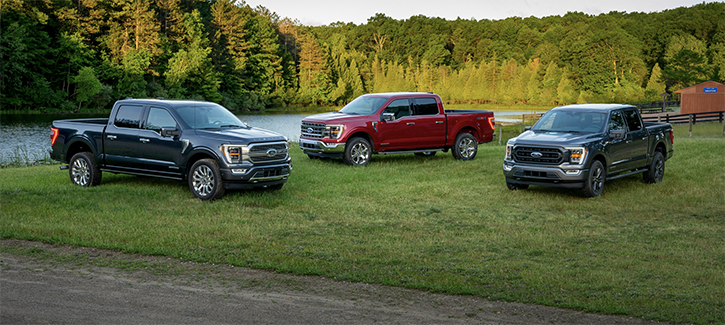 Topping the list of new available driver assist features is Active Drive Assist, a semi-autonomous driver-assist technology. Similar to Cadillac's Super Cruise system, it uses a driver-facing camera to track the driver's head position and eyes—if the driver is paying attention to the road ahead, it allows hands-free driving on select divided highways (more than 100,000 miles worth) across the U.S. and Canada . Also available is Intersection Assist, which detects oncoming traffic when the driver is attempting left turn and can apply the brakes if there is a risk of a collision, and the Active Park Assist 2.0 self-parking system, which controls all steering, shifting, braking, and accelerator controls when parallel or perpendicular parking—all the driver has to do is hold down a button.
The 2021 Ford F-150 will be built at Ford's Dearborn, Michigan, and Kansas City, Missouri, assembly plants, and is slated to begin arriving in dealerships this fall. Pricing and further details will become available closer to the on-sale date.
CG Says:
We've been anticipating Ford's answer to the redesigned-for-2019 Chevrolet Silverado, GMC Sierra, and Ram pickups for a while, and now it's finally here. Clearly, Ford's product planners and engineers have spent some quality time with existing F-150 customers, and have used those observations to come up with an impressive new crop of innovative real-world-use features. We've known since early 2018 that the F-150 hybrid was on the way for this new-generation truck, but we weren't expecting Ford to aim for such ambitious stats. The 2021 F-150 looks to be a tour-de-force on almost every front, and it appears poised to continue its reign on the top of the sales charts.
Listen to the Consumer Guide Car Stuff Podcast
2021 Ford F-150