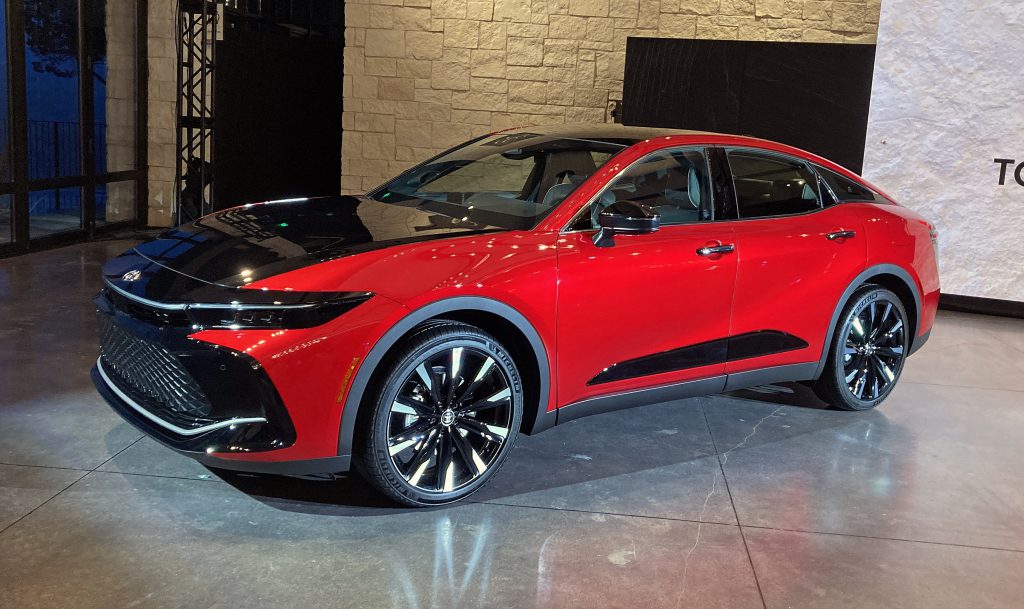 Last night Toyota officially unveiled its latest production vehicle, and that vehicle wears one of the company's earliest model names. The new-for-2023 Toyota Crown is a genre-bending mashup of an SUV and a full-size sedan—its unusual shape combines a SUV-like lower body with a low-and-racy fastback roofline, but unlike other "coupe-style" crossover SUVs, the Crown maintains a traditional rear trunk instead of an SUV-style liftgate. The Crown also comes standard with a gas/electric hybrid powertrain; in fact, Toyota offers a choice of two new hybrid powertrains, both with standard on-demand electronic all-wheel drive.
2023 Toyota Crown
The Crown name has a long history with Toyota—when Toyota started U.S. sales in 1958, its first car was the Toyopet Crown, and the Crown nameplate has remained a fixture of the brand's lineup in Japan. Most Americans won't be familiar, however, since Toyota hasn't used the name here since 1973.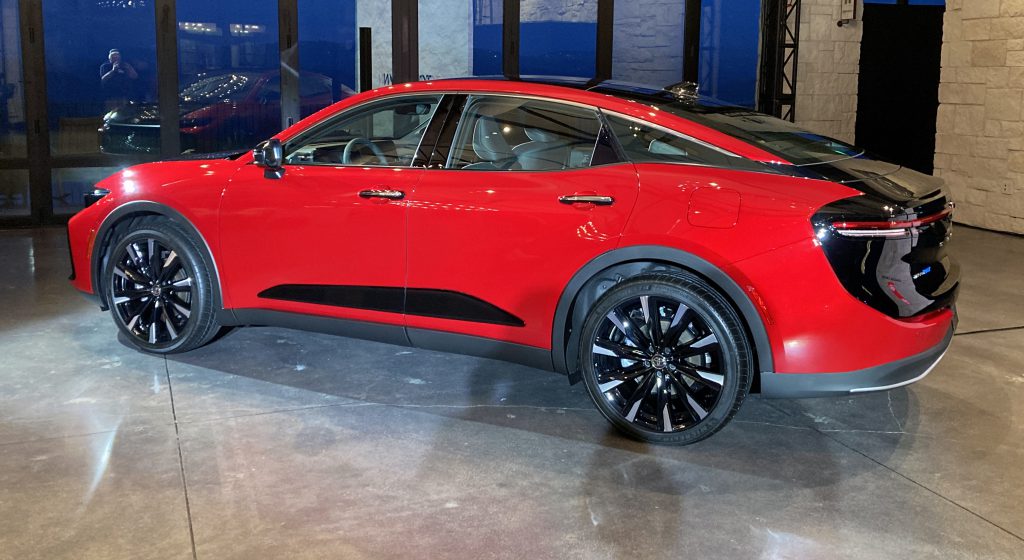 The Crown is built on a newly developed chassis that's based on the company's GA-K platform, which underpins several popular Toyota models including the Camry, Highlander, RAV4, and Venza. Toyota is positioning the Crown as a "reimagined," "premium" full-size sedan above the Camry in the model lineup. Though it's certainly not a conceptual successor, the Crown essentially replaces the full-size Toyota Avalon sedan, which is being discontinued after the 2022 model year.
Perhaps the simplest description of the new Crown is that it's a "tall" car. Size-wise, the Crown's footprint is surprisingly close to the Camry's—compared to the Camry, the Crown's width is the same, its wheelbase is an inch longer, and its overall length is up by an inch or two. The big difference between the two is in height: The Crown is nearly 4 inches taller than the Camry. This allows for a higher, SUV-like seating position that provides the driver with a sense of command and a better view of the road, along with the easier entry and exit that many buyers find irresistible. Interestingly, the Crown rides a wheelbase nearly six and a half inches longer than Toyota's Venza two-row midsize SUV, and its bodywork is almost eight inches longer as well. But the Crown is about five inches shorter than the Venza, essentially splitting the difference with the Camry.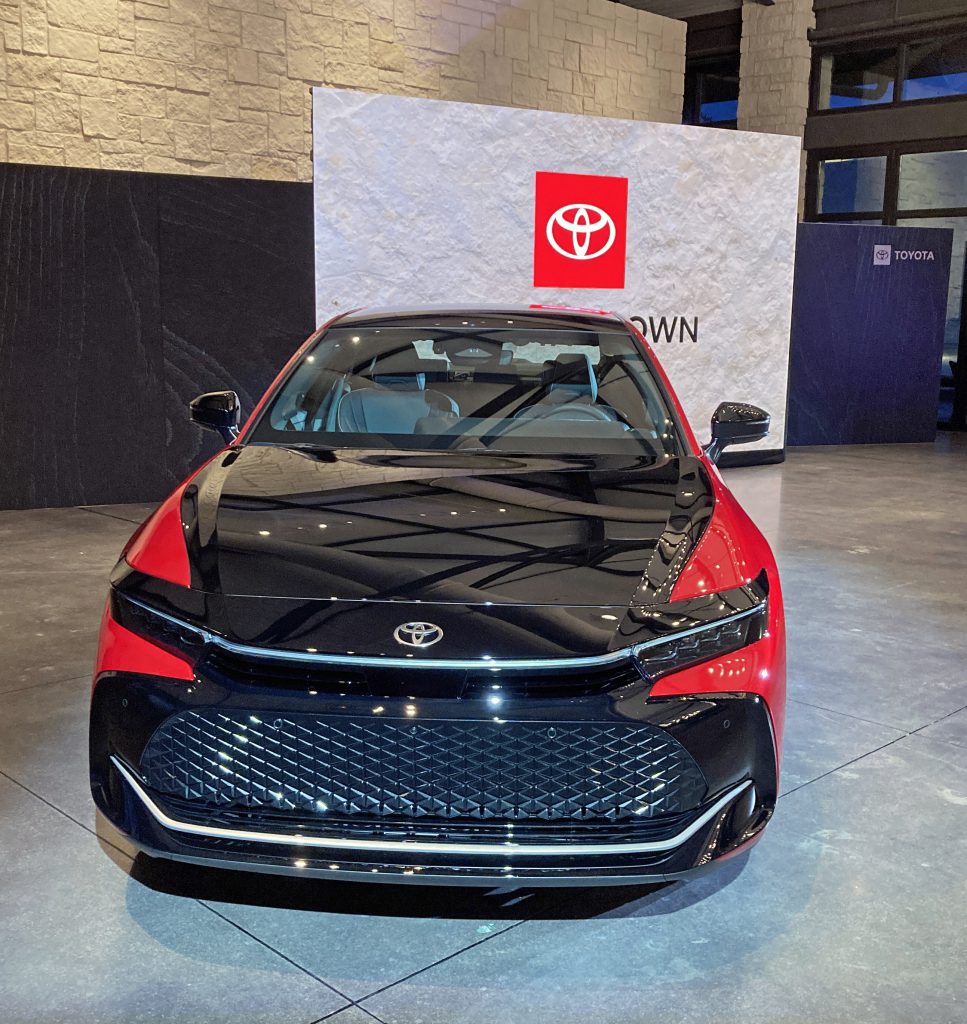 The Crown will be offered in three trim levels: XLE, Limited, and Platinum. The XLE and Limited are powered by a new fourth-generation Toyota Hybrid System (THS) that combines a 2.5-liter four-cylinder engine, an electronically controlled continuously variable transmission (CVT), and two electric motors powered by a new high-output bi-polar nickel-metal-hydride battery pack. One of those motors powers the rear wheels via Toyota's new "E-Four" all-wheel-drive system when extra traction is needed. The system defaults to pure front-wheel drive, but it's able to send up to 80 percent of the power to the rear wheels. Toyota hasn't yet provided an estimated horsepower output for this powertrain, but estimates it will achieve combined city/highway fuel economy of 38 mpg.
The top-line Crown Platinum is equipped with a new performance-oriented "HYBRID MAX" powertrain that's tuned for low-end torque and puts out a Toyota-estimated 340 horsepower. It combines a turbocharged 2.4-liter four-cylinder engine with a direct-shift 6-speed automatic transmission, and here Toyota estimates 28 mpg in combined driving. The Platinum also upgrades to an "E-Four Advanced" all-wheel-drive system that uses a water-cooled electric motor to power the rear wheels. The system's default power distribution is 70 percent to the front wheels and 30 percent to the rear; if needed, the system can send up to 80 percent of the available torque to the rear wheels.
The Crown's chassis uses MacPherson-type struts up front, and a newly developed multi-link rear suspension; the Crown Platinum includes a standard Adaptive Variable Suspension with variable-pressure shock absorbers. XLE and Limited models come standard with 19-inch alloy wheels; 21-inch wheels are optional on Limited and standard on Platinum.
The five-passenger interior is trimmed with a combination of Toyota's Softex synthetic leather and cloth on the Crown XLE, while the Limited and Platinum models come standard with real leather upholstery. Standard features on all Crowns include heated front seats, dual-zone climate control, 12.3-inch digital instrument display, wireless charging pad, and the latest Toyota Audio Multimedia system (which gets its own 12.3-inch touchscreen display). Limited and Platinum models also receive a standard panoramic moonroof, and the Platinum also boasts a Bird's Eye View Camera system that provides a panoramic overhead view of the Crown and its surroundings. (The Bird's Eye View Camera is also included in the Limited's optional Advanced Tech Package.) Platinum models are also available in an eye-grabbing Bi-Tone paint option that combines one of four body colors with glossy black paint on the body's upper horizontal surfaces.
We were able to sit in static pre-production examples of the 2023 Crown at Toyota's reveal event. Up front, there is fairly ample space all around, including plenty of headroom for our 6'2" frame under the panoramic moonroof's housing. Rear-seat space is good, and we had a just enough legroom to sit behind a front seat set far back without our knees touching the seat back. Headroom in the back isn't as generous as in front, but we had enough space to be comfortable thanks to the scooped-out headliner. The Crown's standard wireless charger is a very cleverly designed deep bin in front of the shifter that holds the phone vertically. Spring-loaded wedges automatically adjust to the phone's size to hold it securely, and when in place our iPhone SE's screen remained visible. The trunk has a flat floor and is quite large front to back. The split-folding rear seat can extend the trunk into the interior, but the trunk lid itself has large sickle-shaped hinges that dip into the cargo area.
The 2023 Toyota Crown will be built in Japan and is slated to go on sale this fall. Pricing and other details will be available closer to the Crown's on-sale date.
CG Says:
The crossover SUV has mostly replaced the traditional sedan as the everyday vehicle of choice for American shoppers. Toyota's new Crown sedan tries to challenge this new normal with unconventional styling that attempts to combine some of the SUV's popular qualities with sedan-like styling and a traditional trunk. We received a sneak peek of the Crown's unorthodox shape back in June, when we were given a few minutes to look over a locked static display model. This was a true preview, where we didn't know any details about the vehicle we were looking at, or even its name. Now, after the official reveal and with more details filled in, we still aren't completely sure what to make of this unexpected addition to Toyota's U.S. lineup. High-riding all-wheel-drive sedans are very unusual—we can think of the trendsetting AMC Eagle sedan of the 1980s and Subaru's Outback sedan that was available for about a decade before being dropped about 15 years ago. Our crystal ball remains very cloudy when it comes to how Americans will react to the 2023 Toyota Crown, and we suspect that Toyota's is pretty murky too. That said, we think the most interesting of Crown's developments are below its admittedly unusual skin. The two new hybrid systems with their corresponding updated electronic all-wheel drive systems are the big news hiding in plain sight, and we predict this hardware will soon spread to other Toyota models.
Test Drive Gallery: 2022 Subaru Ascent Onyx Edition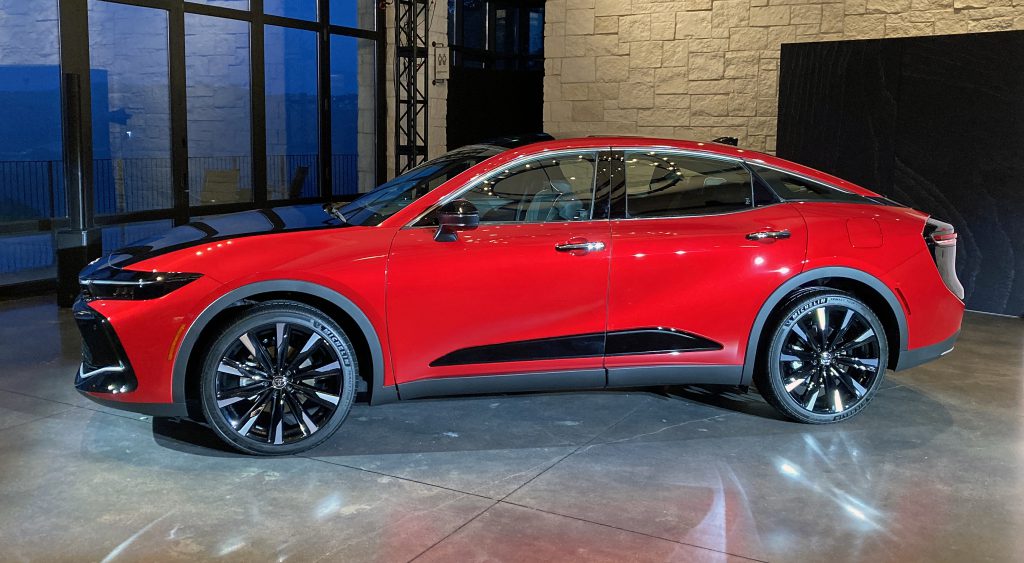 Check out the Consumer Guide Car Stuff Podcast
2023 Toyota Crown Gallery
(Click below for enlarged images)