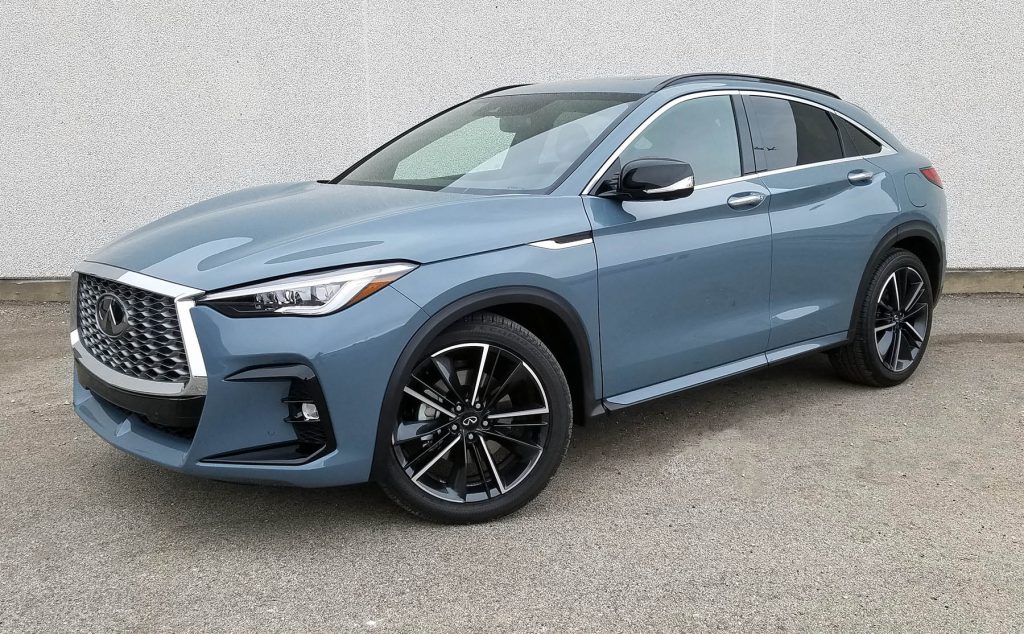 We'll admit that when the first wave of fastback-roofed sport-utility vehicles started hitting the market, kicked off by the BMW X6 back in 2008, we didn't really "get it." Why would an automaker take a vehicle that's primarily designed for utility—heck, the word is right in the name!—and deliberately turn it into something less practical?
Well, here we are almost a decade and a half later, and the "coupe-roof" luxury SUV is still a thing. Maybe not a mainstream thing, but popular enough that the concept has proliferated at BMW, and Audi and Mercedes-Benz as well. Even Acura gave it a shot—and missed—with the short-lived ZDX.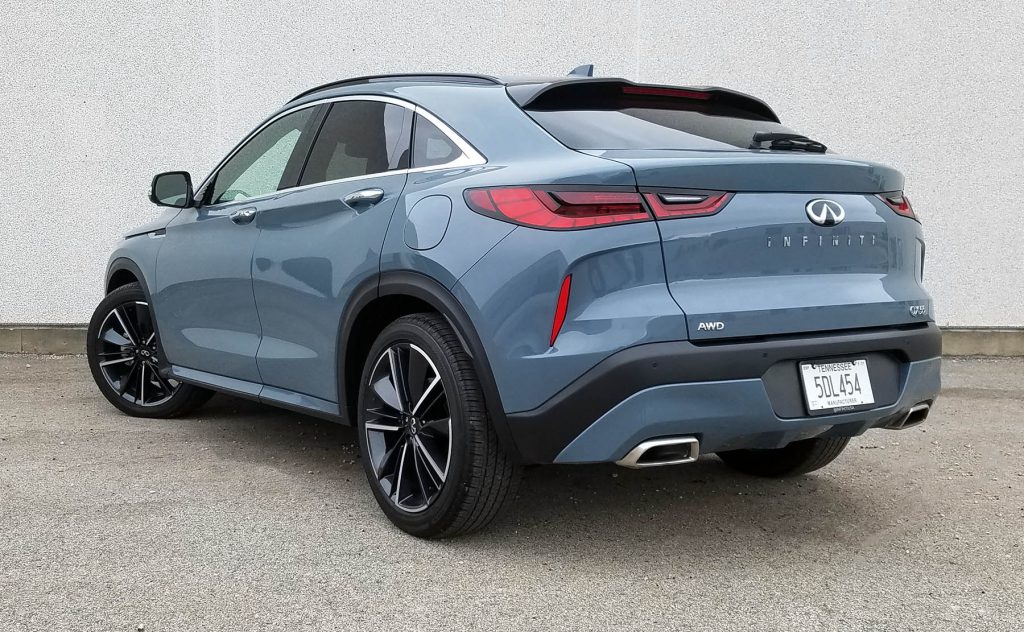 Maybe we shouldn't be that surprised. Now that SUVs have largely supplanted traditional passenger cars as the average American's vehicle of choice, it makes sense that the forms those vehicles take would evolve—sometimes in a way that puts style first. There have been plenty of passenger cars that have followed this playbook over the years, and they continue to the present day… BMW's Gran Coupe family of sleek "4-door-coupe" sedans are but one example. Whether car or SUV, these specialized models sell in much smaller volumes than their mainstream stablemates, but they all command significant price premiums for their racier styling and typically higher level of standard equipment, which makes them viable niche products.
Quick Spin: 2021 Infiniti QX50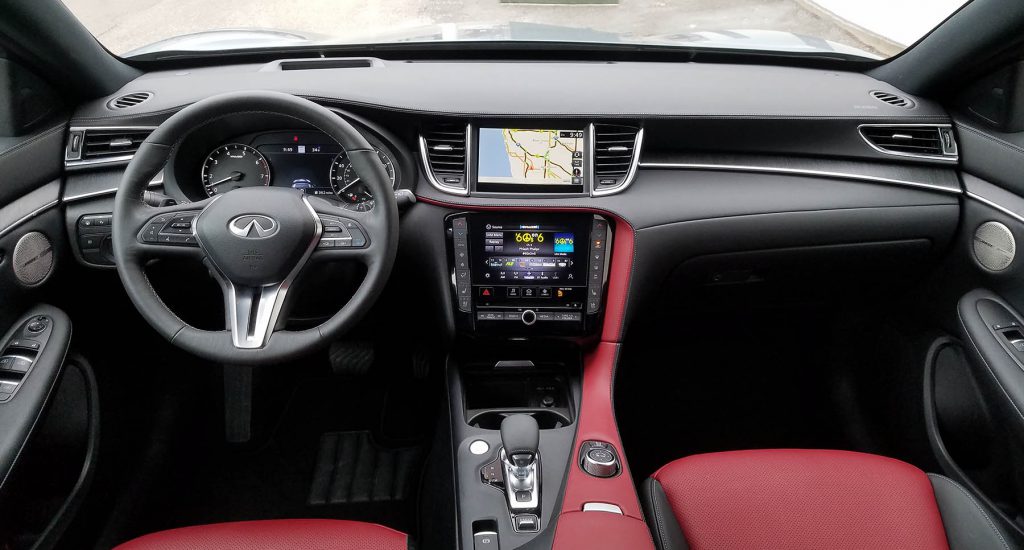 For 2022, Infiniti is getting into the crossover-coupe game—a vehicle segment that it arguably heralded with the introduction of its sleek, sporty FX crossover for the 2003 model year. The QX55 is essentially a rakish-roofed version of the Infiniti QX50 compact SUV, which was redesigned—and completely re-imagined—for the 2019 model year.
Quick Spin: 2021 Lexus UX 250h F Sport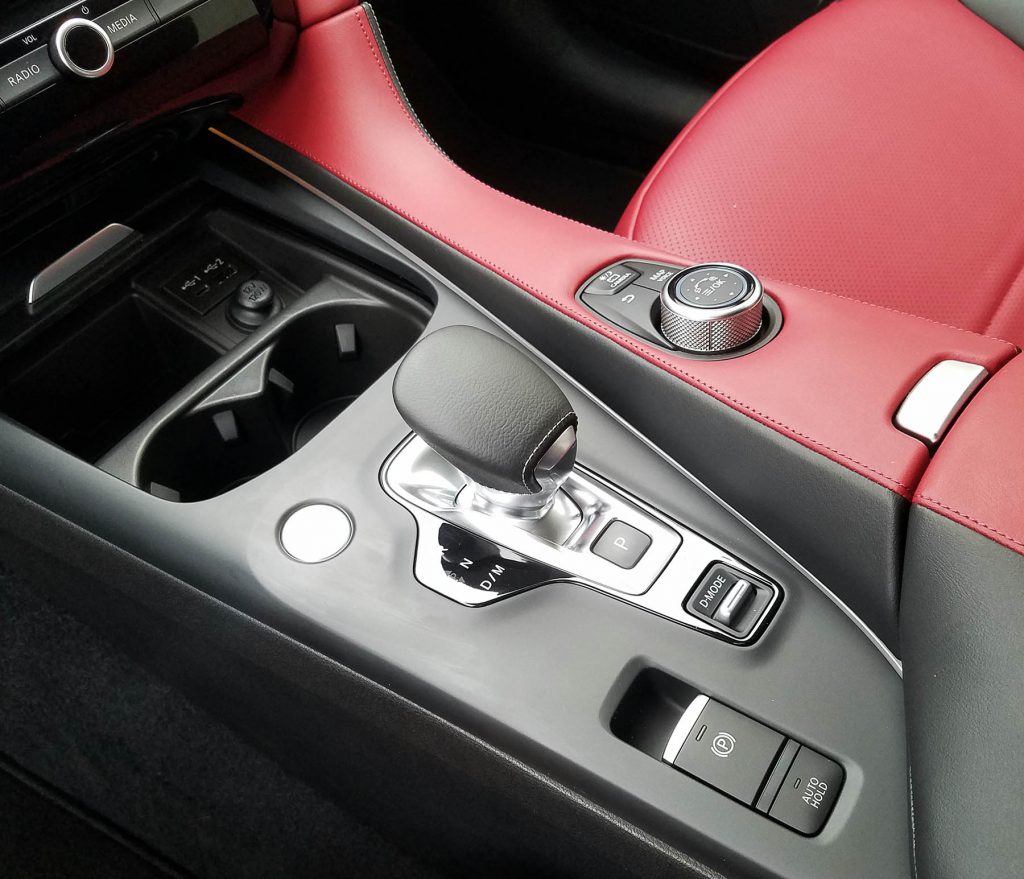 In addition to its sleeker profile, the QX55 stands out from its QX50 sibling by way of a bolder grille-mesh design (Infiniti says the look was inspired by origami), a dark machine-finish wheel design, unique taillights with a distinctive "piano-key" lighting signature, and a license plate mounted in the rear bumper instead of the liftgate.
The QX55 model lineup ascends through Luxe (base MSRP: $46,500), Essential ($51,600), and Sensory ($57,050) trim levels, all of which come standard with all-wheel drive.  The only factory options are premium paint colors, and a ProAssist Package ($800) and ProActive Package ($1600) for Essential models. The ProAssist Package adds adaptive cruise control, adaptive LED headlights, Blind Spot Intervention, and Lane Departure Prevention. The ProActive Package brings a head-up display, traffic-sign recognition, adaptive steering, and Infiniti's ProPILOT Assist lane-centering adaptive cruise control system with stop-and-go capability. (All of the features in these two packages are standard on the Sensory model.) Also available are port-installed accessories such as splash guards ($225), illuminated doorsill kick plates ($485), and welcome lighting ($440).
The QX55 roster parallels the model lineup of the QX50, though the QX50 offers an entry-level Pure trim and is available with front-wheel drive across its lineup. Though there are differences in standard-equipment levels, you'll pay at least $3000 more for a QX55 Luxe over a QX50 Luxe, and at least $5000 more if you're looking at the top-line Sensory model. Our test vehicle was a Slate Gray Sensory model finished in Slate Gray paint (a $695 option) and the Monaco Red interior (a QX55 exclusive). Add in the $1025 destination fee, and the bottom line was $58,770, which is on par with similarly equipped premium-brand compact SUV rivals.
The QX55 shares its 268-hp turbocharged 2.0-liter 4-cylinder engine with the QX50. The powerplant is paired with a continuously variable automatic transmission and utilizes a sophisticated variable-compression-ratio system that Infiniti calls VC-Turbo. The engine can sound somewhat coarse at idle and when pulling away from a stop, and sometimes in around-town driving; depending on your preferences, you might find the aggressive tone intrusive or exciting. The exhaust note rises to a satisfyingly snarly growl in fast acceleration, and the CVT transmission does a good job of mimicking the stepped gears of a traditional sport-tuned automatic transmission. This eliminates the annoying high-rpm droning noise that some CVTs exhibit, and make the vehicle feel more athletic overall.
First Spin: 2021 Buick Envision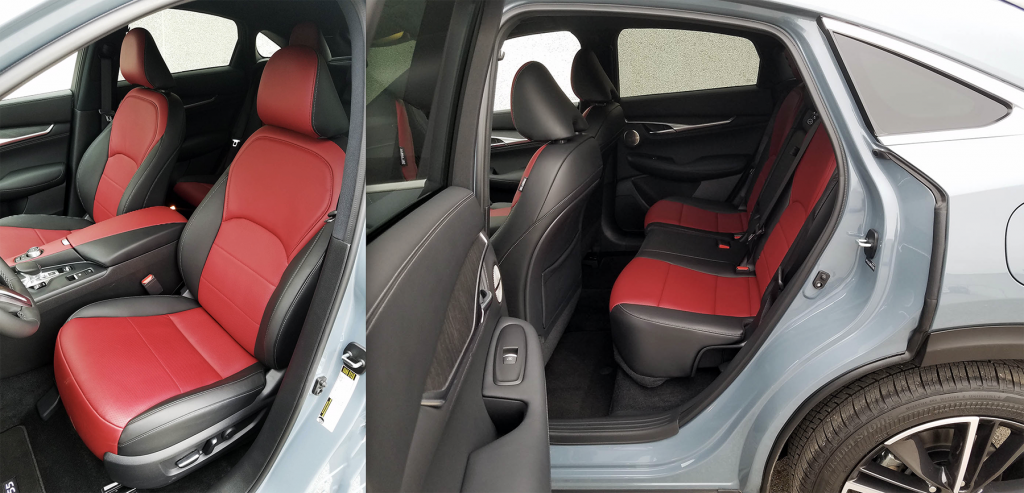 The Sport drive-mode setting delivers a slightly snappier, more eager throttle response, and the transmission holds higher RPMs for a bit longer, but not so much as to be annoying. The Eco drive mode is too aggressive for our tastes—it significantly dulls throttle response, almost to the point of lethargy.
The QX55 comes standard with 20-inch wheels, and its suspension tuning is focused on sporty handling a bit more than optimal bump absorption, so the ride can be a bit brittle on rough pavement. The basic QX50 is a perfectly capable and engaging handler, so Infiniti didn't see fit to make any distinctive steering and suspension tuning changes. A byproduct of the sleeker body shape is slightly improved torsional rigidity—Infiniti says it's improved 10 percent over the QX50.
Quick Spin: 2021 Toyota Venza Limited

The interior ambiance of our test vehicle had an upscale vibe that was notably sportier than the QX50s we've tested, thanks to the sportier trim choices—mainly the Monaco Red upholstery color, black dash leather, and the dark-finish open-pore wood trim inserts.
An analog speedometer and tachometer flank a configurable digital display panel in the main gauge cluster. The dual-screen InTouch infotainment-system layout isn't in keeping with the latest trend—a single extra-large widescreen seems to be de rigueur these days—but the Infiniti setup has its merits. Separating the navigation-system map from the other functions helps make the input screen layout a bit clearer, and we also appreciate the physical climate-control buttons that flank the lower screen and the physical audio controls beneath it. Wireless Apple CarPlay connectivity is a welcome feature that's standard on all models.
Test Drive: 2020 Mercedes-Benz GLB250

The sloped rear roofline naturally means a shorter, more sharply raked rear window, so rear visibility—particularly to the corners—is compromised, though not significantly so. The rearview camera and 360-degree surround-view monitor help pick up the slack.
Test Drive: 2020 Alfa Romeo Stelvio Quadrifoglio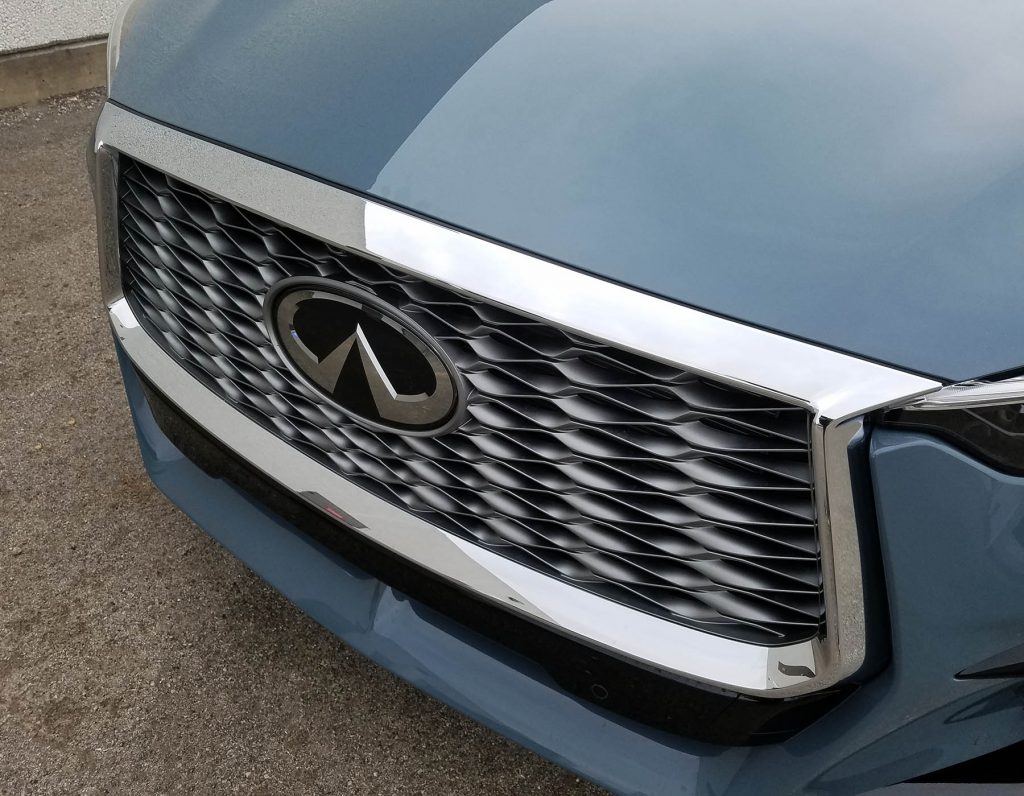 There's good driver and passenger space up front, even for big and tall folks. By Infiniti's official specs, the QX55 gives up an inch and a half of rear-seat headroom to the QX50 (36.9 instead of 38.4 inches), but we didn't find that to be a significant penalty. The standard sunroof's housing does steal a bit of headroom for extra-tall passengers, but the seat backs recline slightly to free up more space. Overall, rear-seat area is large enough to be hospitable to average-sized adults, and even tall passengers can fit back there reasonably well. The rear seats also slide fore and aft six inches, in case you're carrying petite rear-seat passengers and need to free up some extra cargo room.
The rear roofline takes a toll on maximum cargo volume—the QX55 has 26.9 cubic feet of space behind the second row, and 54.1 cubic feet with the second row folded, compared to the QX50's respective measurements of 31.1 and 64.4 cubic feet. However, it's worth noting that the raked portion of the QX55's cargo area is above the rear seat backs. Most people don't load up their compact crossovers that full that frequently, so the difference is negligible in everyday use.
Official EPA fuel-economy numbers for the QX55 haven't been released as of this writing, but we can't imagine they'll differ much from the 2021 QX50 AWD's numbers: 22 mpg city/28 highway/25 combined. We didn't have the opportunity to do our own fuel-economy testing, but our test vehicle's fuel-economy gauge had us at 20.6 mpg after about 80 miles of driving that was split about 60 percent city/40 percent highway. That's well below the QX50 EPA estimate, but very much on par with the 2021 QX50 Autograph AWD we tested—and frankly a bit disappointing considering the high-tech variable-compression-ratio system this engine employs.
Considering that the QX50 isn't really flying out of dealer showrooms, and the fact that these sloped-roof variants usually sell in fractionally smaller numbers than their mainstream counterparts, chances are slim that you'll see yourself at every street light if you step up to a QX55. That's probably a plus for the folks who "get it." The QX55 is slated to go on sale at Infiniti dealers this April.
Test Drive: 2020 Mercedes-Benz GLC 300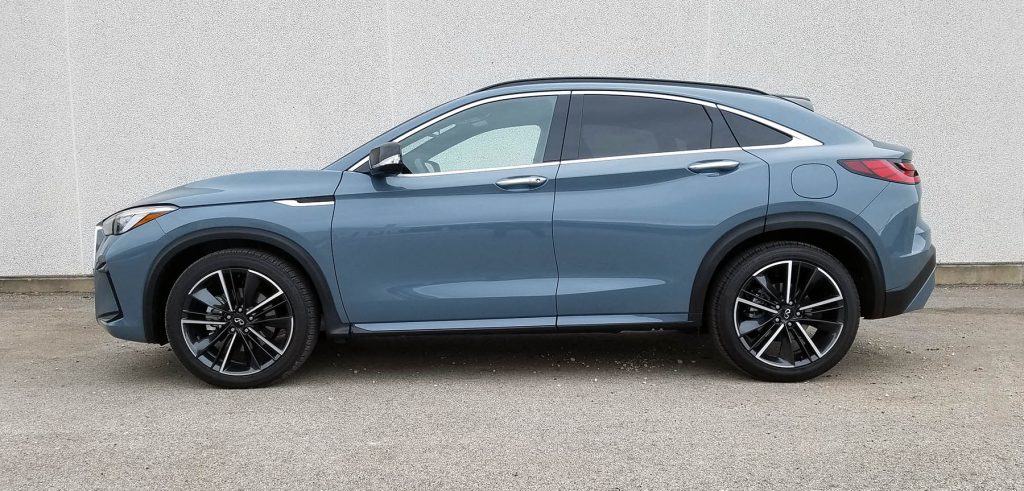 Listen to the very entertaining Consumer Guide Car Stuff Podcast
2022 Infiniti QX55 Gallery
(Click below for enlarged images)