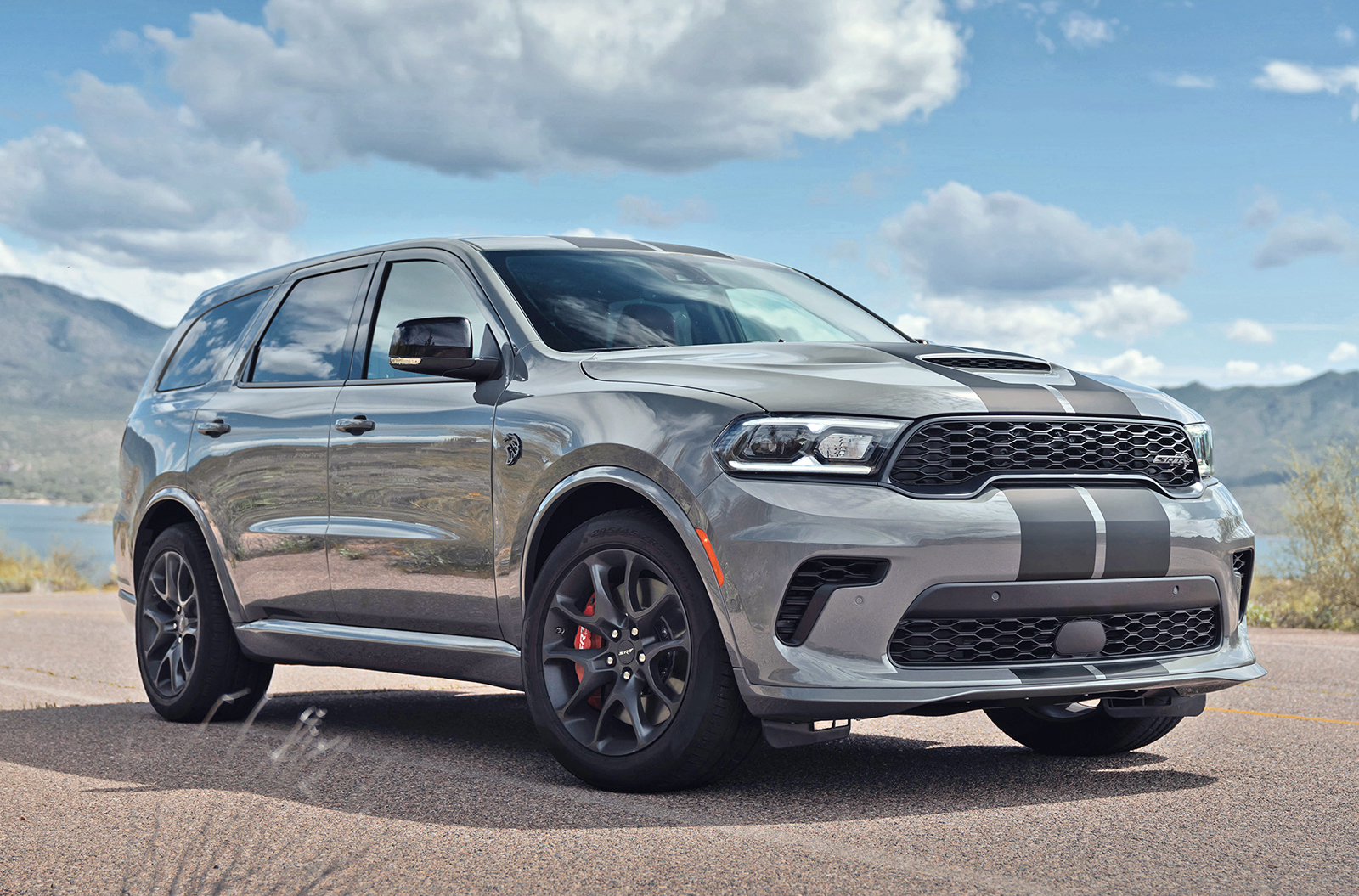 Note: The following story was excerpted from the August 2021 issue of Collectible Automobile magazine.


It's fair to say the idea of 700-plus-horsepower Dodges isn't as shocking as it once was. Starting with the original 707-hp 2015 Challenger SRT Hellcat, the 2021 Durango SRT Hellcat is the fifth supercharged, Hemi-powered Dodge we've considered in this space.
More sporty/performance-car news, reviews and fun
2021 Dodge Durango SRT Hellcat
This muscled-up SUV has some significant differences compared to the earlier Challengers and Chargers we've checked out, including all-wheel drive and three-row seating. Still, back when we took a spin in that first Hellcat, it never occurred to us we'd eventually see the blown Hemi in a Durango.
Like other Hellcats, Durango runs the now-familiar 6.2-liter supercharged Hemi V-8. Here it's rated at 710 hp and 645 pound-feet of torque. The engine mates to a heavy-duty 8HP95 eight-speed automatic transmission. Dodge says the 8700-pound tow rating is higher than that of any other three-row SUV.
Exterior appearance closely follows that of the returning Durango SRT 392 with a functional hood scoop, rocker "aero" extensions, and color-matched wheel-lip moldings. Hellcat-only touches include a unique wheel design, specific grille configuration with larger openings, a two-piece front splitter, and Hellcat emblems. All Durango SRTs run Pirelli Scorpion Zero 295/45ZR20 all-season performance tires. Pirelli P-Zero three-season gumballs in the same size are an extra $595.
Durangos welcome an updated interior for 2021. Highlights include a new Challenger-inspired dashboard design, new console, and revised upper panels on the front doors. There is also a new 10.1-inch touchscreen featuring Uconnect 5 infotainment. Both SRT models get a new flat-bottom performance steering wheel with flappy paddles—Hellcat features an SRT logo highlighted with red backlighting on the hub. Drivers will also be seeing red when they view the gauges. Heated and ventilated front seats have embroidered Hellcat logos. Upholstery is in suede and Nappa leather. Laguna leather in Black and Demonic Red is optional, as is upgraded dash trim with accent stitching.
Base price with destination is $82,490. Production started February 4, 2021, and deliveries began in the spring. Total U.S.-market production is expected to be approximately 2000 units.
Our office mates at Consumer Guide evaluated a Durango Hellcat that stickered for $89,665. Beyond the expected gasp-inducing acceleration, positives included impressively strong Brembo brakes and crisp-for-a-5700-pound-SUV handling. The comfortable interior and muscular looks were also appreciated. Downsides included a choppy ride, an exhaust note that was perhaps too prominent, and observed 10.4-mpg fuel economy.
Test Drive: 2021 Dodge Durango SRT Hellcat
Pros:
• Dodge says Durango SRT Hellcat will only be produced for the 2021 model
year. We don't know if this is the current Durango's last hurrah or if Dodge
already has something in the works to top it.
• According to Dodge, Durango Hellcat runs zero-to-60 mph in 3.5 seconds,
covers the quarter mile in 11.5, and has a top speed of 180 mph. Amazingly,
Durango is a couple tenths quicker to 60 mph and only three tenths slower at
the dragstrip than the 2015 Challenger Hellcat.
Cons:
• Visuals are not dramatically different than a '21 Durango SRT 392 that starts
at $18,000 less.
Final Drive:
We suppose it was only a matter of time before Dodge introduced a Hellcat version of their long-running Durango SUV. Compared to pricier performance SUVS from BMW and Mercedes-Benz, the Dodge boasts more power along with a larger body that has more cargo space and three-row seating.
Subscribe to Collectible Automobile Magazine
Dodge Durango SRT Hellcat