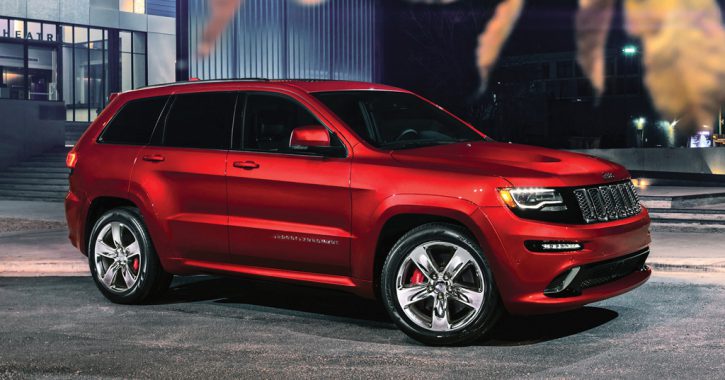 By Don Sikora II
Note: The following story was excerpted from the October 2016 issue of Collectible Automobile magazine.
Jeep introduced its original go-fast Grand Cherokee SRT8 for the 2006 model year. Powered by a 420-hp 6.1-liter Hemi V-8, it was available through 2010.
An all-new Grand Cherokee bowed for 2011. It was about two inches longer and three inches wider than its predecessor, with a wheelbase stretched by more than five inches to 114.8. Jeep talked up larger door openings and increased room as benefits, especially for rear-seat passengers and cargo. Interior quality and appearance were notably improved, and there was a freshly designed four-wheel independent suspension.
Then for 2012 the SRT (Street and Racing Technology) team worked its magic and created a new Grand Cherokee SRT8. A 6.4-liter Hemi camped out under the hood and put out a considerable 470 horsepower and 465 pound-feet of torque. It mated to a five-speed automatic transmission with steering-wheel-mounted paddle shifters. 
The Hemi was tamed a bit by Jeep's Quadra-Trac on-demand four-wheel-drive system and an electronically controlled limited-slip rear differential. It worked with a lowered and SRT-tuned Selec-Track adaptive suspension system with five driver-selectable modes: "Auto," "Sport," "Tow," "Track," and "Snow." Engineers also sharpened the steering, installed Brembo-brand brakes, and added 20-inch Pirelli rubber on forged-aluminum wheels.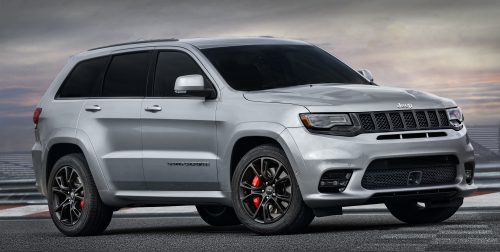 The SRT8 also wore sportier styling with new front and rear fascias, fender flares, rocker-panel extensions, a vented model-specific hood, and a rear spoiler. Interior details included a heated flat-bottom steering wheel, carbon-fiber trim, and Nappa-leather sport seats with color-contrast stitching and SRT logos. SRT's "Performance Pages" instrument display included stats for 0-60-mph acceleration, not to mention eighth- and quarter-mile sprints. 
For 2013, the Grand Cherokee SRT8 added new white "Alpine" and black "Vapor" special-edition appearance packages. Many features from the previously optional Luxury Group were now standard, including a power liftgate and leather trim on the door panels, dash, and center console.
The 2014s received substantial upgrades including an eight-speed automatic transmission with new console and paddle shifters, reprogrammed Selec-Track system, and launch-control capability. The exterior was touched up via tweaked front styling with LED accent lighting, LED taillamps, a new rear spoiler, and a redesigned tailgate assembly that eliminated the flip-up rear window to improve rear visibility. The "8" was dropped from the name, so it was now Grand Cherokee SRT. 
2018 Dodge Durango SRT Preview
There was a modest power bump to 475 ponies for 2015, and a new Red Vapor special-edition package. The 2016s were tweaked with a reconfigured gauge cluster, updated Performance Pages, and weight-saving aluminum suspension components. There were also new drive modes including a "Custom" setting that allowed for driver personalization. The Brembo brakes could be upgraded with two-piece aluminum rotors. The 2017s get a restyled front fascia and a Signature leather interior package.
Car and Driver tested a 2014 Grand Cherokee SRT with the 470-horse Hemi and eight-speed automatic. Testers obtained a 0-60-mph time of 4.6 seconds, ran the quarter in 13.2 seconds at 105 mph, and saw a top speed of 157. C/D also reported getting 14 miles out of each gallon of premium gasoline. 
Pros:
• Only SRT model with all-wheel drive.
• Think of it as a very handsome modern-day big-block station wagon.
• Come on—it's a 5300-pound SUV that runs 13s at the drag strip.
Cons:
• Jeep boss Mike Manley has confirmed a Hellcat-powered Grand Cherokee will be on the market by the end of 2017. The rumor mill says it will be called Trackhawk. We assume the supercharged beast will pack at least 700 hp. It will certainly overshadow today's SRT model.
• If you have any concerns whatsoever about frequent pit stops for full tanks of premium, look elsewhere.
• One of the few Jeeps that's not at home on the Rubicon Trail.
Final Drive:
Muscular Hemis and SRT-tuned hot rods regularly make appearances in our Future Collectibles column, but even among this well-regarded clan the Grand Cherokee SRT is strangely compelling. Nobody needs a near-500-horse Jeep, but that's not the point here. If you want one, you want one. We completely understand. Our suggestion: Go for the eight-speed transmission.