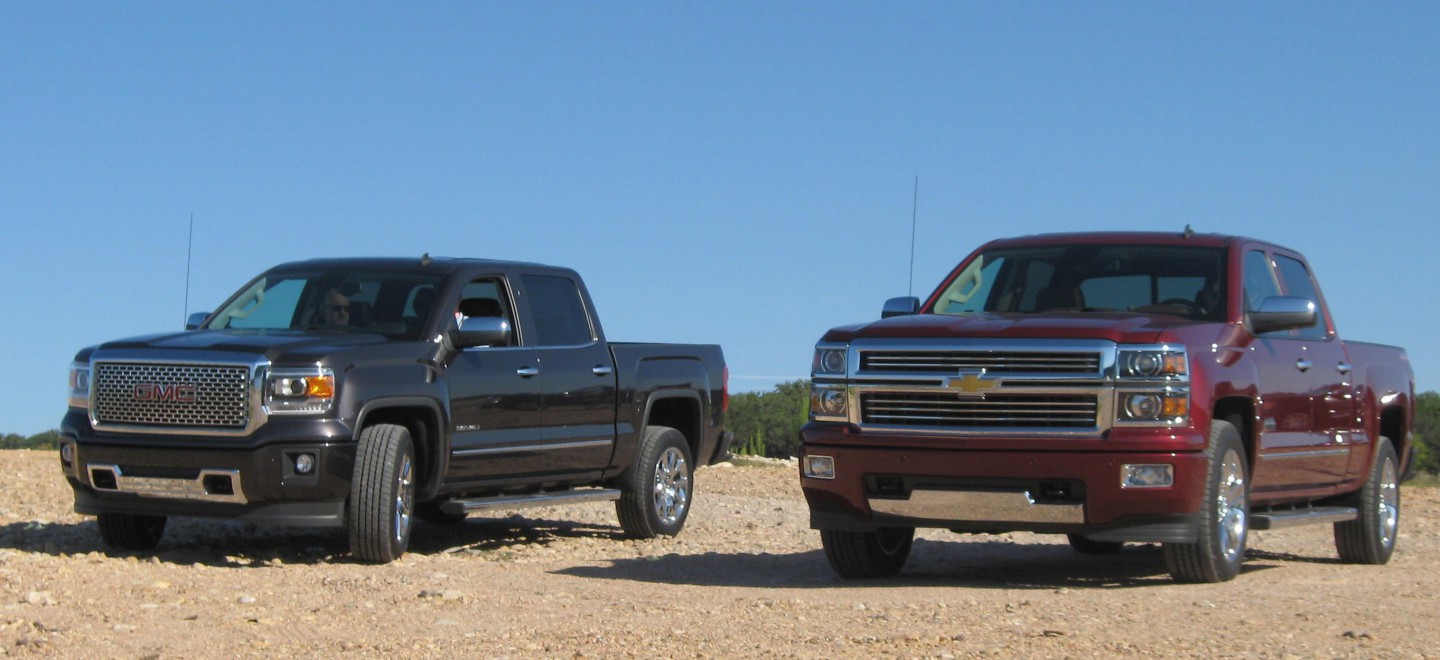 At a press event a couple years ago, a manufacturer's rep riding with us in one of his company's high-end pickups made the comment, "We can't seem to find the price ceiling that makes our customers balk." Indeed, this "truck" we were riding in boasted leather upholstery, wood trim, every conceivable power accessory, a sunroof, a navigation system, rear-seat DVD entertainment … and a window sticker close to $50,000.
What is the Silverado High Country?
Keep in mind our country was just clawing its way out of the worst economic slump since the Great Depression, during which vehicle sales dropped by a third. Yet it seemed the pickup market was booming, at least when it came to pickups loaded with accessories that nearly doubled their base price.
In the past few years, almost every full-size pickup manufacturer has brought out specially trimmed high-end models: Ford has the F-150 King Ranch and Platinum, GMC the Sierra Denali, Ram the Laramie Longhorn Edition, and Toyota the Tundra Platinum and 1794. Conspicuously absent was a high-end Chevrolet. But no longer.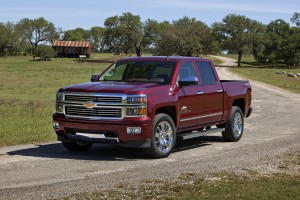 While one could argue that the GMC Sierra Denali was the high-end Chevrolet, Chevy dealers apparently didn't think so. And in fact, GM reps insist that Chevy buyers and GMC buyers are a decidedly different sort.
Regardless, Chevrolet will have its own high-end Silverado for 2014: the line-topping High Country. It is due to go on sale in late 2013 along with the GMC Sierra Denali, which didn't return immediately when the redesigned 2014 Sierra (and Silverado) went on sale earlier this year.
Although the GMC Sierra Denali and Chevrolet Silverado High Country are very similar trucks, there are differences that extend beyond their unique grilles—and the Denali's "signature LED headlights." Both have leather-wrapped interiors with numerous padded surfaces—including the door tops, where you rest your elbow—but where the Denali aims for "Modern Sophistication" (the manufacturer's term), the High Country shoots for "Rugged Luxury" (ditto).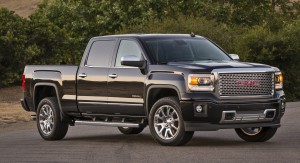 This manifests itself largely in different interior features and trim. In the High Country, ancillary gauges (fuel level, oil pressure, etc.) between the speedometer and tach are conventional analog, whereas the Denali replaces them with an 8-inch screen with reconfigurable "virtual" electronic gauges that can be set to display a variety of information. Both models come standard with heated and ventilated front seats, but those in the Denali are covered in softer leather and have 12-way power adjustment that includes 4-way lumbar adjustment, while the High Country has saddle-colored leather upholstery and 2-way lumbar adjustment. Denali also adds a standard heated steering wheel that's optional on High Country. The wood veneers are distinct to each, and Denali is available with aluminum trim.
Both models are offered only in crew cab form with either a 5.8- or 6.5-foot cargo bed and a choice of two- or four-wheel drive. They both sport body-colored bumpers and 20-inch chrome wheels (that are unique to each), along with distinct exterior trim and badging. Both come standard with a 355-horsepower 5.3-liter V8 (which GM says should get the best V8 fuel economy in the class), with an optional 420-hp 6.2-liter V8 (claimed to be the most powerful engine in the class). In 2WD form, the 5.3 is EPA-rated at 16 city/23 highway, while the 6.2 is rated at 15/21. The 5.3 runs on regular-grade gas, while premium is only recommended—not required—for the 6.2. Other available features include adjustable pedals, integrated trailer-brake controller, front- and rear-obstacle detection, forward collision alert and lane-departure warning (both signaled through vibrating seat edges), sunroof, navigation system, rear DVD entertainment with BluRay player, power sliding rear window, and trailer sway control. Also offered are multiple 12-volt outlets and a 110-volt outlet, along with a full suite of connectivity features, including OnStar assistance, wireless cell-phone link, Pandora, voice recognition, an SD-card slot, and numerous USB ports.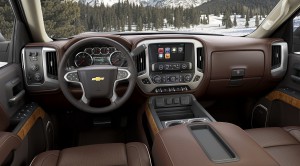 So how does it all work? Quite well, actually. Both V8s produce ample, quiet, refined power, though there's sometimes a slight hesitation when flooring the throttle from a stop. The transmission kicks down fairly quickly for passing sprints. Bump absorption, ride composure, and handling are surprisingly good for a pickup, if not quite up to those of the league-leading Ram 1500. Maximum payload is 1957 lbs, and maximum towing capacity is 9800 lbs.
Inside, there are a lot of things to like—and just a couple not to. These trucks are very quiet on the road, something that adds to the luxury flavor almost as much as the rich leather and ritzy trim. Small upper and lower gloveboxes, a huge console box (which GM says can swallow most laptops), and a large forward-console tray make for ample interior storage.
On the downside, front and middle roof pillars are thick enough to make them hard to see around, though the rear pillars are unusually thin. Although GM says the center-stack controls have been moved closer to the driver, those on the far right edge are still a stretch.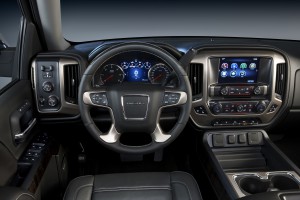 As the top-line trim levels of their respective brands, the Silverado High Country and Sierra Denali aren't cheap. High Country will start at about $45,000 in 2WD form (including destination), a similar Denali at about $48,000. And both go up from there. We won't have complete pricing until closer to the vehicles' late-fall introduction, but it's almost certain that loaded versions of each will sticker for well north of $50,000. That's a chunk of change for a pickup, but GM's betting that even those lofty figures won't make customers balk.
For our review of the 2014 Chevrolet Silverado, click here.
For a photo gallery of Chevy pickups through the years, click here.
What is the Silverado High Country?