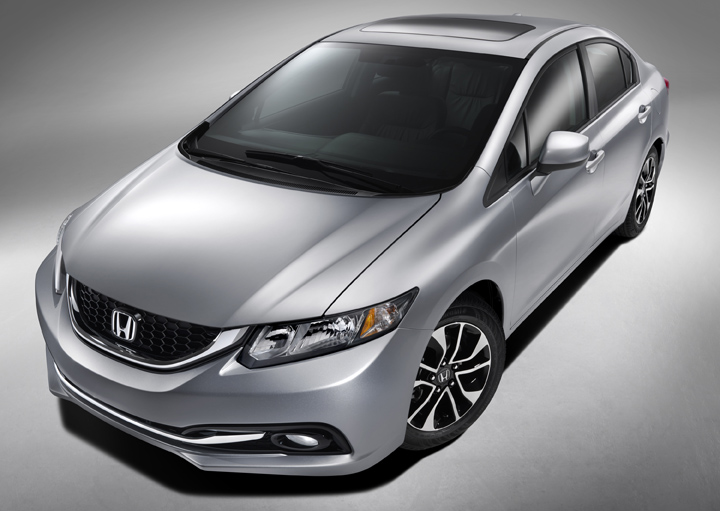 The 2012-2013 auto show season kicks off right after Thanksgiving in Los Angeles. This year's LA Auto Show promises to be one of the largest ever. One of the most hotly anticipated reveals is of the freshened 2013 Honda Civic Sedan. The company is teasing the press and showgoers with a couple advance images, which you can see here.
Honda Unveils Freshened 2013 Civic at LA Auto Show
Honda took a lot of flak from the press about the 2012 Civic, some of it properly deserved. The styling was not much of a departure from the 2006-2011 Honda. The drivetrain on volume models was completely unchanged. Noise suppression was poor, and interior materials and fit/finish fell short of the lofty standards we've come to expect from the brand.
The 2012 Civic still held many positive attributes, though. It was comfortable, it rode and handled well, and its unique two-tier dashboard design was still highly functional. Its fuel economy was pretty darn good, too. Over the course of a year and 13,000 miles, we averaged more than 32 mpg, with some drivers breaking 40 on long highway trips. This was all without the benefits of modern fuel-saving drivetrain tweaks, such as high-pressure gasoline direct injection, turbocharging, engine idle stop/start, or a 6-speed transmission (our test car had a 5-speed automatic).
The 2013 Civic you see here was probably planned for release in the 2014 or 2015 model year as what the industry commonly calls a "mid-cycle enhancement." Such changes usually include exterior and interior styling tweaks and some feature additions. Most of the time, the underlying chassis and drivetrains remain the same. Aside from these views of the exterior, we don't know anything else about the car.
Stay tuned to the Daily Drive as we bring you continuous coverage of the 2012 LA Auto Show on November 28 and 29.
More from the Los Angeles Auto Show