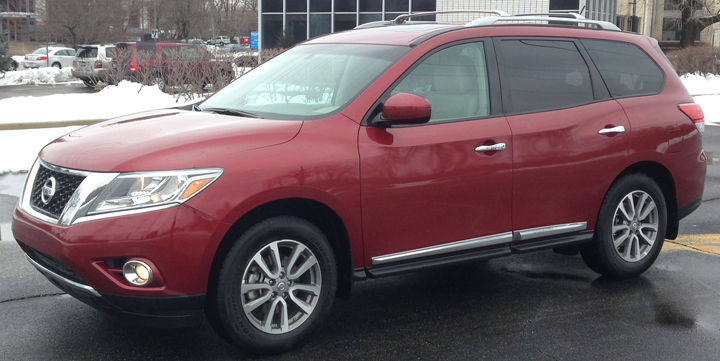 The Nissan Pathfinder's 2013 redesign included the "big switch"—going from body-on-frame truck-type construction to a unibody platform. For more on this vehicle, including a drive report, pricing, and photos, check out Consumer Guide's detailed review of the 2013 Pathfinder as well as our long-term road test. Meanwhile, here are three "yays" and "nays" based on a month's worth of driving impressions.
Check out our Midsize Crossover Best Buys
2013 Pathfinder Review
Yay: Hill-Conquering Power
We found Pathfinder to be peppy around town and authoritative on the highway. "On my recent family vacation," Consumer Guide Publisher Tom Appel noted, "this outstanding crossover conquered Kentucky hills, always rewarding throttle inputs with healthy, ready power." Another editor noted that "not until you attempt some aggressive acceleration is it noticeable that the Pathfinder has a CVT."
Nay: 13 MPG City
During our first month in our 2013 Pathfinder test car, we averaged 18.4 mpg. Those who drove mostly in the city fared much worse. Among the readings: 14.5 mpg over 75 miles (85% city); 13.4 mpg over 123 miles (90% city); 13.3 mpg over 59 miles (100% city); and 13.3 mpg over 75 miles (mostly city).
Yay: Great Bump Absorption
CG editor David Aretha recently drove Pathfinder over some of the worst streets in Chicago, those ravaged by springtime potholes. He felt that even the monster craters weren't that jarring, nor was the impact harsh on the ears. "Not sure there's a smoother-riding midsize SUV out there," wrote CG Managing Editor Rick Cotta. "Soaked up most bumps with aplomb."
Nay: Ever-present Noise
CG's David Hall was among the editors who found Pathfinder a little too noisy. "I don't think this vehicle is very quiet," he wrote. "Engine noise is always present as is tire noise. Sometimes there is a little bit of transmission whine, too. I can even hear liquids sloshing around from time to time, be it the fuel tank or any of the tanks under the hood."
Yay: Happiness Up Front
Pathfinder's front seats are long-haul comfortable, and there's loads of room in the 1st row. "Very nice," observed CG's Damon Bell. "The seating position is higher than a passenger car, but not so high that you feel like you're piloting a yacht or something. Headroom is fantastic. All-around visibility is really good, too."
Nay: The Low 2nd Row
While 3rd row seating is relatively comfortable compared to other SUVs, we have an issue with the 2nd row. "Cushions are low," noted CG's John Biel, "so even when front seats are pushed forward far enough to allow for plenty of middle-row legroom, passengers will still find themselves riding somewhat knees up, with no support for their legs."
More Pathfinder news and reviews