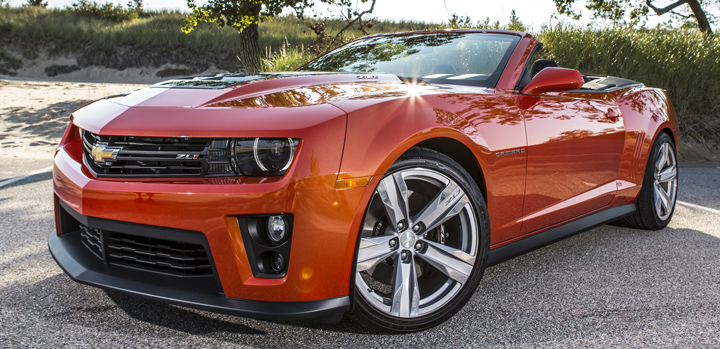 Also read Consumer Guide Automotive's full report, including analysis and pricing, on the 2013 Chevrolet Camaro.
The way Chevrolet sees it, America can't get enough of the Camaro. Neither, then, can Chevrolet, which for 2013 is adding an additional model and an option package—both targeting the high-performance market—in hopes of maintaining the car's sales lead over the Ford Mustang in the sporty GT field.
Test Drive: 2017 Chevrolet Camaro 1LE V6
The supercharged 580-horsepower Camaro ZL1 coupe gets a convertible running mate. Meanwhile, amateur track racers loyal to the bow-tie brand will be able to outfit manual-transmission Camaro SS coupes with a 1LE option that improves high-speed handling. Recent preview test drives showed the former to be fast fun in the sun, while the latter is fast fun on the run.
The ZL1 Convertible
Having made its public debut at last autumn's Los Angeles Auto Show, the soft-top ZL1 is hardly a secret. In almost every way, it's a match for the explosively fast coupe. The competitive mode in the convertible's traction control is a tamer setting cribbed from the SS, and the ragtop weighs about 200 pounds more than the coupe, thanks to the steps taken to shore up the chassis against the flexing and cowl shake that can afflict open cars. Thus, the ZL1 convertible isn't quite the performer to the nth degree that the ZL1 coupe is.
Among the features included in the convertible's $59,545 starting price before options and $900 for delivery is a new MyLink system designed to integrate online services like Pandora Internet radio and Stitcher SmartRadio with hands-free capability. One thing we can say about MyLink: It won't take "no" for an answer—unfortunately. The device proved generally incapable of understanding this tester's voice commands, no matter how clearly delivered, and often asked if he meant some other command. Even when met with a clear "No," MyLink would often apologetically say it still did not understand and then effectively hang up on the driver. (This same test of wills also played out in a new Malibu sedan, so it's not the ZL1 convertible's fault.) No matter. With 55 miles of backroads and highways to cover between South Haven and Grand Rapids, Michigan, it was better to just shut the heck up and enjoy the sound of the throaty exhaust note mixed with the swirl of the wind on a beautiful day.
The SS 1LE
The 1LE option makes SS coupes into accomplished corner carvers for an extra $3,500. (It's available for cars with 1SS or 2SS equipment.) The package is designed to appeal to Camaro owners who like to log some track time. If you're just such a person, you can thank competitive pressure and the power of the press for the 1LE group. According to Al Oppenheiser, Camaro's chief engineer, the folks at Chevy got tired of being trumped in "buff book" comparison tests by Mustangs with track-package options, so they went to work on something designed to give the Boss 302 Laguna Seca a run for its money.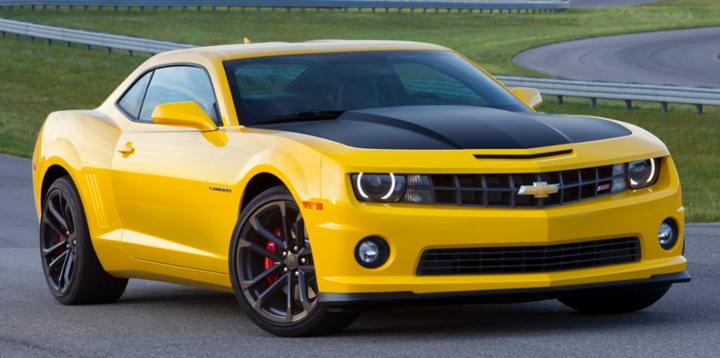 The 1LE was named for a brake-and-suspension-upgrade option that bowed in mid-1988 to make Camaros more competitive in the Sports Car Club of America Showroom Stock class ("heritage" touches reach everywhere among today's crop of ponycar-revival nameplates). The 1LE features larger-diameter solid front and rear stabilizer bars, higher-capacity axle half-shafts, and a strut-tower brace. In an effort to tamp down unwanted body motion, monotube rear shocks replace the standard SS twin-tube units. Pickups from the ZL1 parts list include wheel bearings, toe links, and rear shock mounts. The ZL1's 285/35ZR20 Goodyear Eagle Supercar front tires are used at all four corners on SS 1LEs to deliberately leave in a little side slip at the limit.
The six-speed Tremec TR6060-MM6 transmission in 1LE cars has the same first four gear ratios as the ZL1's MG9 close-ratio gearbox, but the former teams with a numerically higher 3.91:1 rear-axle for quick acceleration under track conditions. A high-capacity fuel pump and additional fuel pickups—both again from the ZL1—help keep the SS's 426-horsepower 6.2-liter normally aspirated V8 from missing a beat when gas sloshes around during hard cornering.
Even without a badge, you'll know a 1LE when you seen one, thanks to a matte-black hood, front air splitter, and rear spoiler, plus ZL1-like 10-spoke wheels also finished in black. Drivers will grip the ZL1's flat-bottom steering wheel and short-throw shifter, both of which are covered in suede microfiber.
On the track at Gingerman Raceway near South Haven, SSes with the 1LE package cornered flat and blasted from one apex to the next. Chevy says 1LE-equipped cars can lay down more than 1g of lateral acceleration. Even so, it's possible to throw the tail out a bit with traction control set in competition mode, but the car is quickly catchable and off you go like a shot for the next turn. Cognizant of complaints about understeer at the limit in early Camaros of this generation, engineers have picked up the ZL1's electric power steering as a standard feature for 2013 SSes. That and 1LE's body-motion-control measures add up to a car with quick and linear steering all the way through.
Asked about the potential market for the 1LE option, Oppenheiser said it likely will come from customers who may have issues with ZL1 availability and cost (a 1SS with the package and delivery will start at $37,035), but who still want a capable track car. He estimated about 2,000 sales a year for the package. There's some good news for owners of older SSes: Parts packages with 1LE components will be available for them.