Note: This article is reprinted from the October 2012 issue of Collectible Automobile.
By the time the redesigned 1964 Rambler American went on sale, the model had become an important product for American Motors.
The original American bowed in January 1958 as a smaller, lower-priced addition to Rambler's product line. Lacking the funds to develop an all-new car, American Motors took the unusual step of resurrecting the 100-inch-wheelbase Nash Rambler that had gone out of production in 1955. At first, only a modestly updated two-door sedan was available. Still, the American sold well, body styles and trim levels were added, and it was reskinned for 1961.
The first truly new American was the 1964 model. It was a larger, roomier car built on a 106-inch wheelbase. To save on tooling and manufacturing costs, the new body shared many stampings and other components with American Motors' new-for-1963 Classic and Ambassador.
The smooth styling was handled by Richard Teague. A full selection of body styles was available: two- and four-door sedans, a two-door hardtop and convertible, and a four-door station wagon. Base 220 and midlevel 330 models were available in both sedan styles, and as wagons. Top-line 440s came as hardtops, convertibles, and four-door sedans. A sportier, better-equipped 440H version of the hardtop rounded out the line.
American engines were all sixes. The old 90-bhp "flathead" version of the 195.6-cid engine was standard on the 220 and 330 series. An ohv conversion of the same engine rated at 125 horsepower was standard on 440s and optional on the lower-line Americans.
The top choice was a 138-horsepower version of the ohv engine with a two-barrel carburetor. It was standard on the 440H and optional on all other Americans. A total of six three-speed manual and automatic transmissions were available.
Our featured car is a 440H hardtop owned by Daniel Griffin of Twin Lakes, Wisconsin. The original-condition Frost White-over-Emperor Gold car has been in his family since new.
Aside from the 138-horse engine, standard equipment on the uplevel hardtop included reclining bucket seats, a floor console, extra chrome trim, and special badging. At $2,292, its base price was $159 more than the 440 hardtop. Options and accessories on the featured car include automatic transmission with column shift, dash-mounted compass, tissue dispenser, AM radio, and side mirrors.
The 1964 American was popular with buyers. Production reached 160,321 units. This compared to 105,296 of the 1963 models. In fact, '64 would prove to be the best year that the American would ever have. While Rambler dealers sold 19,495 American 440 hardtops, the pricier 440H didn't do too badly for itself with orders of 14,527.
More Collectible Automobile Photo Features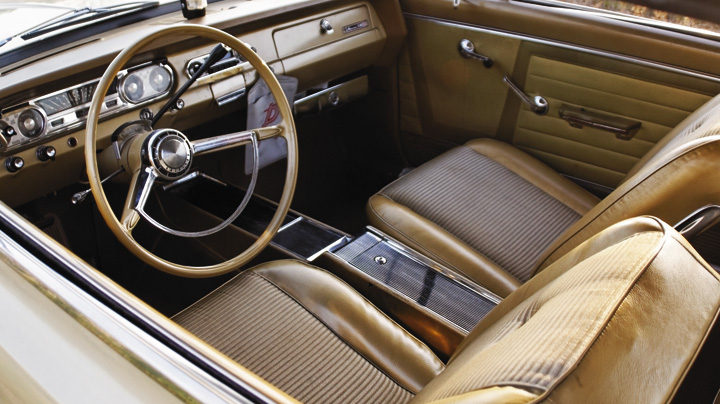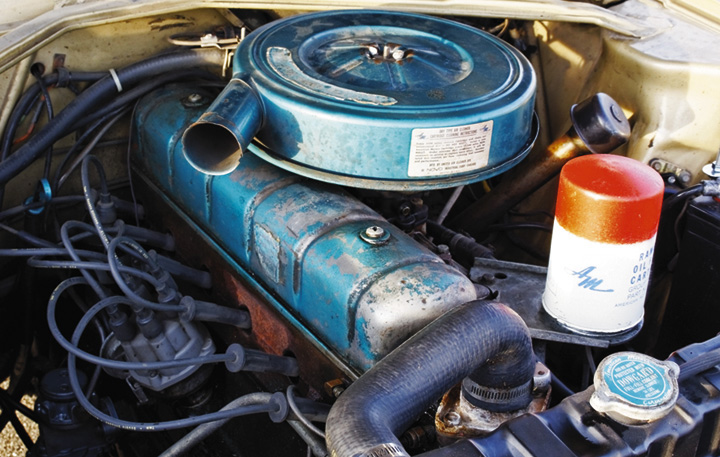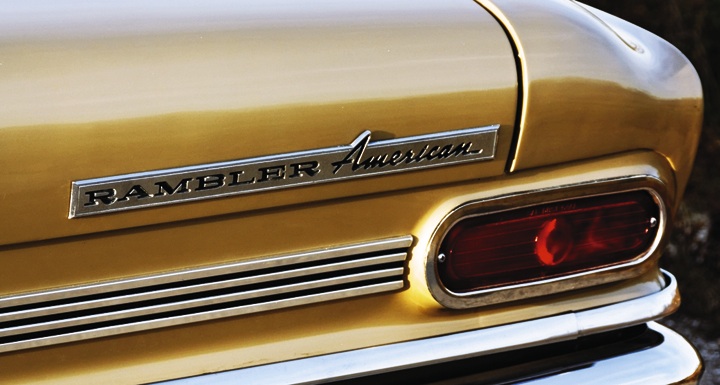 Photo Feature: 1931 Cadillac 370A Coupe