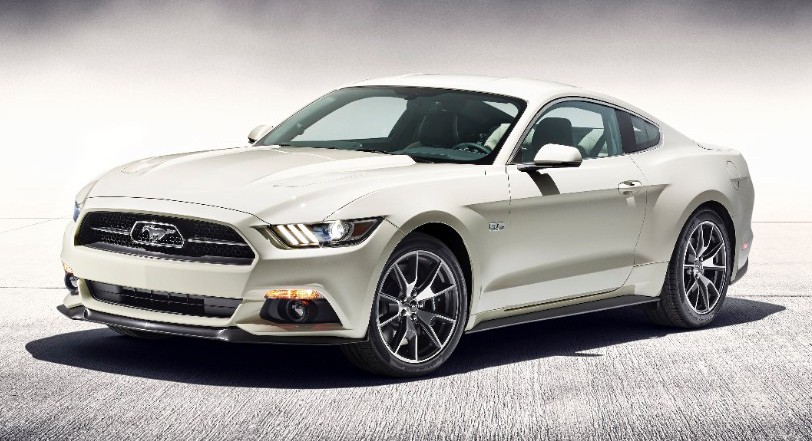 NEW YORK  — Ford celebrated the Mustang's 50th Anniversary at the 2014 New York Auto Show by announcing a Mustang 50 Year Limited Edition model with several exclusive trim features. The special edition is based on a 2015 Ford Mustang GT fastback with the performance pack, and comes loaded with most every available Mustang option. The only choices left for the customer are two exclusive colors–Wimbledon White or Kona Blue–and a six-speed-manual- or automatic transmission.
2018 Detroit Auto Show: 2019 Ford Mustang Bullitt
A handful of exclusive exterior touches set the Limited Edition model apart from standard Mustangs. Additional chrome highlights adorn the grille, side windows, and taillamps, adding a touch of nostalgia. Likewise, the design of the 19-inch alloy wheels is inspired by the handsome chrome steel wheels offered as optional equipment on the original Mustang. Finishing off the unique retro exterior-trim features are a "louvered" rear-quarter-window treatment and a faux gas cap in the rear taillamp panel.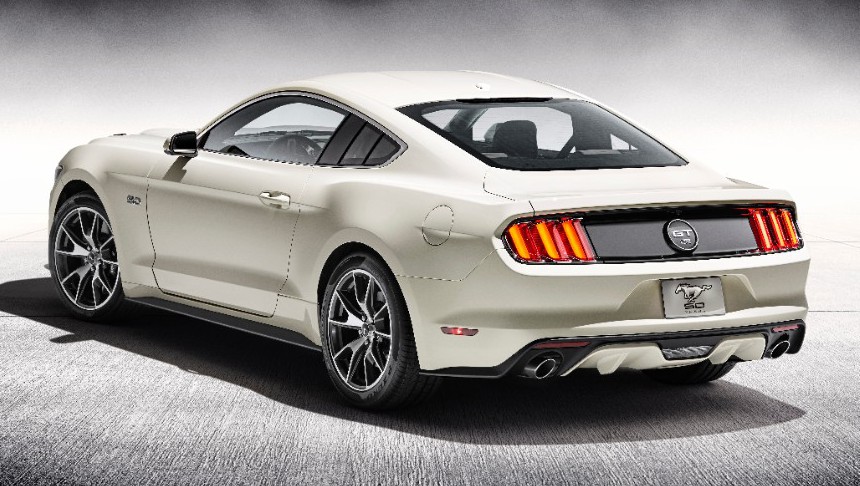 Exclusive interior touches include cashmere stitching on the instrument panel, shifter boot, center armrest, door inserts, seats, and leather-wrapped steering wheel. The seats themselves feature two-tone cashmere and black leather upholstery with a Mustang 50 Year logo on the seat backs. The dashboard wears a uniquely finished aluminum trim panel and a serialized badge on its passenger side.
The 50 Year Limited Edition will be available this fall. Only 1964 examples (commemorating the year of the first Mustang's introduction) will be built, each with a special owner's guide in a leather-bound portfolio with the 50 Year badge.
CG Says: Limited-production appearance packages like the 2015 Mustang 50 Year Limited Edition usually tack on a hefty price premium over their mainline counterparts while offering little or no real upgrade in performance or functionality. However, the 50th anniversary of one of the most successful, beloved cars in world history is truly a momentous occasion, so we can't argue with this celebratory 'Stang. We're certain that covetous collectors and Mustang fanatics will snap up every example that Ford builds.