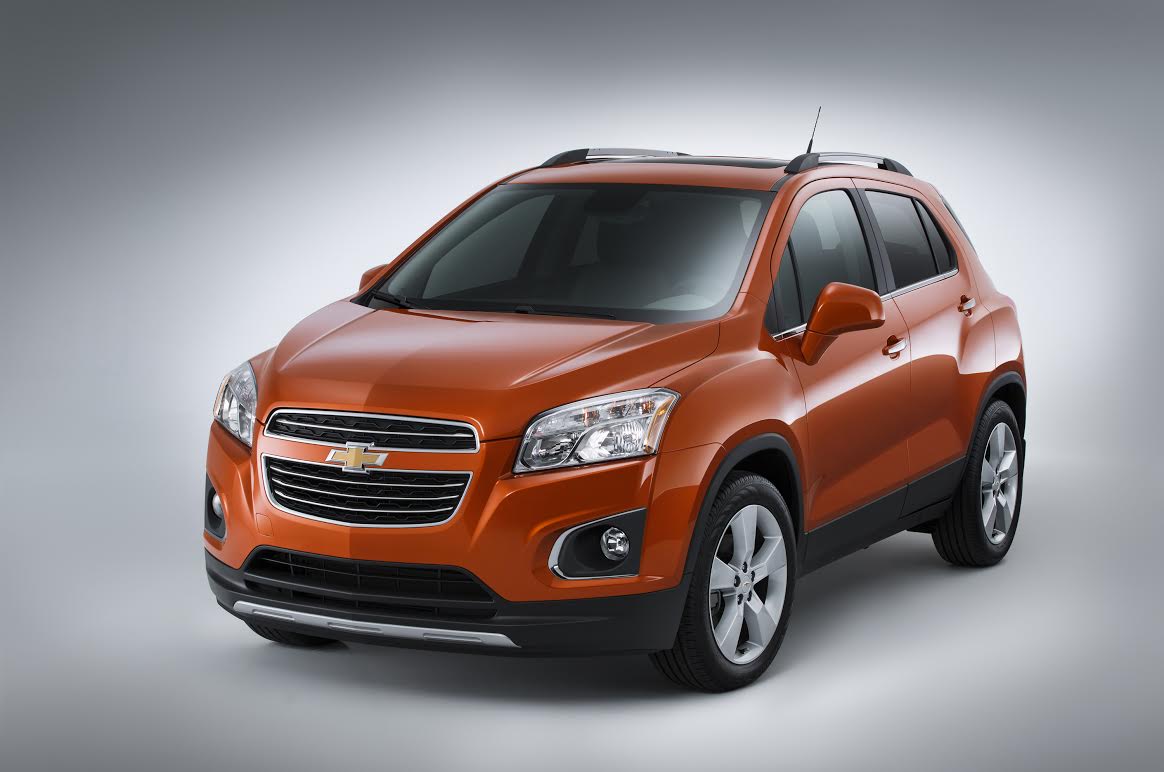 2015 Chevrolet Trax
NEW YORK — Chevrolet announced its new entry into the compact SUV market at the 2014 New York Auto Show. The 2015 Chevrolet Trax is a pint-sized 4-door wagon that is based on the same front-wheel-drive platform as the Buick Encore small SUV. (Like Encore, Trax will offer all-wheel drive as well.) Trax also shares Encore's turbocharged 1.4-liter four-cylinder and six-speed automatic transmission, with a horsepower number that shouldn't differ from the Encore's rating of 138.
Despite its small footprint, Trax manages to offer a decent amount of cargo space–up to 48.4 cubic feet. The rear seat folds in a 60/40 split, and a fold-down front passenger seatback enables loading of items up to eight feet long.
Though Trax won't carry all of the upscale features of its Buick cousin, Chevrolet will offer plenty of connectivity features. Available equipment includes Siri Eyes Free voice-command capability for iPhone iOS 6 and iOS 7 users, BringGO navigation app, GM's next-generation OnStar and MyLink systems, and OnStar 4G LTE internet connectivity with a built-in Wi-Fi hotspot. The standard 7-inch-diagonal touch screen includes a rearview camera display, and rear park assist will be available.
Trax will be offered in Chevrolet's typical LS, LT, and LTZ trim levels. LS and LT get 16-inch wheels; LTZ gets 18s. Trax is slated to arrive in showrooms in early 2015. Pricing will be announced closer to production.
CG Says: Chevrolet's announcement of the Trax is a bit of a surprise, but it's a good surprise. We're fans of the Buick Encore; it offers surprisingly good ride quality and passenger/cargo versatility for its small size. As a Chevrolet, Trax will likely give up a bit of the Encore's high-end character and a few luxury features in exchange for a lower sticker price that should broaden its mainstream appeal.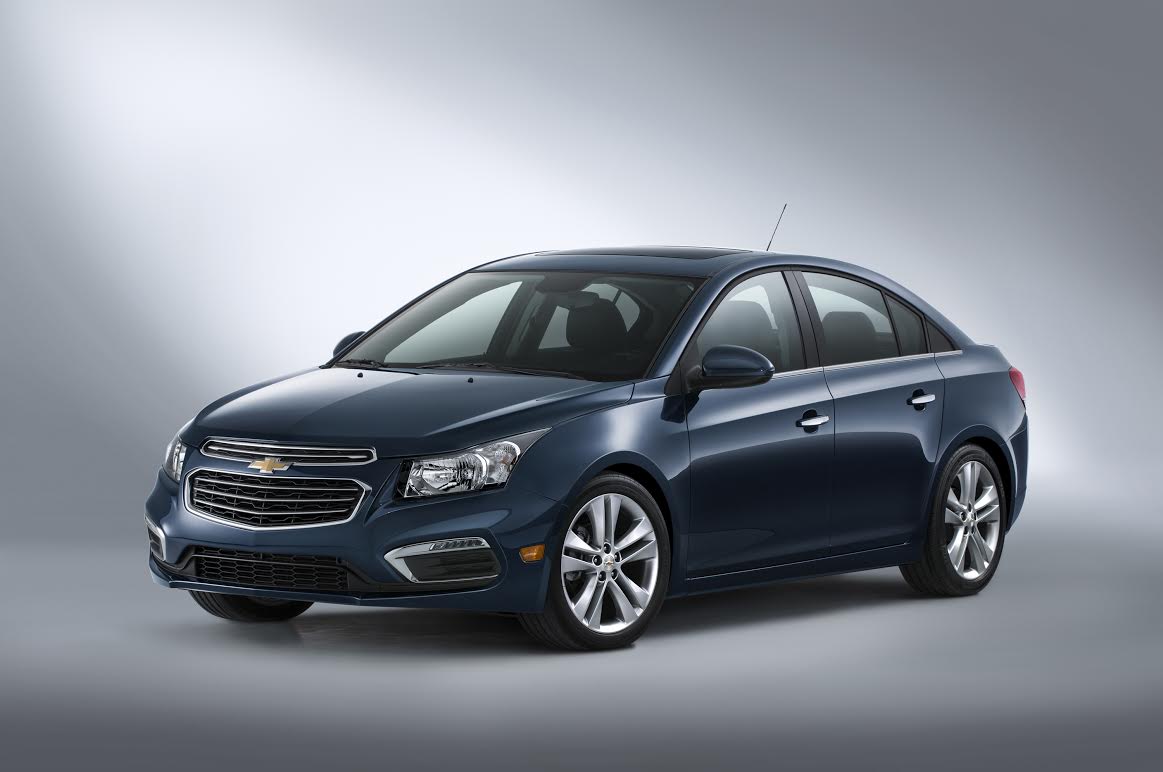 2015 Chevrolet Cruze
Chevrolet also unveiled a freshened 2015 Cruze at the New York Auto Show. After the big news of a diesel-engine Cruze for 2014, Chevy follows up with facelifted exterior styling, a host of new connectivity features, and minor interior updates for 2015.
The updated styling is highlighted by a dual-port front fascia that draws cues from the Impala and Malibu, giving the Cruze a more cohesive "family resemblance." The newly available technology features include a Text Message Alerts feature which can read incoming text messages through the vehicle's speakers. Siri Eyes Free voice-command capability for iPhone iOS 6 and iOS 7 users, OnStar 4G LTE internet connectivity with a built-in Wi-Fi hotspot, and Chevrolet's next-generation OnStar and MyLink systems are also offered. Slated for later availability is Chevrolet's App Shop, which allows users to download unique apps directly to the MyLink system instead of their smartphone.
The interior gets revised cup holders that Chevy says are easier to use. The trunk-release switch is relocated to the center console, and the door-lock switches are relocated from the center console to the front doors. The Cruze's model lineup of LS, LT, RS, LTZ, Eco, and Diesel models is unchanged. The 2015 Cruze is set to go on sale this fall.
CG Says: The world of in-vehicle connectivity and infotainment is advancing at lightning speed, and the 2015 Cruze's updates will help Chevrolet keep pace with the best in the compact-car class.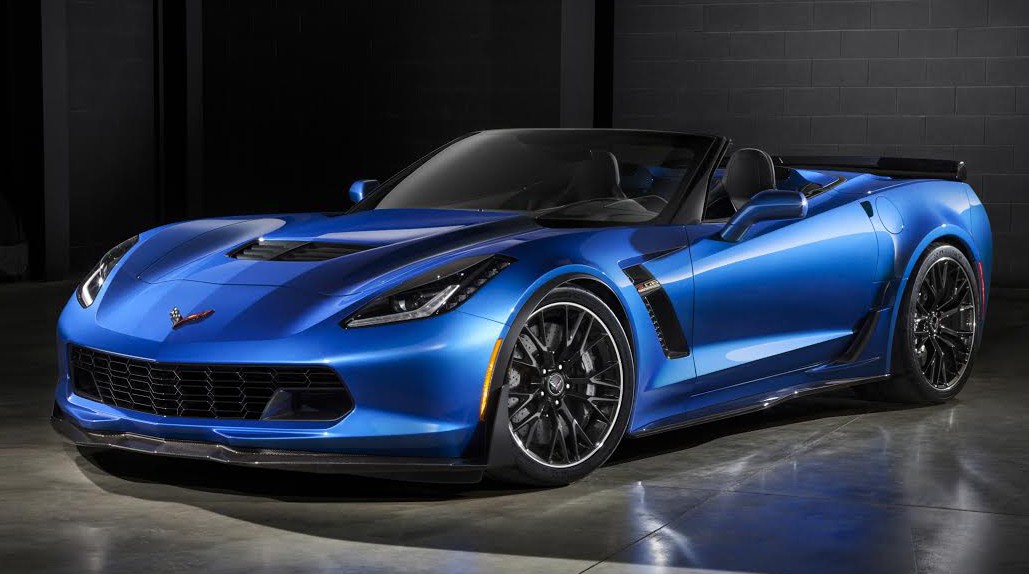 2015 Chevrolet Corvette Z06 convertible
Following on the heels of the announcement of the 2015 Corvette Z06 coupe at the 2014 Detroit Auto Show, Chevrolet used the New York Auto Show to announce a convertible version, which it says is the most powerful droptop it has ever produced.
The Z06 convertible gets the same formidable laundry list of high-performance hardware as its coupe sibling, highlighted by features such as an all-new 625-horsepower supercharged 6.2-liter V8, third-generation Magnetic Selective Ride Control, huge Brembo-brand brakes (with carbon-ceramic rotors available), and a choice of three body-kit packages with increasing levels of aerodynamic downforce.
Convertible versions of hardtop vehicles often sacrifice some structural rigidity, but Chevrolet says that the aluminum structure of the new Corvette convertible Z06 is 20 percent stiffer than the previous fixed-roof Z06. The 2015 Z06 convertible's curb weight is nearly identical to its hardtop coupe sibling; Chevrolet says the only structural differences between the Z06 coupe and convertible are provisions for mounting the power-folding soft top and repositioned seat-belt mounts.
CG Says: It used to be a given that convertibles were noticeably heavier, slower, and less-rigid than their fixed-roof counterparts, but Chevrolet's advancements in chassis construction and technology have put those days in the rearview mirror.  The Z06s of the recent past offered neither a convertible body style nor an automatic transmission, but the 2015 model offers both. Some high-performance purists might grouse that the Z06 is moving away from its hardcore track-machine roots with these additions, but the car's performance specs are so jaw-dropping in any of its forms that we doubt many people will mind.