An article about the restoration of a 1950s General Motors show car has won a writing award for Collectible Automobile® magazine, Consumer Guide® Automotive's companion publication devoted to motoring history.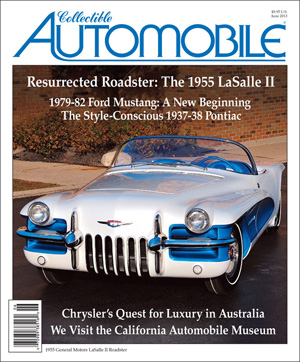 The Society of Automotive Historians (SAH) presented its annual Carl Benz Award to "A Star Is Reborn: Restoring the 1955 LaSalle II Roadster," which appeared in the June 2013 issue of CA. The award recognizes excellence in the presentation of automotive history appearing in a periodical published in the previous calendar year, and is made jointly to the author and the publication.
Visit Collectible Automobile® on Facebook
The article was written by Terry V. Boyce, a Michigan freelance writer whose work has appeared many times in Collectible Automobile®, as well as in other publications. It told the story of the LaSalle II roadster, which was built for the '55 GM Motorama shows, then plucked years later from a Detroit-area salvage yard by show-car collector Joe Bortz, who eventually had the car pieced together and restored. It was the second CA article penned by Boyce to claim the Benz Award. His article about the 1951 Buick XP-300, another Motorama car, won in 2011. Overall, it was the eighth CA article to earn the Benz Award.
More from Collectible Automobile Magazine

The presentation of the award was made on October 10 at the SAH's annual meeting and awards dinner at the Hershey Country Club in Hershey, Pennsylvania. Founded in 1969, the society claims a membership of more than 900 around the world. According to its website, the not-for-profit society exists to "support the compilation and preservation of papers, organizational records, print ephemera, and images" related to the history of motorized land transportation and to promote the publishing and teaching of automotive history.
Joe Bortz Collection