There are two maxims that apply to the short life of the Volkswagen Corrado–one born of hot-rod and drag-racing legend, the other I just made up.
The first saying, familiar to any muscle car fan, is, "There's no replacement for displacement." And, as any fan of the Corrado can attest, the compact sport coupe was something of a dud until 1993, when VW's now-legendary VR6 engine was shoehorned under the hood.
The "narrow-angle" V6 displaced 2.8 liters, replacing a supercharged 1.8-liter 4-cylinder mill that been standard since the car arrived in the U.S. for 1989.
The new engine cranked out 178 horsepower, 20 more than the 1.8 did. But the real story was how accessible the VR6's torque was. While, according to Consumer Guide and a number of other outlets, the supercharged four was prone to excessive lag at low rpm, the VR6 was spirited from a stop, and revved like crazy to its 6500 rpm redline.
Yet, the Corrado never sold well. Which brings us to our second, and newly minted, maxim: "High price, no dice."
Built in Osnabrück, Germany by legendary contract manufacturer and sometime design house Karmann, the Corrado had a certain exotic-car cachet.
Sadly, that cachet was not enough to overcome the Corrado's fatal defect: its lofty base price. The 1993 Corrado started at a stratospheric $23,250, this at a time when the AWD, 190-horsepower Mitsubishi Eclipse GSX—with far more standard equipment—started for $21,162, and the V8-powered Ford Mustang LX 5.0 began at just $16,187.
Those who spent time with the Corrado SLC, as the V6-powered variant was dubbed, generally loved the car, but sales were dismal. Over its five-year run, the Corrado racked up just over 18,000 sales, with roughly 4000 packing the delightful VR6 engine.
As is always the case with cool cars that go unappreciated when new, the Corrado is something of a collectible vehicle today. Well-worn 4-cylinder "G60" models still bring better than $5000, and clean low-mileage GLC examples regularly trade in the $10,000-$15,000 range.
The Corrado was dropped after the 1994 model year. In wasn't until the 2008 model year that Volkswagen tried the purpose-built "sport-coupe" concept again, when it revived the name of the Corrado's predecessor–Scirocco–on an all-new, sleek-bodied two-door sport compact. Sadly for U.S. enthusiasts, VW does not sell the new Scirocco in the North American market.
1993 Volkswagen Corrado SLC Review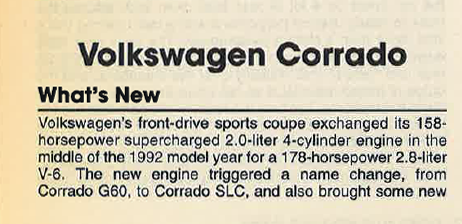 Benchmark Rides: The Three Vehicles by Which I Judge All Others (Scirocco content)
1993 Volkswagen Corrado SLC Review
Benchmark Rides: The Three Vehicles by Which I Judge All Others
1993 Volkswagen Corrado SLC Review
Written by: Tom Appel
on March 2, 2017.
on April 16, 2021.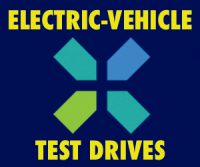 Auto Shows
Steve & Johnnie's Road Tests