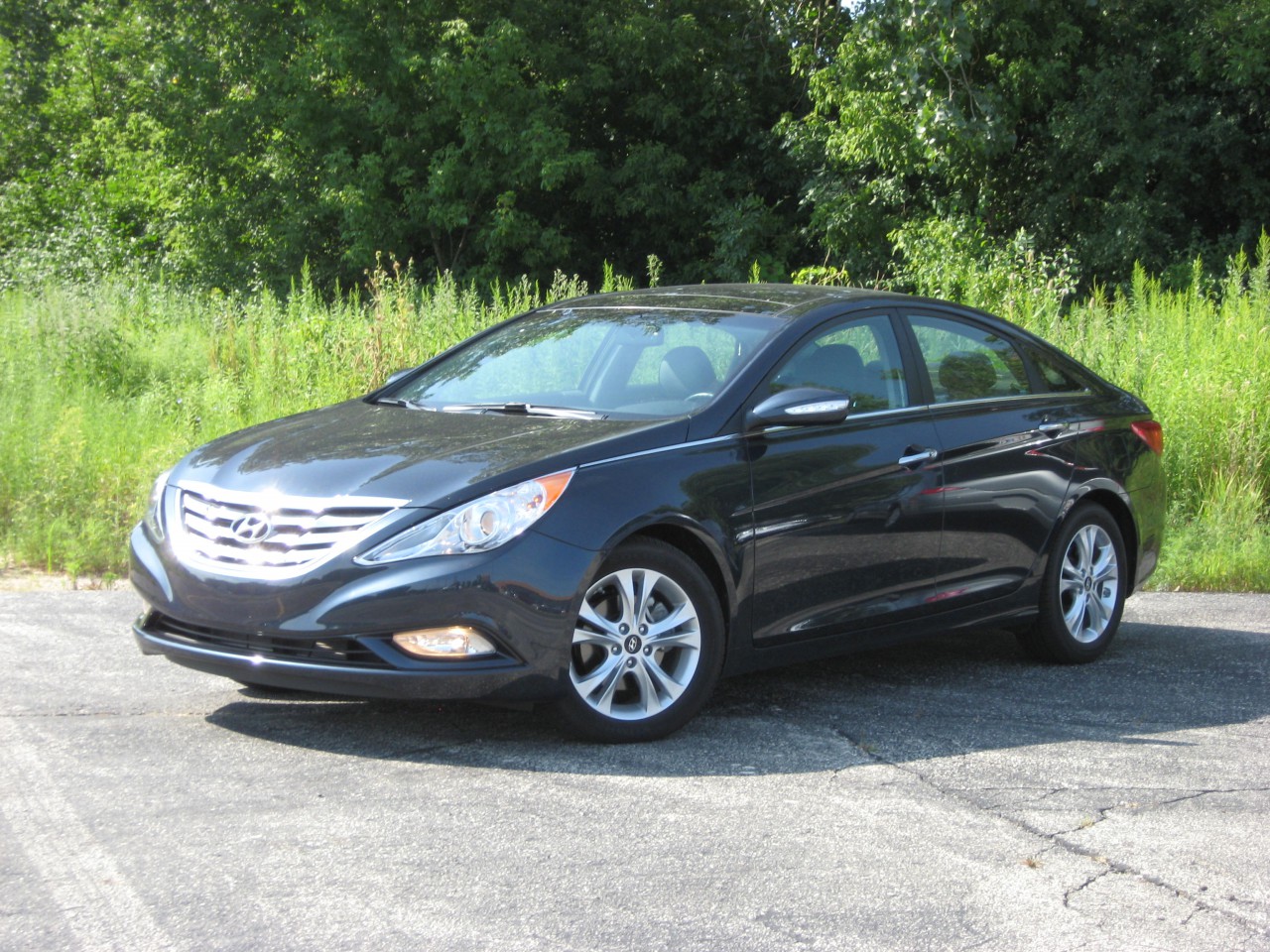 2013 Hyundai Sonata Limited
Dates Tested: 7/29/2013-8/12/2013
Miles driven: 302
Base price: $25,845 (not including $795 destination fee)
Price as tested: $29,685
Options on test car: Floor mats ($110), Premium Package ($2900)
Real-World Fuel Economy: 20.6 mpg
Driving Mix: 60 percent city, 40 percent highway
Quick Hits
The Great: Great value, classy cabin, simple controls
The Good: Good power, lots of room up front
The not so good: Middling observed fuel economy, marginal adult rear head room
John Biel
 Driving the 2013 Hyundai Sonata Limited in this test posed a rare opportunity to try a particular car—literally the same one, and not a long-term-fleet car, either—a second time. With the passage of time and what feels like fresh eyes, this has confirmed some earlier opinions, but changed others.
This we (still) believe:
• The 2.4-liter 4-cylinder delivers fine performance for leaving stoplights, entering expressways, and passing slower traffic—in other words, all that driving stuff you do. It won't blow your hair back, but neither will it leave you sorry you didn't buy something else. Perhaps just once in a power-on/power-off/power-back-on maneuver did this driver befuddle the 6-speed transmission. Otherwise, it performed well.
• Fuel mileage is a letdown. This time, over 156.4 miles with 60 percent of miles in city driving, this tester averaged 20.98 mpg. Three months earlier, over nearly the same distance but with slightly more city miles, he got 22.8—and didn't think THAT was any great shakes for a car with a 24/35 EPA rating.
• The ride is pleasing, but the handling is tamer than the sporty image Hyundai is after for this midsize sedan. You can saw the steering wheel a couple inches either side of center before it seems the car is reacting.
• Controls are easy to reach and use—even the audio settings through the nav-system screen—and appointments look and feel rich for the price class. At vigorous highway speeds, there's some wind noise, but in other cases there's a nice level of quiet.
• There's plenty of adult stretch-out room front or back. Seats are supportive, and it seems you might have a little more luck fitting a third passenger into the rear seat than you might in some other cars.
This we reconsidered:
• A 6-footer may want to get a buzz cut and take his wallet out of his back pocket before sitting in back—anything to find some more head room. This tester parked his 5'-10.5" self in back and was as close to the roof, headwise, as he cared to be.
• Reevaluating the trunk, we're not so sure the space is as "generous and optimally shaped" as we once thought. While the trunk floor is uniformly flat, it does narrow quite a bit between the wheel houses, which might restrict some loading. Plus the bottom of the trunk opening is still a few inches higher than the trunk floor, so slipping unwieldy stuff in or out isn't going to be a snap.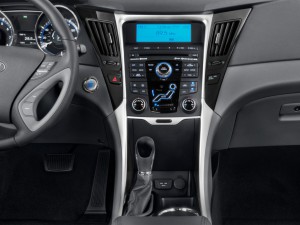 Tom Appel
For most of its long existence, we at Consumer Guide have said of the Honda Accord that it is the car that does nothing exceptionally well, but does everything well. I can say the same of the Sonata.
In luxury Limited guise, Sonata loses a little of its category value edge, but the tradeoff in content and cabin upgrades is very real. Indeed, Sonata Limited feels decidedly upscale inside, helping to justify our test car's $30,000 as-tested priced.
Like John, I am grateful for a second go around in the Sonata, and I have come away with some new impressions. Mostly, I am grateful for a control layout that is both aesthetically and functionally simple. I am growing tired of having to change screens to accomplish tasks as simple as changing from AM radio to satellite.
And while the direct-injection engine is a little course sounding under pressure, it offers up fine power, and works very well the transmission. My fuel economy was a little disappointing, clocking in at about 20 mpg. I note that John saw about the same mileage.
Most importantly, Sonata works well as a daily commuter. Front-seat space is excellent, the cabin is quiet, and low-speed power deliver and maneuverability help make easy work of clawing through rush-hour congestion.
Most shoppers will be well served by a less expensive Sonata trim level, but at a couple grand less than the average cost of a new vehicle, or loaded-up Limited represents practical, guilt-free indulgence.