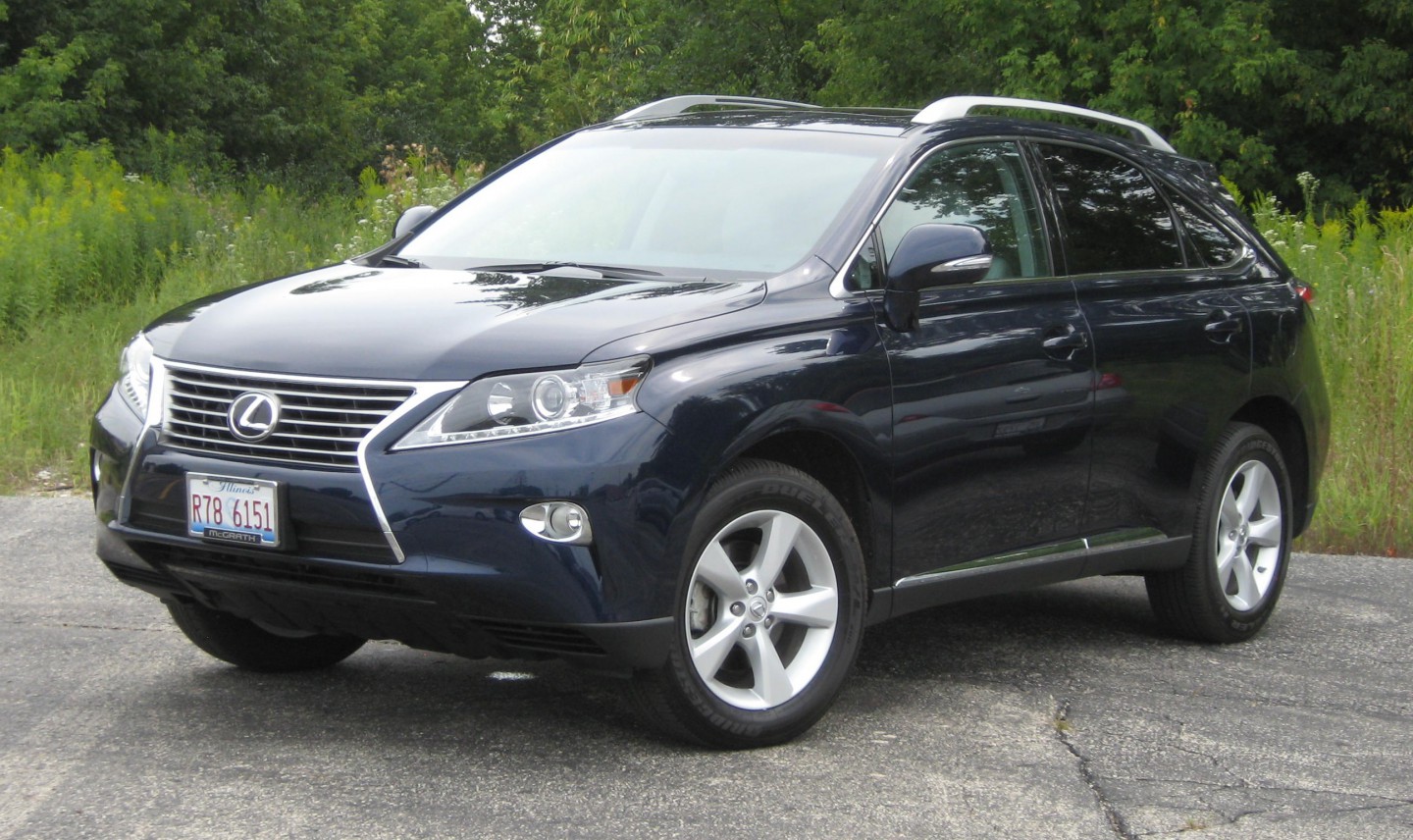 2013 Lexus RX 350 AWD

Dates tested: 8/22/2013-9/05/2013
 Miles driven: 311
 Real-world fuel economy: 19.1 mpg
Driving mix: 60 percent city, 40 percent highway
Base price: $41,060 (not including $895 destination fee)
Optional Equipment: Heated and ventilated seats ($640), Mark Levinson audio ($995), Navigation Package ($2775), Premium Package ($2260)
 Quick Hits
 The great: Silky drivetrain, luxurious ride
 The good: Classy cabin, comfortable seats
The not so good: Less fun to drive than other vehicles in class
John Biel
Since their inception, Lexus-brand vehicles have consistently proven that they can meet the high expectations of luxury-market customers in terms of product quality and ownership experience. In fact, Lexus often became a setter of standards to which other marques had to aspire.
The other guys in the class needn't lose heart, though. Lexus doesn't lead the pack in every hunt, as a recent run in its RX 350 premium midsize SUV demonstrated.
Our test RX 350 was a 2013 model with all-wheel drive, a 270-horsepower 3.5-liter dohc V6 engine, 6-speed automatic transmission, 18-inch alloy wheels, Bluetooth connectivity, satellite radio, dual-zone climate control with rear vents, 10-way power front seats, and power liftgate. Options included heated and ventilated front seats; an uprated Mark Levinson 15-speaker audio system with HD Radio; navigation system with voice recognition, a back-up camera, and traffic and weather reports; and a Premium Package consisting of leather upholstery, a power moonroof, power-folding electrochromatic heated exterior mirrors, and memory seating. As equipped, it stickered at $48,625 with delivery.
That price is not bad for an AWD crossover SUV in the luxury field with those features. But having driven it immediately after a turn in a 2014 Acura MDX with the Tech Package, it doesn't look like the better buy. Here's why:
While both have identically sized V6s and 6-speed automatic transmissions that deliver ample responsive power for street and highway driving, the Acura engine generates 20 more horsepower (more torque, too) and is slightly quieter, even under determined acceleration. It appears to be slightly less thirsty, as well. In the RX 350, this driver averaged 19.7 mpg over 104.7 miles, with 57 percent of miles in city driving conditions. During a longer test with the MDX, he nudged past 20 mpg, even with a higher percentage of city driving.
Steering, handling, and braking performance were similar, but road-surface bumps and cracks weren't as well filtered out in the Lexus, even with its smaller-diameter tire/wheel package. Though it is 6.5 inches longer overall and has a 3.1-inch-longer wheelbase, the all-wheel-drive MDX is about 70 pounds lighter than a similarly configured RX 350.
Both vehicles have excellently appointed cabins with plenty of soft-touch surfaces, and we'd give a slight nod to the test RX 350 in the looks department for its light-gray seats that provided some contrast with the otherwise black interior, where the MDX was solidly dark gray. Programming audio settings into the Lexus was somewhat less complicated, too, but using the console-mounted mini joystick to navigate within functions (audio, climate, etc.) is a little too attention-intensive.
Each vehicle delivers plenty of head and leg room for front-seat passengers and adult-friendly flat-floored seating for up to three people in the second row. However, the MDX can play the trump card of providing nominal third-row seating for two diminutive (or at least forebearing) passengers. When extra cargo space is desired, the Acura's third-row seats fold flat and maximum cargo capacity is 90.9 cubic feet. The Lexus' split rear seats fold almost–but not quite—flat for up to 80.3 cubic feet of space.
With their respective complements of standard and optional equipment, the RX 350 and MDX we tested had many of the same comfort, convenience, and safety features, but the Acura added a few touches like forward-collision and lane-departure warnings. Factor that in with the Acura's advantages in size, power, ride, and passenger/cargo capacity and the $838 extra that the MDX cost seemed worth every penny.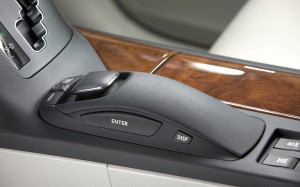 Tom Appel
As John noted above, karma blessed Consumer Guide with back-to-back access to the all-new Acura MDX and segment stalwart Lexus RX 350. Two more competent yet utterly differently vehicles you will not find in any other vehicle class.
Right upfront I will admit that I prefer the Acura. This because I love to drive and the Acura is simply more fun to pilot (car-geek pun intended). That said, I can and will wholehearted recommend the Lexus to anyone looking for a classy, comfortable, competent, luxurious, midsize crossover.
And in truth, there is much that the RX does better than the Acura. The RX is quieter, smoother riding, delivers power in a silkier fashion, and boasts a slightly richer-looking cabin.
In fact, only my real criticism of the RX is that it isn't much fun to drive. But, being sporty isn't really part of the RX's charter.
My wife has grown numb to the ever-changing collection of vehicles in the driveway, and rarely comments on them, even in passing. Yet, while riding in the RX this past weekend she exclaimed, "This car is really smooth." Can't argue with that.
And, while ride quality is top notch, it is the engine and transmission that get top billing in the luxury-attribute department. Credit Toyota's wonderful 3.5-liter V6, that, regardless of application, always provides more power than its 270-horsepower rating suggests. Mated with the standard (and only) six-speed automatic transmission, the silky V6 moves power to the wheels in a fashion seamless enough to merit a Rolls-Royce comparison. Note that an eight-speed automatic transmission comes standard of F-Sport models.
I find that I am a pretty big fan of the mouse-driven infotainment control system. Despite personal concerns to the contrary, using a mouse to navigate a view-screen-centric infotainment system works well from the driver's seat, and the "haptic-response" feedback, essentially virtual "detents" that allow the cursor to snap to the next logical on-screen location, provide quick and satisfying navigation.
First seen as a 1998 model, the Lexus RX (then RX 300) was really the first luxury crossover, and it remains one of the best. To my chagrin, it's not a whole bunch of fun to drive. But, if you value refinement over exhaust burble, there's a good chance the RX will make you a very happy premium crossover owner.