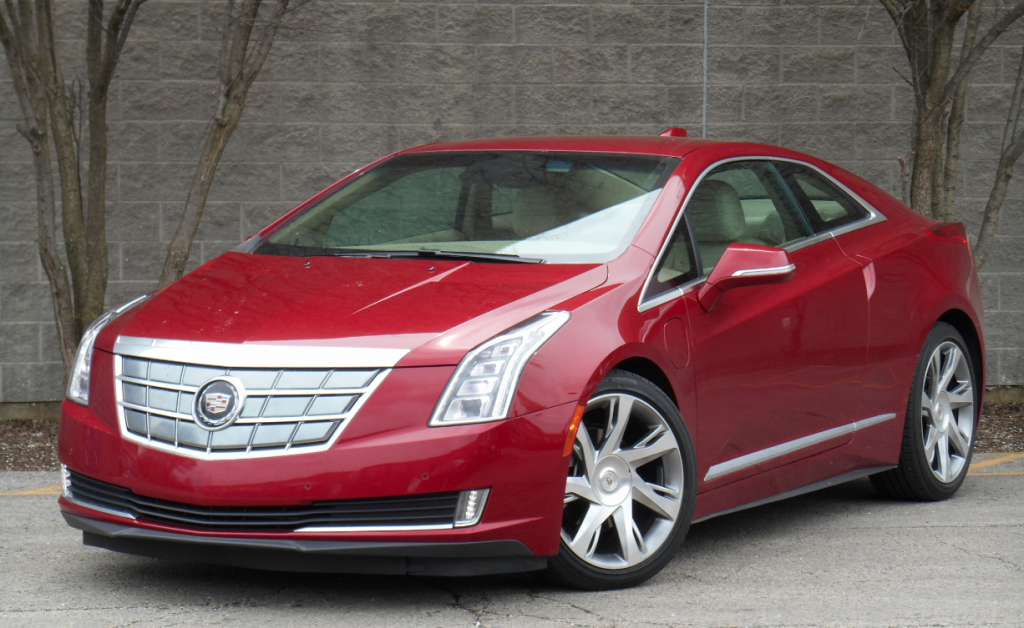 2014 Cadillac ELR



Miles Driven: 390
Fuel Used: 4.3 gallons
Real-world fuel economy: 90.1 mpg*
Driving mix: 45% city, 55% highway
Base price: $75,000 (not including $995 destination charge)
Options on test car: Adaptive cruise control package with pre-collision system and brake assist ($1995), Luxury Package ($1695)
Price as tested: $80,680
Quick Hits
The great: Exciting styling, world-class cabin appointments
The good: Near Chevrolet Volt-like fuel efficiency
The not so good: Steep price, coupe space limitations, superfluous start-up/shut-down light and music show
John Biel
You drive the Cadillac ELR for 3 days, you top off the gas tank, you do the math, and then you just laugh to yourself when the figure pops up: 165.36 mpg.
That's what I averaged after 160.9 miles in Cadillac's "extended-range electric" coupe, which, of course, was a performance influenced by a number of very individualized factors. As they say on TV, your mileage may vary. Still, given the particular mix of prevailing speeds, temperature, and electric-accessory use, I was able to milk the ELR's battery-only range a bit past the indicated maximum for a full charge (43-45 miles after juicing up daily at Consumer Guide® Supreme World Headquarters), and needed a hand from the car's generator-driving 1.4-liter gasoline engine for only about 25 total miles. On the best day of my test, I came within around 2.5 miles of completing the approximately 53-mile office/home/office round trip solely on stored battery power. My gasoline use came to .973 gallon—another chuckle-inducing number.
There is one more-sobering figure associated with the ELR, and that is its $75,000 base price. On the other side of the scale from its fossil-fuel frugality is a big bill for what's essentially a 2-seat car with slight cargo capacity. Interior materials, assembly, and quiet are certainly commensurate with a luxury automobile, but front-seat occupants pretty well fill the cabin, especially if they happen to be long-legged. The two rear seats are extremely difficult to enter or exit, and leg room quickly disappears as the front seats track back. Any hope for head room under the fastback roof vanishes for anybody much over 5-foot-5. Thick A-pillars and shallow side windows restrict visibility, but the straight-back view isn't as confining as the sloping body shape might suggest.
The Cadillac User Experience (CUE) infotainment system, displayed on an 8-inch screen at the center of the instrument panel, is on the busy side and can take up a lot of attention to operate. It bothered this driver that establishing radio presets in CUE wasn't intuitive. At least desired stations usually came up on the first try when using the voice-command feature that could be summoned via a thumb button on the steering wheel. Climate selections can be made on the touch screen or via touch-sensitive "buttons" below the screen. The bright instrument display for the driver clearly indicates the current status of the propulsion system, and can be configured with the flick of a thumb to show an array of other vehicle information.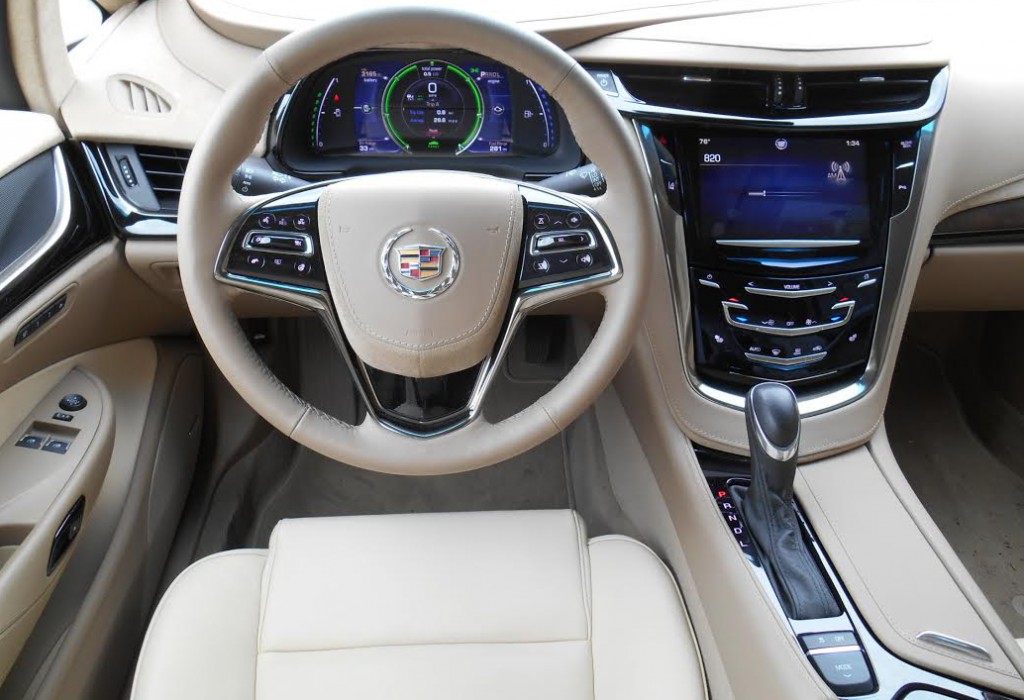 Interior storage is about as good as 2 people could need, with fairly large door pockets, an ample glove box, a couple of console cup holders (that hide under a power-retracting door when not in use), and a covered console box. Rear passengers—should there ever be any—have covered cup holders in the divider between the seats. The flat-floored trunk isn't very tall or long, but ought to carry weekend-getaway luggage for 2. The rear seats fold for added capacity, but in a 40/40 split that will restrict loading of some objects.
From a performance standpoint, the front-wheel-drive ELR enjoys the usual electric-vehicle instant-on power delivery for eager starts. Safe, comfortable cruising is the ELR's calling card, but it won't embarrass itself when the need arises to pass or take advantage of a break in expressway traffic. The transition from pure battery power to gas-engine operation is virtually seamless, and this tester detected little powertrain noise. More likely to generate some sound are the 20-inch low-rolling-resistance tires. Steering in the base "Touring" mode was light but still fairly responsive for easy handling. Brake-pedal travel seemed a bit long, but the ELR stopped without much nosedive. Ride was composed and mostly absorbent, though pronounced road imperfections registered with perceptible jolts.
Mercedes-Benz has gone electric, too. Rick drives the 2015 B-Class Electric Drive
Standard conveniences and luxuries abound, among them 16-way-adjustable automatically heated front seats, Bose audio system with active noise cancellation, satellite radio, Bluetooth connectivity, dual-zone climate control, LED ambient interior lighting, front and rear park assist, rearview camera, and lane-departure and forward-collision alerts. The ELR that we tested tacked on adaptive cruise control, a Luxury Package with painted alloy wheels and a few tech features, and premium paint—all of which pushed the sticker to $80,680 with delivery. If the thought of bypassing gas stations makes you gleeful, then maybe that's enough to justify that kind of an outlay.
Damon Bell
When you sit down in the driver's seat of the Cadillac ELR and press the start/stop button, you're greeted with a futuristic "power-up" sound that makes it seem like you've just fired up a spaceship. The ELR's digital instrument panel and CUE touchscreen come to life in a similar fashion, with animated graphics that seem lifted from the control deck of U.S.S. Enterprise. And, when you're returned from your moon mission or whatever, pressing the start/stop button gives you a similarly spacey "power down" sound. My question is: Why did Cadillac stop there? Since we're now adding completely superfluous sounds in order to heighten the high-tech feel, how about a piped-in airlock "hiss" noise whenever a door is opened? How about some R2-D2 beeps and boops in there somewhere? Lucasfilm is all about the licensing… could be a great synergy there.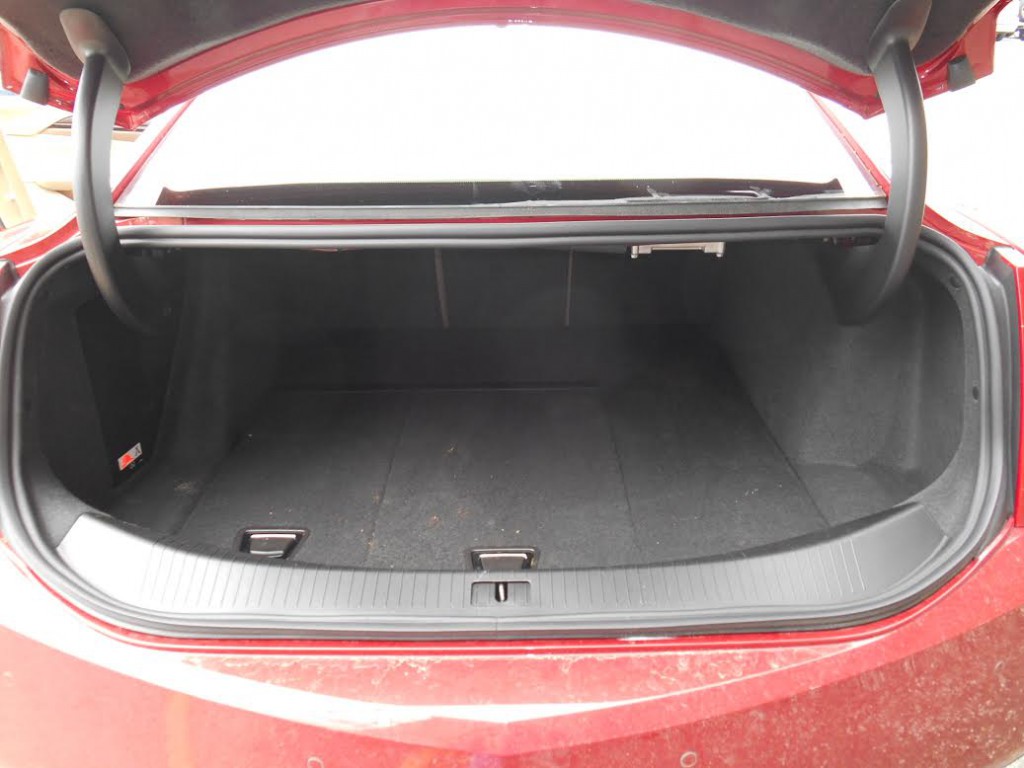 I guess Cadillac's designers figured they needed all the eye- and ear candy they could stuff in to differentiate the $75K-and-up ELR from the $34K-and-up Chevrolet Volt. They tried damn hard to make the ELR feel worth its steep price tag, in terms of design, interior materials, quietness, performance, and features. And in many ways they succeeded. But though the ELR does indeed feel incredibly premium, it doesn't feel particularly practical. The low-slung stance and large doors can make it tricky to get in and out of in tight parking lots, the back seat isn't spacious enough for most adults, and the rakish roofline means limited headroom. The ELR certainly has its charms, but I don't see it drawing many well-heeled eco-conscious types away from the Tesla Model S, or luxury GT coupe buyers away from an entry-level Jaguar XK or BMW 6-Series.
To me, the artificial power-up/power-down sounds are kind of a metaphor for the whole car… there comes a point when it seems like you're just trying too hard.
Tom Appel
The ELR is every bit a better Chevrolet Volt. It's gorgeous outside, lavish inside, and more responsive off the line.
You do pay a price for the Caddy upgrade, and not just in dollars. Compared to the Volt, the ELR loses 16 MPGe (to 82), 4 mpg in gas-only driving (to 33), and one mile of expected electric-only range (to 37).
Yet, in our care, we regularly saw 41-43 miles of electric-only range. Credit possibly conservative rating by the EPA and battery-friendly early-spring temperatures (45-55 degrees) we were enjoying at the time of our ELR evaluation for the extra range.
The obvious question is this: Can Cadillac convince wealthy green-minded shoppers that being seen in an ELR carries the same tree-hugging cachet as driving a Tesla? Early sales numbers suggest that Cadillac has some work to do establishing the ELR's green credentials, and justifying the cars $75,000-plus starting price.
The Cadillac of Volts is technically and stylistically impressive. It's also an expensive coupe of limited practicality. Loaded shoppers looking for a classy third car could do much worse, provided they get used to plugging the car in.
*Trip Note: Were my weekend with the ELR not punctuated by a drive to Milwaukee from Chicago, my gasoline use would have been nil, and our combined evaluation-period fuel economy would have been 390 mpg. Seems the system works.