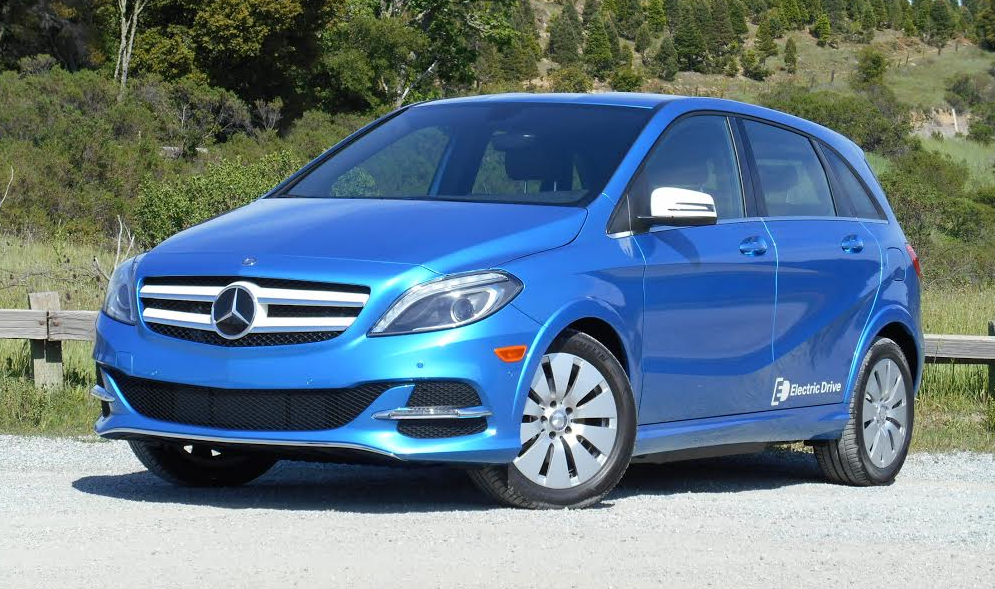 When the Mercedes-Benz B-Class Electric Drive goes on sale in the U.S. this summer, some might see it as not only the first appearance of the company's B-Class "tall wagon" in this country (it's in its second generation in Europe), but also the company's first electric vehicle to be sold here. Technically, neither is true, but the car still stands as a landmark vehicle for the German manufacturer.
More electric-car news and reviews
2014 Mercedes-Benz B-Class
Although the B-Class compact has been a strong seller for Mercedes-Benz in some other countries, America's long-standing view of hatchbacks as being "econoboxes" has made it persona non grata for the mass market in the U.S. However, it has been sold for a few years in California – very quietly and in exceedingly low volume – as a fuel-cell "testbed" vehicle.
Another Mercedes "secret" that may not be widely known is that the company builds and sells the tiny, two-seat Smart ForTwo, and an Electric Drive version of that car has been available here – also in very low volume – since 2011. It is now in its second generation in this country, and some of the technology, if not the actual parts, are shared with the new B-Class Electric Drive.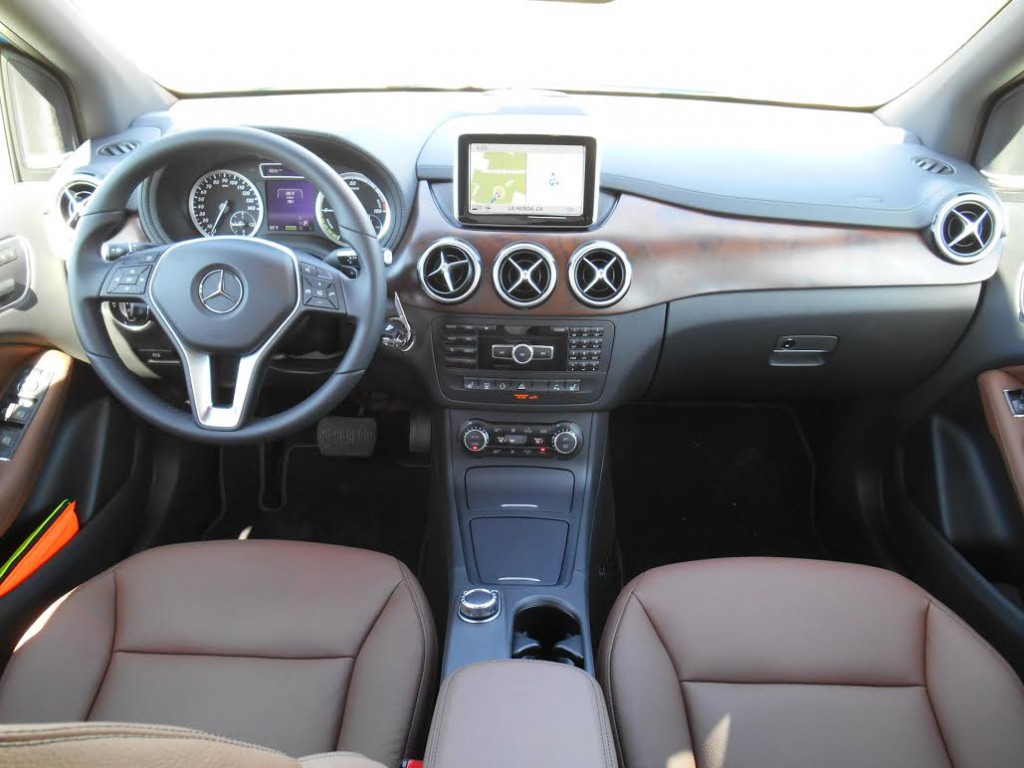 Chief among these is a powertrain (motor, battery, and control unit) largely engineered and built by Tesla. However, both the battery and the motor are much larger in the B-Class – as is the car itself – and as such, the B-Class Electric Drive comes off as a much more usable and appropriate vehicle for the U.S. market.
Size-wise, the B-Class casts a compact-car shadow, but it's taller than a typical sedan or hatchback. The latter allows for more interior space, and the B-Class easily accommodates four full-size adults, five in a pinch. There's a good amount of cargo space behind the 2nd-row seat, the back of which folds to expand the cargo area. However, the seat back doesn't fold flat, and it rests about three inches above the level of the cargo floor, so you can't just slide large items all the way forward. There's also some storage space beneath the cargo floor. Interior storage is quite good, consisting of a decent-sized two-tier glovebox, modest console box with USB and iPod jacks, a covered console cupholder and small covered console tray with 12-volt socket, two open console cupholders, and map pockets.
Also quite good are the interior materials, and this is one area in which the B-Class sets itself apart from less-expensive electric cars of about the same size. The dashtop and doortops are padded, and there's a contoured slab of wood veneer across the dash face. Leather-like "MB-Tex" covers the dash, doors, and seats (real leather upholstery is optional), and you can get it in a two-tone (black/brown) combination that adds a rich-looking touch to the interior. The list of standard equipment is extensive and includes a navigation system, with Mercedes' COMAND infotainment system optional. Both cars tested had COMAND, and though it's not known for its instinctive ease of use, it becomes less confusing (though only slightly less distracting) as you get used to it. The tall build allows for a commanding view of the road, and visibility is good to the front and sides due to thinnish roof pillars, though it's a bit restricted to the rear corners.
Listen to the very-funny Consumer Guide Car Stuff Podcast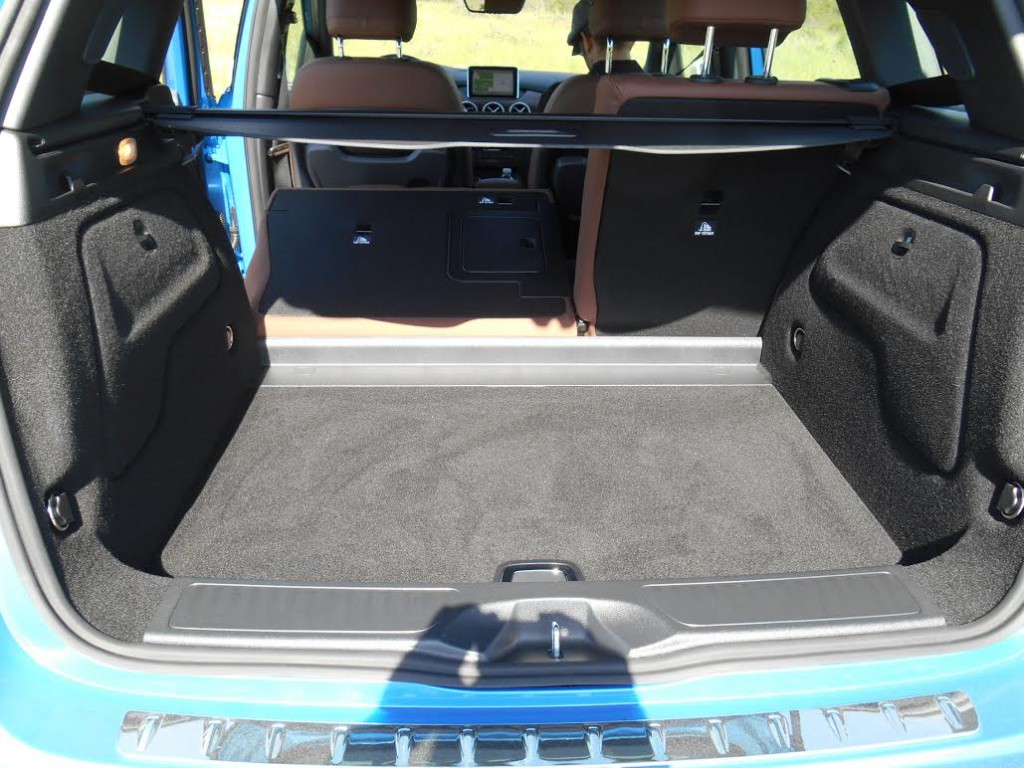 Another area in which the B-Class Electric Drive shows its Mercedes heritage is in performance. Like most other electrics, full-throttle acceleration from a stop is a bit lazy at first, but builds quickly; Mercedes claims a 7.9 second 0-60 mph time, which is not only competitive with most gas-powered compact cars, but about two seconds faster than the similar-size Nissan Leaf. Stab the throttle at speed, and there's an instant, reasonably strong surge, also in keeping with electric-car tradition. Providing that pep is a 177-horsepower motor, which enables what Mercedes claims is a 100-mph top speed – high for an electric. The third "performance" measurement is range, and though the car has not yet been tested by the EPA for an official number, Mercedes estimates it will go about 85 miles on a charge. And there's an optional feature that allows the owner to choose to "overcharge" the battery a bit when the car is plugged in, which should allow another 12 miles or so when necessary.
Two additional notes on driving dynamics, both of which are adjustable by the driver. The first is that one of three "regen" levels can be chosen by simply flipping asteering-wheel-mounted lever that looks much like a paddle shifter. The default setting of D provides a moderate amount of regen when you lift off the throttle. (Regen, short for regeneration, allows the car's momentum to recharge the battery as the car slows down; the stronger the regen, the more quickly the car slows down without touching the brakes.) You can also choose D+, which has very little regen and allows the car to coast for a long distance, while D- dials in a lot of regen – so much so that the car will slow quickly enough that you probably wouldn't have to tap the brake pedal until you were almost at a complete stop. (This is my favorite setting. And not just because I'm lazy.)
Another "adjustment" that can be made by the driver is to turn off the anti-skid system, which in turn deactivates the traction control – something not all electric cars allow. This requires a few steps, and initially, a consultation of the owners manual. (Hint: it's under "ESP," for "Electronic Stability Control.") From a practical standpoint, this might be done when trying to get moving on ice or snow, as it lets the front wheels spin (the B-Class is front-wheel drive) when they otherwise wouldn't be allowed to turn at all. From a less practical standpoint, it allows the driver to "adjust" the car's level of air-polluting emissions while simultaneously upping the fun factor – in an infantile sort of way. You see, electric motors produce their full measure of torque as soon as they start to turn. That means they should be able to roast the tires on take-off, but the traction-control nanny kicks in to undermine this endeavor. Until you turn it off. Which we did. (Purely in the name of testing, of course.) The result was a 20-foot pair of black streaks and no small amount of burnt rubber, along with some seriously surprised onlookers. Who I'm pretty sure blamed the youngsters in the Civic next to us, who were probably as surprised as anyone. Suffice it to say that the B-Class is no golf cart when it comes to strutting its stuff.
Listen to the very-funny Consumer Guide Car Stuff Podcast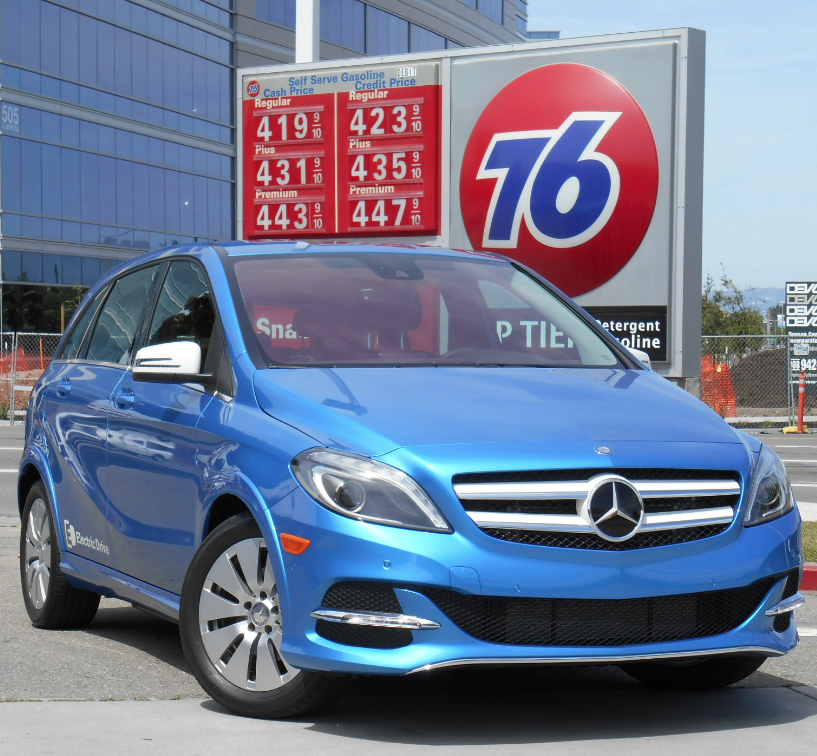 The other side of the performance equation is handling, and here the B-Class is mostly impressive. As with nearly all electric cars, the flat, heavy battery is located under the floor, where its weight helps to "anchor" the car in turns. This results in comparatively flat cornering in relation to how well the car rides. And though the B-Class is on the firm side over bumps – rather in the European tradition – it takes turns with little body lean. However, fast corners brought on tire moan (a precursor to – and warning of – tire slide) somewhat before it seemed it should. Steering is tight enough but very light and devoid of feel, though the last is pretty much the norm in this age of electric power steering.
As is often the case with electric cars, the B-Class will initially be sold only in the ten "ZEV states" (those mandating that 15% of all vehicles sold by 2025 be Zero Emission Vehicles: CA, CT, MD, MA, ME, NJ, NY, RI, OR, VT), but Mercedes is aiming to take it nationwide in 2015. Its starting price of $42,375 (including the $925 destination charge) includes a host of equipment, and though there will be options, they had not been priced at the time of this writing.
A Brief–but Telling–Test of the BMW i3
Some manufacturers that produce electric and hybrid cars feel it's best from a marketing perspective to have those cars be unique – in other words, not offered in traditional gas versions. The Toyota Prius – long (and by far) the best-selling hybrid – is an example. So are the Chevrolet Volt and all-electric Nissan Leaf, the latter being the best-selling electric. So although the B-Class is sold in gas and diesel variants overseas, Mercedes doesn't seem to have any immediate plans to sell those versions here. That may have to do with wanting to keep the Electric Drive a dedicated body style in the U.S., but it may also have to do with a fear that traditional fuel-powered ones might be viewed as "cheapening" the Mercedes line. Either way, those whose driving patterns favor the use of an electric – with its exceptionally low per-mile costs and minimal maintenance – and whose tastes (and pocketbooks) steer them to higher-end vehicles, will find a very useful, luxurious, and entertaining choice in the new Mercedes B-Class Electric Drive.
Listen to the very-funny Consumer Guide Car Stuff Podcast
2014 Mercedes-Benz B-Class