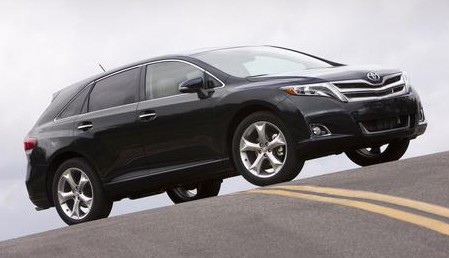 2014 Toyota Venza XLE AWD
Dates tested: 1/06/2014-1/20/2014
Miles driven: 979
Fuel used: 48.4
Real-world fuel economy: 20.2 mpg
Driving mix: 25% city/75% highway
Base price: $35,080 (not including $860 destination charge)
Options on test car: XLE Premium Package ($1850)
Price as test: $37,790
Quick Hits
The great: Comfortable roomy cabin, strong and refined drivetrain
The good: All-wheel-drive system impresses in snow
The not so good: Average ride quality, below-average fuel economy
John Biel
What is it that makes a Toyota Venza worth $35,000? Is it a V6 engine? All-wheel drive? Twenty-inch alloy wheels, heated blind-spot-warning mirrors, dual-zone climate control, navigation system, and leather seats?
It must be some or all of those things, because it surely can't be hard-plastic door and dash trim, a not-especially supple ride, or middling gas mileage.
Actually, the Venza XLE we tested started at $35,080. Optioned with the Premium Package, it stickered at $37,790 before delivery. With the V6 and AWD, it is the priciest of 4 models in the middle trim level of this Camry-Highlander-crossbreed crossover SUV. (Other permutations include a 4-cylinder engine and/or front-wheel drive.) While most entry LE-series Venzas start at less than $30,000, high-end Limiteds crowd $40,000 even without extras. At any of the Venza starting-price points, it's just a short stone's throw to one of the Highlanders, which are more full-on sport-utility vehicles.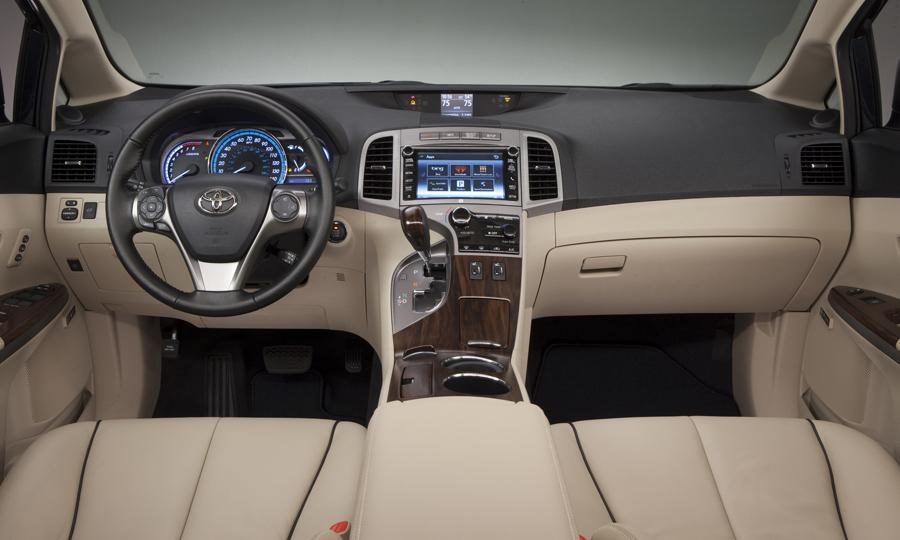 The list of shortcomings above may be brief but all were obvious. Seats were supple and comfortable, and accented with bands of white piping that lent some visual interest to the cabin. However, the plastic surfaces on the interior door coverings and atop the instrument panel came off as downmarket, as did the plastic trim plates around the central audio/nav screen. Though the ride wasn't bone-jarringly harsh, it still felt somewhat stiff and unyielding—not as "carlike" as crossover might imply. The 268-horsepower 3.5-liter V6 and 6-speed automatic transmission teamed up to deliver confident and competent acceleration, but the tally at the pump was uninspiring: 17.58 mpg from a 116.7-mile test run with 64 percent of miles under city conditions.
What we liked was good passenger room up front and acceptable adult space in back (where seats aren't quite as comfortable though). Three teens might still be able to make it across the second-row seat, but when transporting adults, it's probably best left to two. For storage, there's a large glove box and a cleverly partitioned center console with cup holders and a number of covered storage spaces. A large covered console box doubles as a center armrest. Narrow storage pockets are in all four doors and rear-seaters also have access to a pull-down arm rest and pop-out storage pockets behind the scalloped front seat backs. Controls are convenient and easy to use.
The cargo space is wide but not especially deep until the rear seat backs are retracted. Convenient handles built into the sides of the cargo compartment release the seats without a lot of moving to and fro around the vehicle. Over-the-shoulder visibility is somewhat impeded by large rear roof pillars, but the XLE's standard back-up camera helps out admirably when reversing.
Aside from the items mentioned above, standard gear in the XLE includes Toyota's Star Safety System with vehicle-stability control and "Smart Stop" technology, puddle lamps, a power liftgate, satellite radio, the Entune app suite, power adjusters for both front seats, and push-button starting. The $1850 Premium Package on our tester added a panoramic glass roof with power tilt-and-slide moonroof up front, a 13-speaker JBL audio system, and Bluetooth technology for music streaming and hands-free telephone access, among other things.
Tom Appel
I haven't always been a fan of the Venza. I found the first of the breed, introduced for 2009, to be a little clunky to drive, and a little dull looking inside. Mostly, however, I couldn't figure out what this vehicle brought to the party that Toyota's excellent RAV4 and Highlander didn't already offer.
Fast forward to a comprehensive Venza update for 2013…
Editor Rick and I put about 800 miles on our test 2014 Venza XLE. Most of that accounted for traveling to and returning from the Detroit Auto Show. As it turns out, Rick is a more aggressive highway drive than I imagined, which is nice, as we made great time.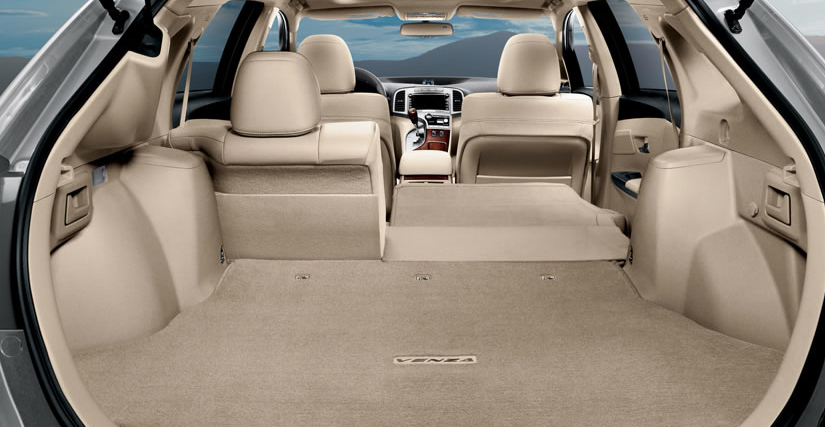 More importantly, the Venza proved to be a worthy warrior in the battle against deadlines, road fatigue, and, as it turned out, snow as well.
First, the good stuff: Front-seat room and comfort are top notch. On paper Venza offers no more legroom than Toyota Camry or Avalon, but in reality it feels more spacious. Credit, in part, goes to all the head room, a solid two inches more than in the aforementioned sedans.
I have noted before my love for Toyota's 3.5-liter V6 engine, and it's as wonderful in Venza as it is in any Toyota application. Despite being rated well below the roughly 300 horsepower advertised for many V6s of similar size, Venza's mill pulls like a rocket from any speed, and affords easy passing and merging. The slick-shifting 6-speed automatic works well to keep the V6 performing at its smooth, responsive best.
On the road Venza rides well, but not especially well, and not as well as any of the other Toyota's mentioned so far in this review. The car always felt just shy of being completely settled at highway speed. Likewise, road and wind noise come in a little above the sound levels found in a Camry or Avalon.
The cabin itself improved markedly for 2013, and looks fine, if not entirely high end. As travelers, Rick I noted, and appreciated, the wide opening doors, low rear load floor, and spacious cargo area. Likewise, in-cabin storage is generous, especially the titanic center-console bin which includes very handy lower and upper divisions allowing for easy stowage of small and large stuff at a handy distance.
I noted encountering snow. Our AWD test car performed very well on fresh powder, affording us drama-free travel through a period of what might have been fairly white-knuckle work.
If you've spent some time wishing that Toyota offered a Camry wagon, this could be the vehicle for you. Compared to the Camry, it's roomier, available with capable AWD, and holds a bunch of stuff. On the down side, it's a lot thirstier than a Camry, and isn't quite as quiet or smooth riding. At the Toyota store, I guess I'm a fan now, but I'd still  probably go Highlander. But for the SUV averse–Venza is a pretty nice ride, too.
Check out the entire Toyota lineup here
We drive the Toyota Avalon Hybrid. Read about it here