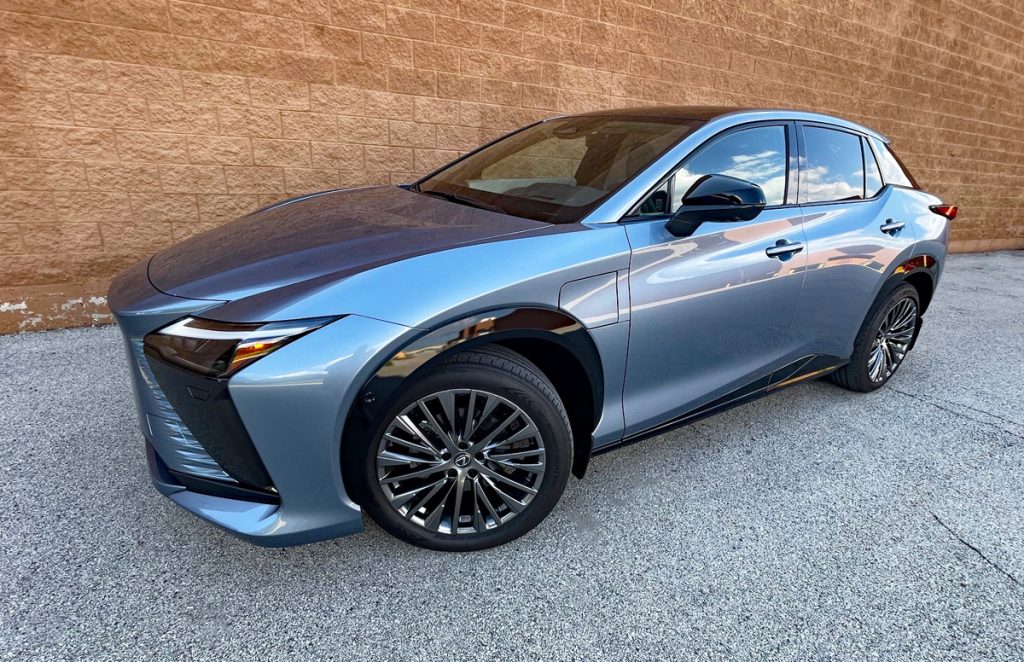 2023 Lexus RZ 450e Luxury AWD
Class: Premium compact crossover
Color: Ether
Miles driven: 256
CG Report Card
Room and Comfort
A
Power and Performance
A-
Fit and Finish
A
Fuel Economy
A
Value
B
Report-card grades are derived from a consensus of test-driver evaluations. All grades are versus other vehicles in the same class. Value grade is for specific trim level evaluated, and may not reflect Consumer Guide's impressions of the entire model lineup.
Big & Tall Comfort
Big Guy
A
Tall Guy
A
Big & Tall comfort ratings are for front seats only. "Big" rating based on male tester weighing approximately 350 pounds, "Tall" rating based on 6'6"-tall male tester.
Drivetrain
Engine Specs
308 horsepower
Engine Type
2 electric motors
Transmission
Automatic
Drive Wheels
AWD
Battery capacity: 71.4 kWh
EPA-estimate MPGe: 102 city/87 hwy/95 combined

EPA-estimated driving range: 196 miles
Consumer Guide range estimate (ideal conditions): 200 miles
Snow Performance: N/A
Base price: $64,000 (not including $1150 destination charge)
Options on test vehicle: Cold Area Package ($200), 20-inch dark-finish alloy wheels (no charge), illuminated front badge ($200), Dynamic Sky glass roof ($550), special paint ($500), rear puddle lamp ($150), mudguards ($180), key gloves ($25), carpet cargo mat ($140)
Price as tested: $67,095
Quick Hits
The great: Modern cabin, overall refinement

The good: Ride comfort, cabin quietness
The not so good: Less EPA-estimated range than premium EV competition
Tom Appel:
Imagine asking the prettiest girl in school to prom, and she enthusiastically agreeing to attend the dance with you. At the big event she is beautiful to look at, charming to talk to, and envy of all your friends. You're having the time of your life until the first slow number. As she draws you near to cuddle dance to Billy Ocean's "Caribbean Queen," she whispers something in your ear.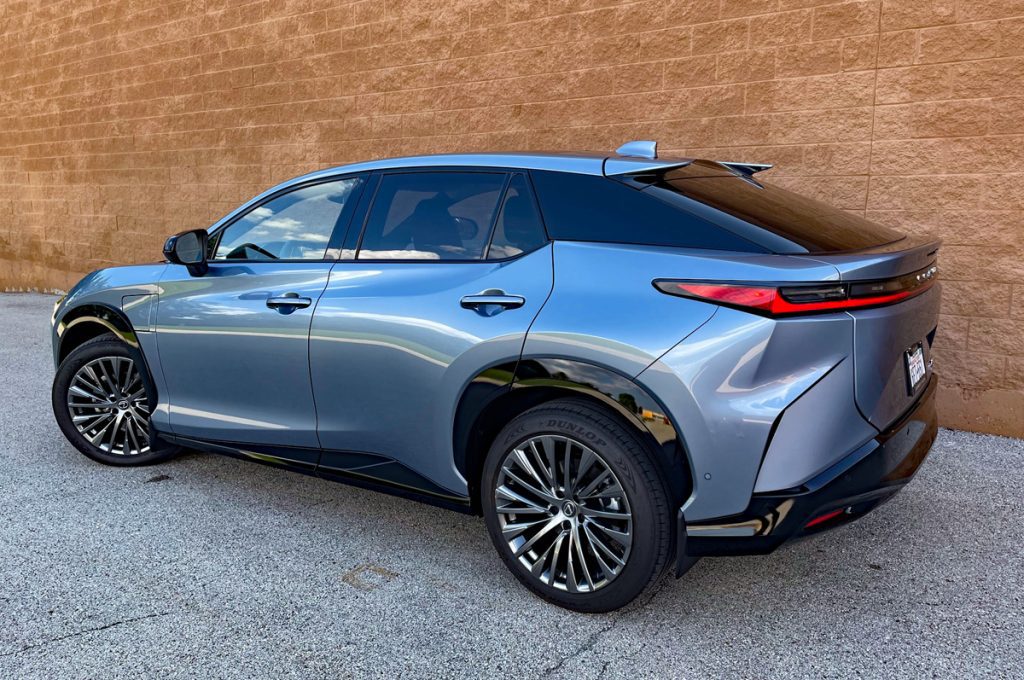 You had hoped she'd mention something about how good you look in rented evening wear, but instead informs you that she is a member of a secret society that worships banana slugs, and that she is recruiting you to be her puer discipulus (young apprentice).
And while driving the Lexus RZ 450e premium electric small crossover isn't quite as disappointing as learning your dream date is a cult member, there is a bit a crushing news that casts the whole experience in a new and somewhat bleaker light.
5 Cool Things About the 2023 Kia EV6 GT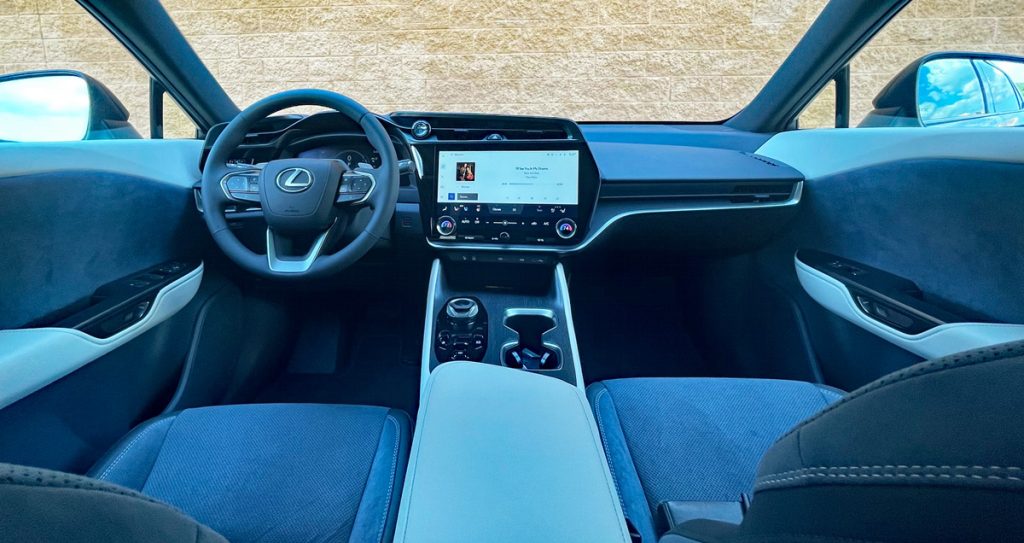 But first the good news: The Lexus brand's first all-electric offering is homerun in terms of performance, comfort, and execution. The roomy EV features a classy and modern cabin, easy-to-use controls, and excellent road manners. This author enjoyed the RZ's services for a 200-mile round-trip excursion that showcased the vehicle's attributes in the best possible light. But like our dream prom date, not everything was perfect. We'll get back to our issue in a moment.
Electric Vehicles that Qualify for the Federal Tax Credit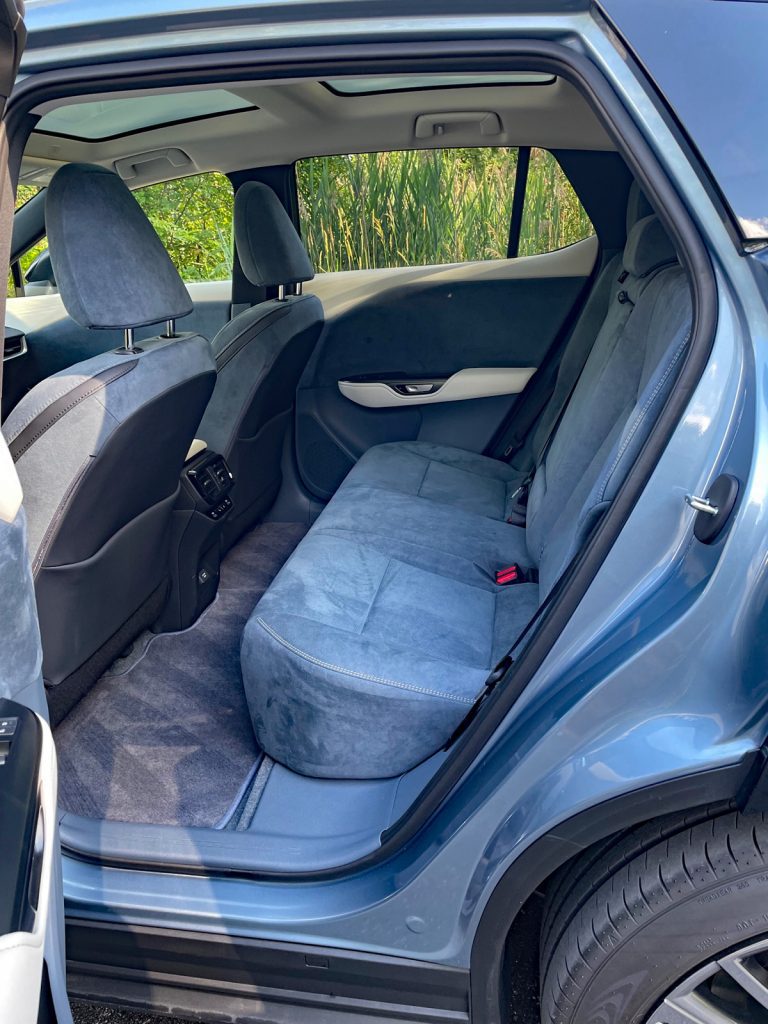 New for the 2023 model year, the RZ 450e is mechanically related to the electric bZ4X small crossover sold by Lexus sister brand Toyota. Two trim levels are offered: Premium (starting around $61,000) and Luxury (about $66,000).
The Luxury is mechanically identical to the Premium, but adds unique trim features as well as premium Mark Levinson audio. All RX 450e models are powered by a pair of motors which combine to deliver 308 horsepower via the maker's Direct4 AWD system.
Compared to the brand's NX gasoline-powered compact crossover, the RZ is about five inches longer overall, slightly wider, and a little less tall. At 112 inches, the RZ rides on a wheelbase six inches longer than that of the NX, this in part to accommodate the vehicle's battery, which is located under the floor. The added wheelbase does allow for a useful amount of additional rear-seat legroom compared to the NX.
Consumer Guide recently spent a week with 2023 RZ 450e Luxury in extra-cost Ether paint. With a number of options our test car came to $67,095, including the destination charge.
We've already discussed the RZ interior, but it's worth noting how open and airy the cabin feels. Outward visibility is excellent, and the general sense of roominess is refreshing. The leather-free cabin will appeal to vegan EV shoppers, as will the upscale "Ultrasuede" trim elements. The large touchscreen is easy to read—even in bright light—and primary infotainment functions simple to execute.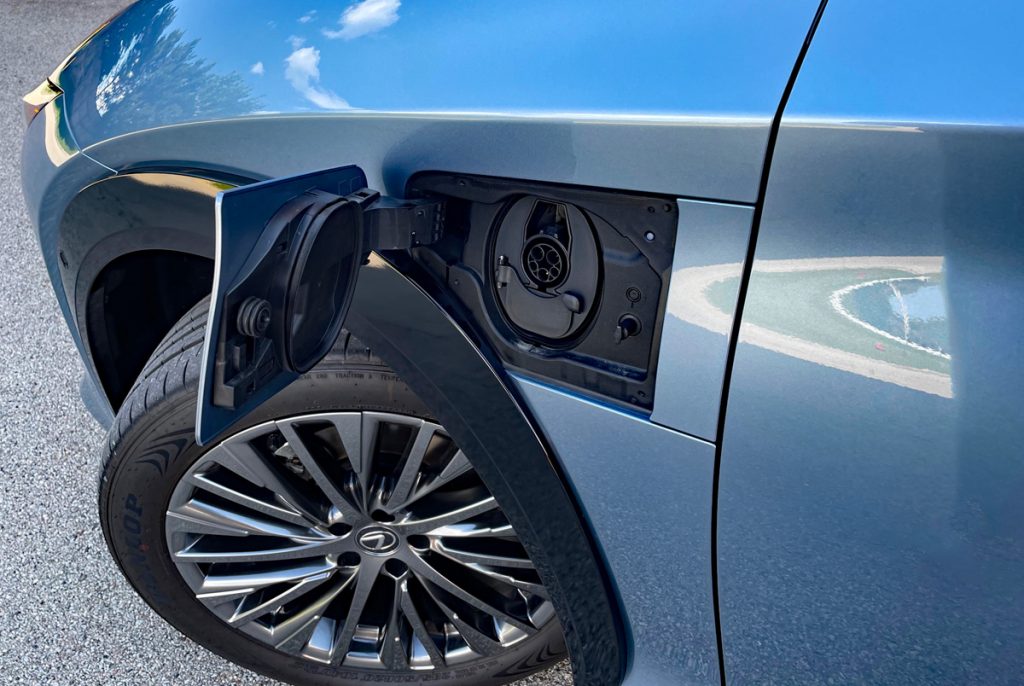 It's underway, however, that the RZ really shines. While not fast by contemporary EV standards, the RZ is plenty quick, leaping away from stops, and offering up excellent passing and merging muscle. Though not positioned as such, the RZ is likely the fastest vehicle in the Lexus lineup. We didn't find that rowing through the three drive modes–Normal Eco, and Sport—did much to enhance the overall drive experience, and quickly resolved to leave the system in Normal, which we found best matched our general driving expectations.
A minor complaint—and one we're sure we'd forgive after living with the vehicle for a few weeks—is the operation of the gear selector. For whatever reason, choosing drive or reverse involves pressing down on a plungerlike knob, and rotating it either left or right. It's not exactly complicated, but the required action seems exaggerated, and feels a little like operating a child-proof prescription-drug vial instead of a transmission.
How Much Does it Cost to Charge an EV?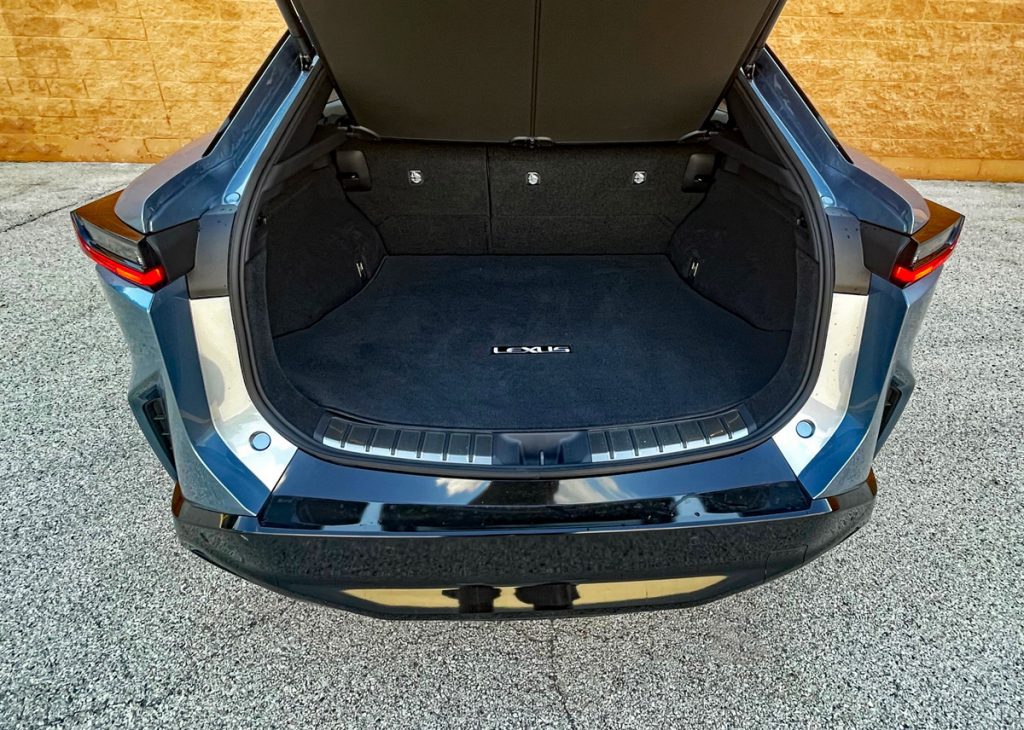 Long-drive occupants will appreciate the especially quiet cabin, comfortable and supportive front-row seats, and the excellent Mark Levinson-branded audio system. Ride quality, too, is top notch. Turns out, it's not driver fatigue that will dictate when RZ operators pull over for a break, it is battery range.
As we noted earlier, this pretty prom date of an EV has a flaw, and it's battery capacity. The power pack offered on the RZ is rated at 71 kWh of capacity, which simply doesn't provide the range of other EVs in this class.
Equipped with the standard 18-inch wheels, the RZ 450e is EPA rated to travel up to 220 miles on a full charge. Equipped with the available 20-inch wheels, range drops to just 196 miles. Similarly sized and priced vehicles such as the Audi Q4 e-tron (236-265 miles), Cadillac Lyric (307-312 miles), and Mercedes-Benz EQB (232-245 miles) all offer greater driving range.
Coming Soon: 2025 Buick Electra E5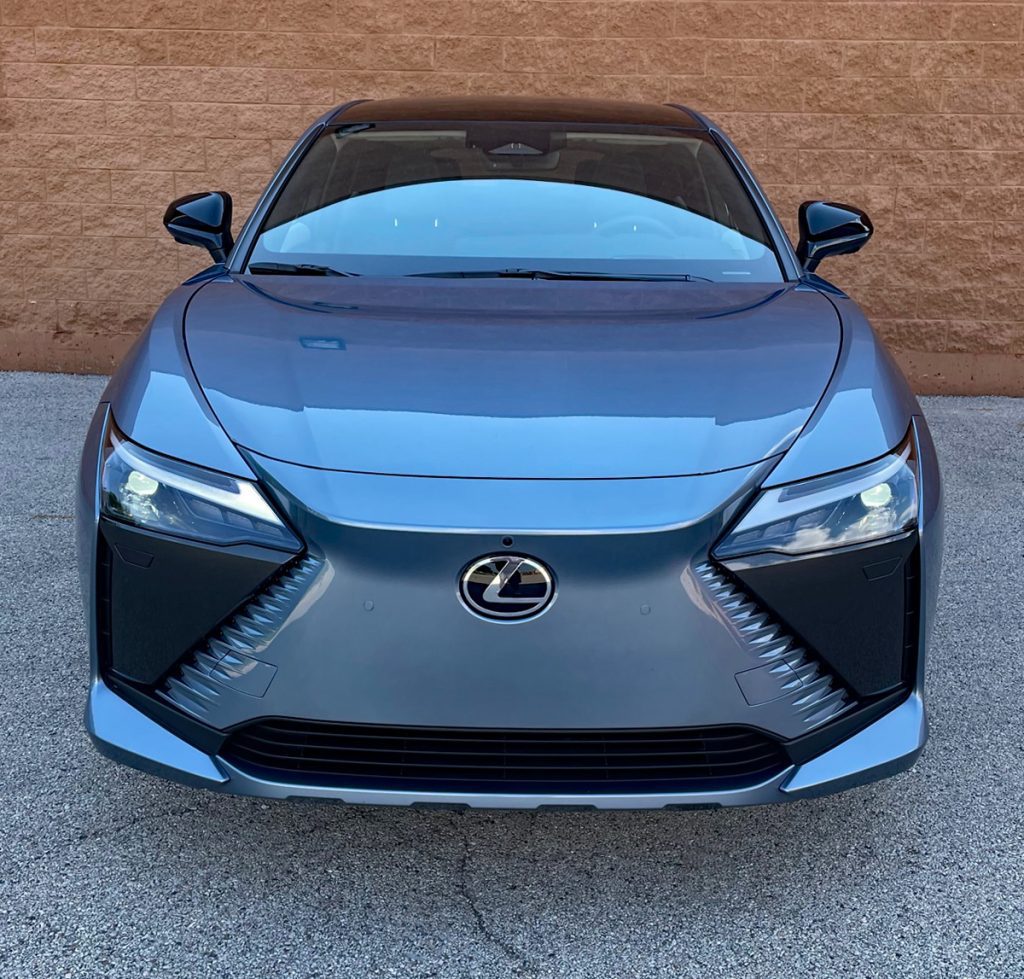 Equipped with the larger wheels, and in hot weather which can limit range—our test car appeared ready to deliver comfortably more than 200 miles, though we cautiously opted to charge before fully draining the battery.
Though we're disappointed that the RZ doesn't travel further on a single charge, we found the vehicle to be a delight to live with, and—all things considered—reasonably priced as well. For luxury-vehicle intenders looking for a second car, or who don't need long-trip range—the RZ deserves serious purchase consideration. The RZ serves up modern design, refined operation, and rewarding levels of passenger comfort. Sure, the range issue is a bit like learning that your prom date is into banana slugs, but that doesn't make her any less cute.
2023 CES: Sony Honda Afeela Concept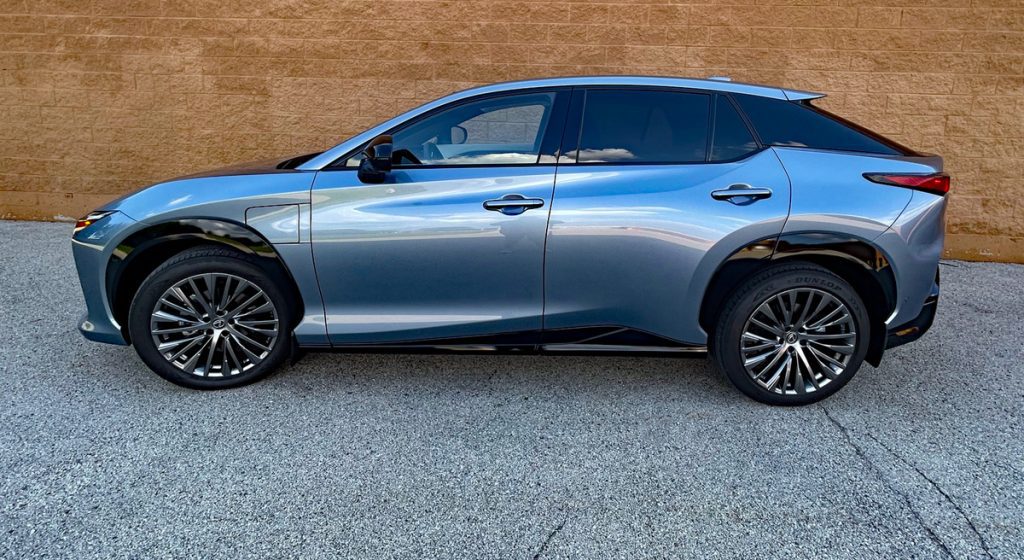 Listen to the Consumer Guide Car Stuff Podcast
2023 Lexus RZ 450e Luxury Gallery
(Click below for enlarged images)