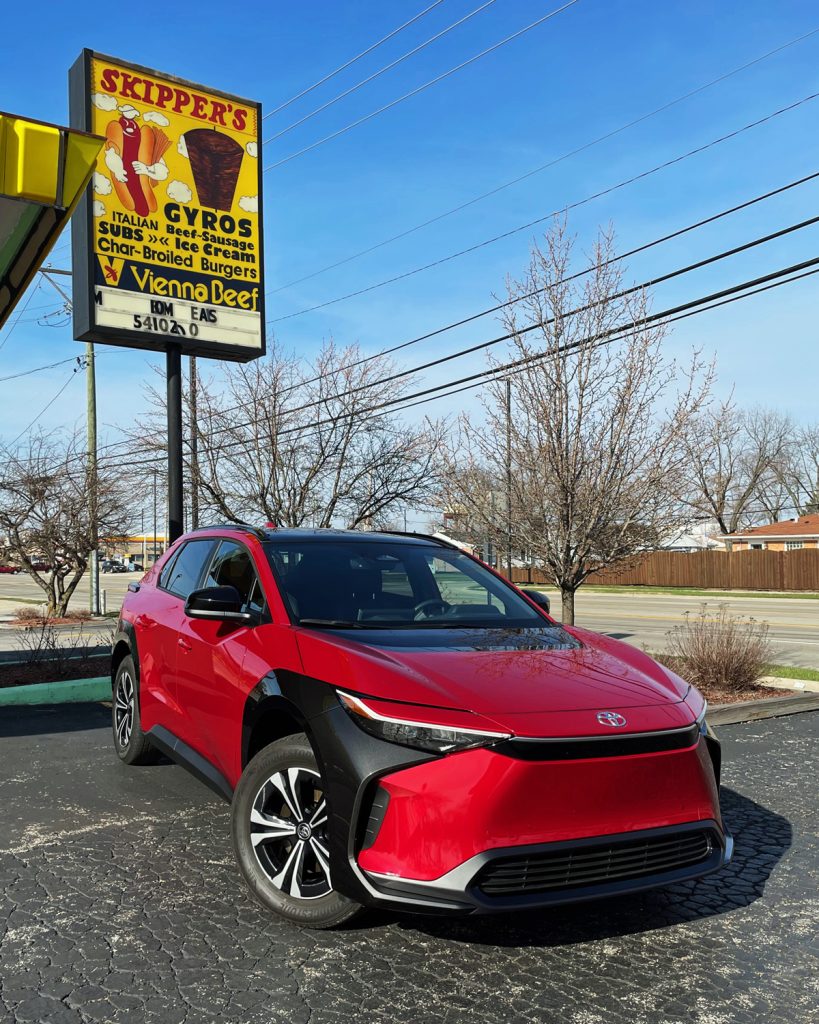 2023 Toyota bZ4X XLE FWD
Class: Compact crossover
Color: Supersonic Red
Miles driven: 153
CG Report Card
Room and Comfort
A-
Power and Performance
B+
Fit and Finish
C+
Fuel Economy
A-
Value
B+
Report-card grades are derived from a consensus of test-driver evaluations. All grades are versus other vehicles in the same class. Value grade is for specific trim level evaluated, and may not reflect Consumer Guide's impressions of the entire model lineup.
Big & Tall Comfort
Big Guy
A
Tall Guy
A
Big & Tall comfort ratings are for front seats only. "Big" rating based on male tester weighing approximately 350 pounds, "Tall" rating based on 6'6"-tall male tester.
Drivetrain
Engine Specs
201-horsepower
Engine Type
Electric motor
Transmission
Automatic
Drive Wheels
Front-wheel drive
Battery capacity: 71.0 kWh
EPA-estimate MPGe: 131 city/107 hwy/119 combined

EPA-estimated driving range: 252 miles
Consumer Guide range estimate (ideal conditions): 300 miles
Snow Performance: N/A
Base price: $42,000 (not including $1215 destination charge)
Options on test vehicle: XLE All Weather Package ($500), special color ($425), carpeted mats ($269)
Price as tested: $44,409
Quick Hits
The great: Roomy and airy cabin, plenty of cargo space

The good: Better than reported range, reasonable starting price
The not so good: Less EPA-estimated range than competition, odd steering-wheel/instrument-panel arrangement
Tom Appel:
Poor Toyota. In a world rich in irony, the giant Japanese automaker, long celebrated for its lineup of green, energy-efficient hybrid vehicles, is now being excoriated in social- and business media. Why? Because the company has not committed to producing electric vehicles with the same excited energy as has its competition.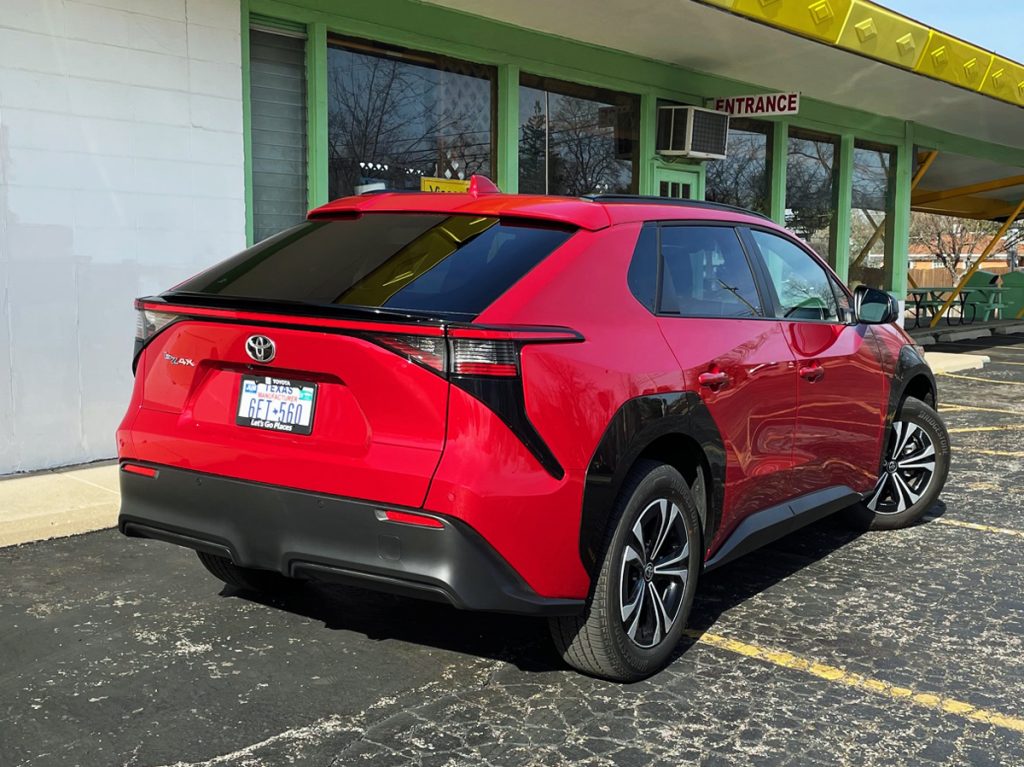 Instead, Toyota management has argued publicly that by producing an ever-greater number of hybrid vehicles, and by working to develop hydrogen-fueled drivetrains, Toyota was demonstrating its commitment to decarbonization in an effective manner consistent with the company's global demand forecasts. Sadly, no one was buying it.
Perhaps in response to the public outcry, the company recently made a reversal of its decision to tread slowly into EV waters. Newly installed CEO Koji Sato has made it clear that Toyota is as ready as any automaker to build and sell electric vehicles. The company's newly accelerated EV push will reach a crescendo in 2026, with the arrival of an all-new EV platform which will serve as host for a number of future Toyota and Lexus products.
Test Drive: 2022 Volvo C40 Recharge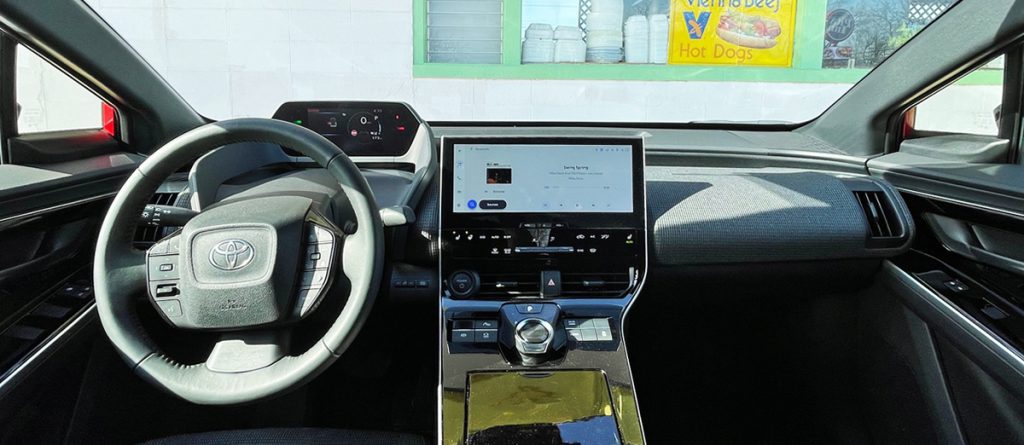 But what about right now? With General Motors and Korean automakers launching U.S.-market electric vehicles at an exhausting pace, what does Toyota have in showrooms now for electric-minded new-car shoppers?
Meet the bZ4X. The first all-electric American-market Toyota. (Yes, we are aware that Toyota briefly retailed electrified versions of the RAV4 in the U.S., but those vehicles were sold in limited quantities in limited markets. For the purposes of this discussion, we will ignore them.) Built on Toyota's e-TNGA architecture, the bZ4X is a compact crossover available in single-motor front-wheel-drive and dual-motor AWD configurations.
Electric Vehicles that Qualify for the Federal Tax Credit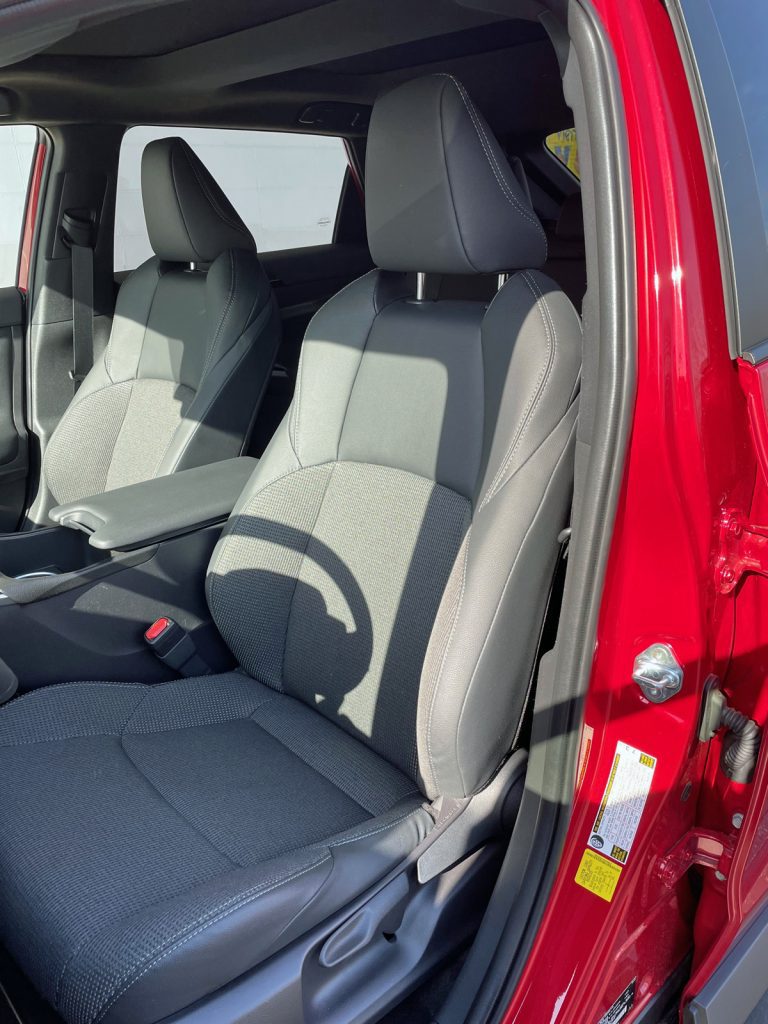 New for the 2023 model year, the bZ4X is mechanically similar to the Subaru Solterra, and the new-for-2024 Lexus RX450e. About that name: The "bZ" stand for "beyond zero", the "4" designates size class, as in RAV4, and the "X" means crossover. Note that Toyota currently retails a bZ3 small sedan in China.
Keeping things simple, the bZ4X is offered in just two trim levels, XLE and Limited. Essentially, there is no base trim level. The front-drive XLE starts at $43,215, the Limited at $47,915. Dual-motor AWD examples raise the horsepower from 201 to 214, and start at $45,115 and $50,115 respectively.
Range estimates vary based on trim level. Front drive models are EPA rated at 252/228 miles (XLE/Limited). Those numbers drop to 242/222 with AWD. Front-drive models make us of a 71-kWh battery, while AWD models are quipped with a 72-kWh unit.
Consumer Guide recently spent a week with a front-wheel-drive XLE in sporty Supersonic Red. Out test vehicle came equipped with the XLE Weather package and listed for $44,409, making it one of the most-affordable new-generation EVs we've tested.
The first thing you notice about the bZ4x, looking at it from the front, is the absence of a grille, and the dramatic contrasting-color fender elements. The latter is in sync with Toyota's current crossover design philosophy, though the feature feels extreme in this application. That said, viewed in profile, the bZ looks very much like a Toyota, and bears more than a passing resemblance to the RAV4.
The cabin itself is a little stark, and includes materials apparently chosen for their modest cost and, perhaps, general lightness. A few bright trim elements and shiny-black surfaces help to perk things up a bit, but the overall feel is that of a budget ride.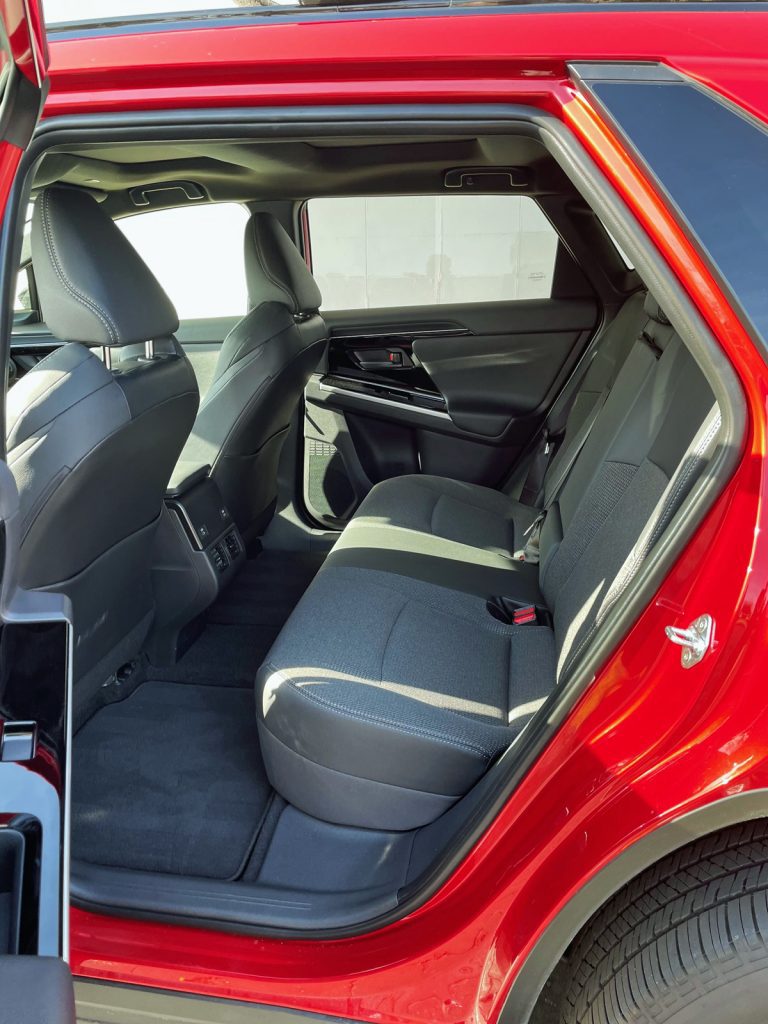 That said, the control layout is clean and functional, and the big touchscreen is easy to read—even in direct light—and responds quickly to touch inputs. One serious issue is the lack of a glovebox. To accommodate a feature available on Limited models (footwell warmers), the bZ4x is designed without a proper glovebox. Luckily the owner's manual fits in the door pocket.
As for the cabin itself, there's plenty of space for four adults, and the large door openings make it easy for said adults to get into and out off the bZ. Additionally, the cabin feels bright and airy, and driver visibility to the rear corners is decent despite the rakish roof pillars. There's also plenty of hatch-area cargo space, but, unlike many EVs, there's no under-hood frunk (FRont trunk) space.
One truly befuddling cabin element is the position of the steering wheel. The wheel itself only adjusts upward so far, forcing drivers over six feet in height to look over the wheel to see the instrument panel. Rumor has it that a flatter "yoke-style" wheel is destined for the bZ, which could improve the driver sightline, but for now, the situation is problematic.
On the road the bZ4X acquits itself well. Toyota's small electric crossover rides and handles nicely, and is relatively quiet on the highway. Though the regenerative brakes cannot be set aggressively enough for true one-pedal driving—a feature available in many EVs–they do feel strong and responsive. Additionally, the bZ's steering has more organic feel than most electric vehicles. Like most EVs, the bZ feels quick from a stop, and packs plenty of passing and merging power. It's not as outright fast as some electric vehicles, but it's certainly not slow.
In Consumer Guide testing, the vehicle's range estimates, as reported in car, proved conservative, and in fair weather we expect owners of front-drive examples to see real-world travel of close to 300 miles—assuming a minimal amount of high-speed highway driving. More good news: Toyota reports that the bZ4X will charge at a rate of up 147 kW, which is pretty fast. Should you have access to level-3 charging of that speed, bringing the battery from a 20 percent state of charge to 80 percent of charge will take just 20 minutes or so.
Coming Soon: 2025 Buick Electra E5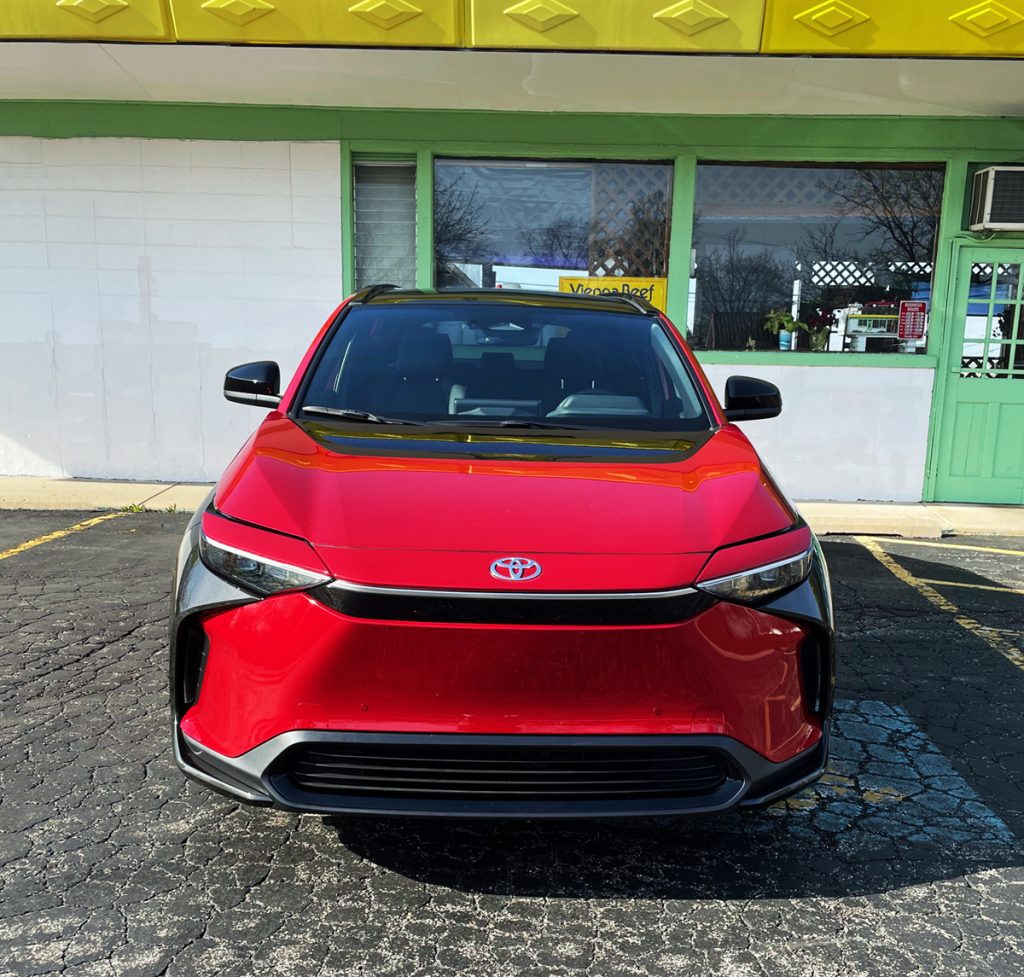 Perhaps the most disappointing thing about the bZ4X is that it is so unexceptional. It lacks the groundbreaking design of the Hyundai Ioniq5, the stunning performance of the Kia EV6, and the undeniable dollar value of the Chevrolet Bolt EV. That said, it is a very nice car. It's roomy, comfortable, and, until it comes time to plug it in, feels pretty much like any other Toyota, which is a good thing.
If you're ready to go electric, and you find the overt personalities of some EVs a little over the top, take the bZ4X for a spin. It's priced on the lower end of the small-EV price scale, and apart from a bit of quirkiness, feels very familiar, in a good way.
How much does it cost to charge an EV?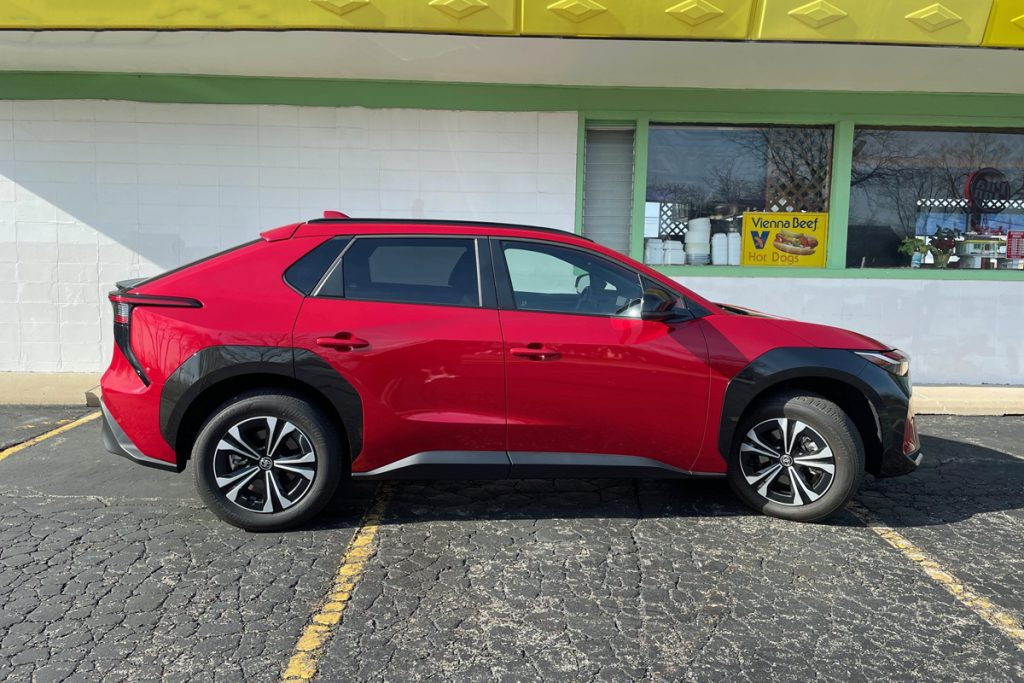 Listen to the Car Stuff Podcast
2023 Toyota bZ4X XLE Gallery
Click below for enlarged images