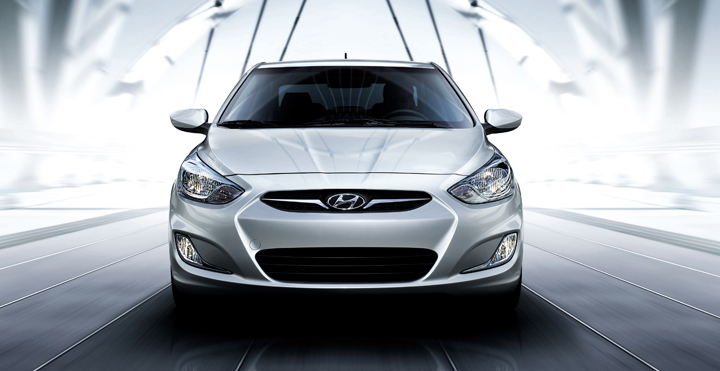 Man, does time ever fly!
Recently I had my first chance to sign up for the Hyundai Accent SE hatchback in the Consumer Guide test-car fleet. It's a long-termer, one we'll have for most of the year. In that time, everybody here will drive it more than once, but there's got to be a first time, and this was mine.
Not that I was particularly looking forward to it, mind you. I couldn't recall how long it had been since I'd last sampled the South Korean automaker's entry-level subcompact, but the very words "Hyundai Accent" on the sign-up sheet summoned up a vague dread. These had always been terribly uninspiring "point-A-to-point-B" wheels. Nothing to see here, folks; move along.
Good thing I'm not particularly stubborn, or I might have failed to recognize just how much the baby Hyundai has grown up. This bigger, better Accent was a real car with decent driving dynamics and nice features. No, it still won't inspire the writing of symphonies about it, but it's certainly worthy of at least a "my eyes were opened" blog post.
Here's how far the Accent has come: In one of my desk drawers there's a file of the kind of test-car evaluations we used to submit in CG's pre-digital days. Flipping through the yellowing sheets, I found my notes on the Accent 3-door hatchback that came our way back in April 1995. Back then Accent was a brand-new nameplate, the replacement for the late, unlamented Excel. At a little over 8 grand to start, the Accent L hatchback was the least-expensive car available in the USA. While I didn't cringe at every single thing the test car did (27.7 mpg, head and leg room, and handling were among the things that earned thumbs up), there was plenty of important stuff that left this tester, shall we say, less than whelmed. Sample comments? Let's roll the tape . . .
• "The 1.5-liter 4-cylinder is noisy and rough when roused. Passing kickdown is not particularly crisp and acceleration is not blinding. . . ."
• "Short wheelbase and 13-inch wheels make for a choppy, somewhat harsh ride."
• "Standard equipment list says something about cloth seats. They sure are—with the feel of real imitation plastic. . . . So this is what 'thrifty' looks like. . . ."
• "Message to Korea: Styling still sells cars. Sorry about the Accent."
But now? The current car—all new for 2012 and a CG Best Buy—sports a 1.6-liter engine with 50 percent more horsepower than that '95—and still can top 30 mpg. A choice of 6-speed manual or automatic transmissions makes the new Accent smoother and more tractable. Safety and even—dare we say it?—luxury features abound. Plastics dominate the interior, but they're not hard or brittle feeling. Neither are they unrelentingly charcoal gray; contrasting colors and nice seat fabrics require no apologies. Our top-end test car is now about twice the price of the base '95 Accent, but it delivers plenty in return.
So it's good-bye to groaning at the thought of signing on for the Hyundai Accent. Where has the time gone?