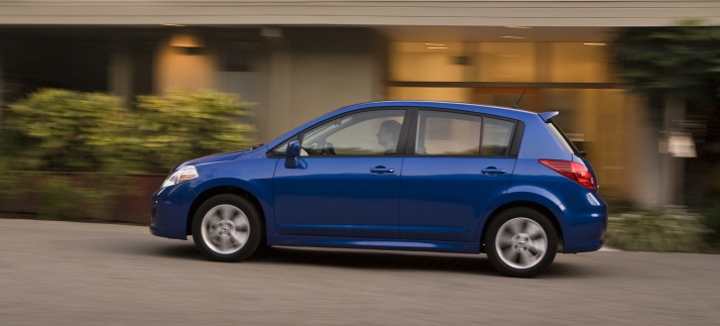 I'm pretty sure that if Lenin were alive today and making decisions for the proletariat, we'd all be driving around in 4-cylinder Kia Rondos. At least folks with families would; the rest of us would be cruising around in Nissan Versa hatchbacks. Why hatchbacks? Because the trip between collectives always seems to involve schlepping a peck of peppers and the odd goat or two.
If not for any other reason, we're probably pretty lucky ol' Vlad isn't around to make auto-purchase decisions for the masses.
Not because the Rondo (may it rest in peace) and the Versa hatchback aren't good cars—in fact, they're great cars for the money—but because Americans resist driving vehicles that are too obviously useful and functional.
You know this is true. The list of perfectly functional, high-value, completely likeable cars that sell modestly or have been recently cast aside is lengthy. Think Ford Five Hundred, Mazda 2, Mazda 5, Suzuki SX4, and Rondo, to name a few. In fact, really, truly perfect versions of the most practical vehicles aren't even made available to Americans.
For a large family, what makes more sense than a minivan? The answer is nothing, and everyone knows this. Yet, we're an active, outdoorsy bunch, or at least we need to feel like we are, which is why crossovers and SUVs as a group handily outsell more space-efficient and generally less thirsty minivans.
But even our minivans are V6-powered leather-lined lounges on wheels. Were Lenin to spec out a van, he'd might order a 4-cylinder Toyota Sienna (Sienna being the only minivan available with a 4) but be frustrated by the fact that the power windows and air conditioning are standard.
Of course, it is society's resistance to conformity that makes life, and my job, so interesting. In a distopian nation of just Rondos and Versas, my job would be limited to helping my comrades choose between gray and beige paint—as every car would come with canvas upholstery and a 4-speed manual transmission. Instead, folks looking for a smallish crossover that seats 5 in a pinch, for example, have more than a dozen vehicles from which to choose.
Sadly, if what we hear about President Obama's radical agenda holds true, expect the national motor pool to quickly be replaced by more sensible vehicles after his reelection.
Don't be surprised if the Toledo Jeep plant starts cranking out Rondos while those in the President's inner party find themselves tooling around in stretched Chevrolet Volts with deeply tinted windows.
To supplement my income as a journalist in the coming barter economy, I have already ordered a Versa with the optional harrow hitch and rear-mount combine. I will soon make myself useful to the collective by dispensing auto advice and growing cabbage.
Kremlin Madness! 10 Classic Eastern-Bloc Car Ads