The easiest way to replace the tires on your vehicle is to work with a professional retailer who will help you identify the tires that best match the specifications of the car, as well as your wants and needs for ride quality, handling, and the types of roads and conditions in which you normally drive.
That said, it doesn't hurt to know a little bit about how tires are identified and measured, so you can feel more comfortable when going about the replacement process.
Here, we break down the lengthy alphanumeric sequence typically seen on the sidewall of a tire. It may look like computer code, but it's actually a fairly simple collection of separate metrics, each of which has a different impact on how a given tire performs.
All of the information discussed below can be found on an information sticker typically located in your car's driver's-door jamb. Should you ever need to know the specifications of the tires your car was originally sold with, you can get them there.
The Three Biggest Tire-Shopping Mistakes
Section Width
The section width is a measurement of the tire in millimeters across the tread. Common tire widths generally range from 185 to 235. Wider tires can be found on high-performance cars such as the 2018 Chevrolet Corvette, which has rear tires with a 335 section width (about 13 inches). Wider tires usually offer greater dry-surface grip.
Aspect Ratio
The aspect ratio represents the sidewall height of a given tire as a percentage of the section width. Thus, the tire above would have a sidewall height of about 113 millimeters. Aspect ratios typically run between 35 and 70, with 55 to 65 being fairly common. Tires with lower aspect ratios are typically found on sporty vehicles, as they tend to provide sharper steering response and reduced cornering lean. Because of the added cushioning their taller sidewalls provide, tires with higher aspect ratios tend to absorb bumps and other road imperfections better than low-aspect-ratio tires.
Construction
The R on the tire above stands for Radial construction. Almost all on-road, conventional-use vehicles are shod with radial tires these days. Other construction codes include B and D. The B code stands for Belted Bias construction, a tire type often found on forklifts and other commercial equipment. Diagonal Bias tires are branded with the D code, and are often found on farm equipment and other off-road-use vehicles.
Starting, Stopping, and Squealing: Testing Tires the Fun Way
Diameter
The tire's diameter is measured in inches, and represents the inner circumference (where the wheel is mounted). The tire-diameter measurement is always the same as the wheel size, so the above 17-inch tire would fit a 17-inch wheel. Most new vehicles generally come with tires in the 15-to-18-inch range; sporty cars and luxury vehicles (especially crossovers and SUVs) are often equipped with larger tires–typically between 19 to 22 inches. Aftermarket custom wheels and tires can be larger still.
Load Index
The load index is a measure of a given tire's load-carrying capability. Most brand-name tires have load capacities that comfortably exceed the requirements of the car they are mounted on. Tire load-index ratings on modern passenger vehicles typically range from 75 (853 pounds) to 105 (2039 pounds).
Speed Rating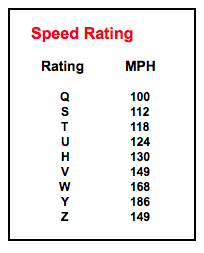 The speed rating represents the highest speed at which a vehicle equipped with a given tire should be driven. The H speed rating on the tire shown above means the tire is safe for speeds up to 130 mph. It is worth noting that, even if you never intend to drive 130 mph, you should not replace your H-rated tires with tires that have a lower rating. Tires with a given speed rating have specific ride, handling, and heat-dissipation properties as required by a vehicle's manufacturer, and should not be replaced with lesser equipment. Note also that the Z on the chart to the right is not an actual speed rating, but represents the category of tires rated to exceed 149 mph. When the Z rating was first introduced, it was intended to be the highest rating that would ever be necessary, but as subsequent super cars reached ever-higher levels of performance, the W and Y ratings were added.
Extra Credit: Consumer Guide Goes to Teen Defensive-Driving School
Written by: Tom Appel
on April 13, 2018.
on September 13, 2018.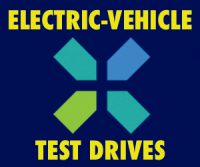 Auto Shows
Steve & Johnnie's Road Tests