Volkswagen is adding to its growing lineup of pure-electric concept vehicles by displaying a new version of its I.D. BUZZ CARGO Concept at the 2018 Los Angeles Auto Show. Essentially a light-commercial cargo van version of the I.D. BUZZ concept vehicle that Volkswagen debuted at the North American International Auto Show in Detroit last year, the I.D. BUZZ CARGO offers some intriguing ideas on the future of commercial delivery vehicles.
More from the Los Angeles Auto Show
Like the other concept vehicles in VW's I.D. lineup, the I.D. BUZZ CARGO utilizes a modular architecture that can be configured to meet usage needs. A 201-horsepower (150kW) electric motor is paired to a single-speed transmission and rear-wheel drive, but all-wheel-drive can be offered by adding another electric motor at the front of the vehicle. Available lithium-ion battery packs of 48 kWh to 111 kWh can enable estimated driving ranges of between 200 and 340 miles. VW says the 111kWh battery can be recharged to 80-percent capacity in 30 minutes when using a 150 kW DC fastcharger.
Like the original I.D. BUZZ concept, the CARGO's styling is a futuristic spin on VW's classic Transporter vans of the 1960s. Its unique commercial-vehicle features include a solar-panel roof that can extend the driving range of the vehicle by up to 9.3 miles per day, 230V electrical sockets for power-tool usage, and a connected shelving system that can provide real-time inventory data and tracking info on the articles on the vehicle's cargo-area shelves.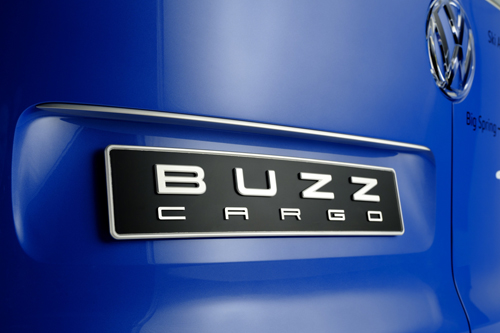 Autonomous-driving capabilities are part of the plan as well—freeing up a delivery driver's time can certainly open up operational efficiencies for commercial use. The steering wheel is designed to retract into the column when the autonomous mode is engaged, and the driver's seat can be turned 15 degrees to the right to operate the onboard computer workstation.
The commercial body graphics on the L.A. Auto Show display vehicle envision the I.D. BUZZ CARGO as a support vehicle for the I.D. R, Volkwagen's pure-electric, Pikes-Peak-record-holding race car. VW says that the I.D. BUZZ CARGO could be launched as a production vehicle in Europe as early as 2022.
2017 Los Angeles Auto Show: Volkswagen I.D. CROZZ Concept
CG Says:
Volkswagen certainly has been laying the groundwork for its forthcoming line of pure-electric vehicles… this is the fifth I.D.-badged concept vehicle the company has shown, but we're still at least a year away from any production versions of these vehicles rolling into VW dealerships. Some of the ideas here might still be a bit too blue-sky for full-scale implementation, but they're a clear indication of where Volkswagen is focusing its resources for its future products. Maybe in the not-too-distant future, your Amazon Prime order will arrive at your doorstep via a semi-autonomous I.D. BUZZ delivery van.