Scion showed a concept version of one of its upcoming new models at the 2015 Los Angeles Auto Show. The C-HR Concept was previously shown as a Toyota at the Paris and Frankfort auto shows, but it's wearing Scion badges for its U.S. debut.
Test Drive: 2018 Toyota C-HR XLE
The C-HR moniker stands for Compact size and High Ride height. The C-HR's name—not to mention its tidy four-door hatchback layout—suggest that Scion is aiming the forthcoming production model at the new crop of subcompact-sized crossover SUVs, such as the Chevrolet Trax, Honda HR-V, and Mazda CX-3.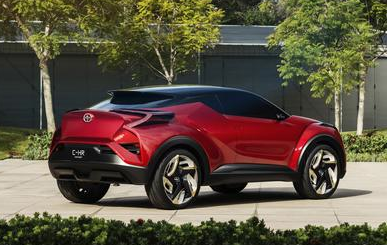 Scion bills the C-HR as an "urban lifestyle vehicle."  The chiseled, faceted interior and exterior styling was inspired by precision-cut gemstones. Scion's press info was light on details such as powertrain choices, available features, or pricing, but it's a safe bet that the concept's 21-inch wheels won't make the jump to the showroom version.
The C-HR's provocative styling will be a primary selling point for the vehicle, but Scion officials also promise invigorating driving dynamics, impressive functionality, and the brand's signature tactic of offering unexpected premium features at accessible prices.
The production version of the C-HR is scheduled to debut in 2016.
CG Says:
If the C-HR Concept looks too jagged and radical for you, know that the yet-to-be-unveiled production version should certainly tone down many of the Concept's polarizing cues. Then again, Toyota seems to be gravitating toward love-it-or-hate-it styling as of late (see the Scion iA and Lexus NX and RX), so the production C-HR could end up looking almost as edgy as this one. Styling aside, the subcompact crossover SUV category seems like a natural (and important) market for the youth-oriented Scion brand to enter.